UMD-Summer: Brazil: Ecology, Natural Resources and Landscape Architecture in Rio de Janeiro (ENST/LARC)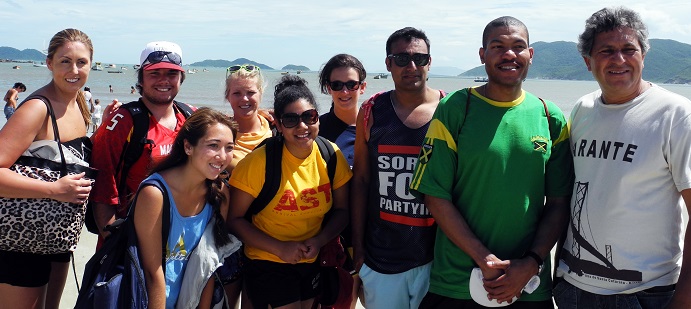 The states of Maryland and Rio de Janeiro have been designated "Sister States" for over 50 years since the founding of the Partners of the Americas through a Kennedy initiative promoting exchange between the Americas. For more than 25 years students from the University of Maryland have visited the city, state and universities of Rio with alternating year visits of Rio students to Maryland. For Summer of 2019 a tour will expose students to the ecology, natural resources and landscape architecture of the city and state of Rio which is home to the globally rare Atlantic Coastal Rainforest ecosystem. We will be guided by University of Maryland and Rio University professors and you will be exposed to a diversity of ecosystems including ocean coastal, estuarine and mountainous tropical rainforest with coastal and inland parks supporting a vast array of rare and endangered species of birds, mammals, plants and invertebrates. You will be accompanying researchers on site visits detailing their scientific endeavors including Atlantic Coastal Rainforest restoration sites, carbon sequestration efforts as well as with actual field radio tracking of endangered monkeys and radio telemetry tracking by boat of coastal bay dolphins. Time will be spent at significant cultural (music, dance, food, art) and historical sites in and around Rio. The famous Brazilian landscape architect Burle Marx's home and grounds on the coast will be visited as well as examples of his work at sites in Rio de Janeiro, while also learning of the political and economic drivers of this fascinating place in Brazil, South America's largest economy and democracy.
You must be in good academic and judicial standing and you must not have any registration blocks to participate in this program. The minimum GPA for this program is listed above.
UMD and non-UMD undergraduates and graduates from all majors are eligible to apply.
An interview is required as a part of the application process. 
If you are interested in this program but do not meet the eligibility requirements, reach out to the program director (listed in the Contacts tab) to discuss your interest in the program.
After you commit to the program, Education Abroad will enroll you in the following three (3) credit UMD course:
ENST 499: Special Topics: Brazil: Ecology, Natural Resource Management and Landscape Architecture in Rio de Janeiro, Brazil
LARC 489G: Special Topics: Brazil: Ecology, Natural Resource Management and Landscape Architecture in Rio de Janeiro, Brazil
The credit you earn during this program will count as resident credit.
You will stay in hotels sharing a room. 
The costs listed are for summer 2019.
Application Fee
$50
Billable Costs
Billable costs are charged to your student account. They are due based on the Office of Student Financial Services and Cashiering payment schedule. Be sure to check your statements when they are available.
Education Abroad Fee
$500
This fee is charged to your account when the application status changes from "Accepted" to "Committed." This fee includes Education Abroad services including registration, billing, advising, risk management, and pre-departure orientation.
International Health Insurance
$43
Tuition
$957
This fee is charged to your UMD account upon course registration. This fee includes: Tuition, in-country transportation, course related activities, group meals, and teaching services.
Housing Fee
$0
This fee represents the housing provided during the program.
TOTAL PROGRAM FEE
$1,500
Out-of-pocket Costs
Meals (estimate)
$200
Visa
$0
Passport
$145
Roundtrip Airfare (estimate)
$850
Course Materials
$0
Optional Activities/incidental expenses
$50
Optional trip cancelation/interruption Insurance (estimate)
$180
TOTAL ESTIMATED COST OF ATTENDANCE:
$2,975
NOTE: If you are a non-UMD graduate student, you will need to pay a $75 application fee to the UMD graduate school to participate in this program.
Please refer to the following resources for more information on funding study abroad
PLEASE NOTE: All University of Maryland study abroad programs are financially self-supporting and, therefore, subject to cancelation due to low enrollment.
Dr. Peter May, Faculty Program Director, is a faculty member in the Department of Environmental Science and Technology and recently left more than a decade as Senior Environmental Scientist at the environmental firm Biohabitats where he supported restoration work through ecological engineering and systems ecology. Dr. May is a member of the non-profit Maryland-Rio Partners of the Americas and has traveled to Brazil and conducted research on tropical stream systems in Rio, Amazonas and Bahia. He has led several groups of University of Maryland Students to Rio and has hosted Rio students for exchange trips in Maryland. Dr. Leandro Fontoura is a professor of environmental science at the Federal Rural University of Rio de Janeiro and the in-country lead for the Rio Program. As a member of Maryland Rio Partners, he has supported and led this student exchange with several tours to UMD in Maryland and hosted several tours in Rio for UMD students.
For course, itinerary or in-country information, please contact the Program Director. For general questions or assistance with applying, contact EA Short-term Programs.
As a part of this program, you will engage in the following activities:
Scientist-led tours of radio telemetry research conducted on the endangered Golden Lion Tamerin monkeys in the Atlantic Coastal Rainforest and local dolphins in the estuaries. 
Interactions with Rio university undergraduates and graduate researchers from Rio on environment, history, landscape architecture and cultural side trips, including tours of unique to Rio examples of landscape architecture and the estate of the famous Brazilian landscape architect Burle Marx.
Potential for developing relationships with Rio Universities for shared academic advancement through existing cooperative agreements with University of Maryland, including tropical forest restoration research and carbon offset endeavors.
Greater understanding of the environment, culture and landscape architecture of Rio and its implications for environmental restoration and sustainable development in the tropics.
| Term | Year | Application Deadline | Admission Notification | Program Start | Program End |
| --- | --- | --- | --- | --- | --- |
| Summerterm | 2019 | 03/03/2019 | 03/11/2019 | 07/26/2019 | 08/09/2019 |