UMD-Summer: United Kingdom: British Culture, Art and Life in the UK (ENGL/THET)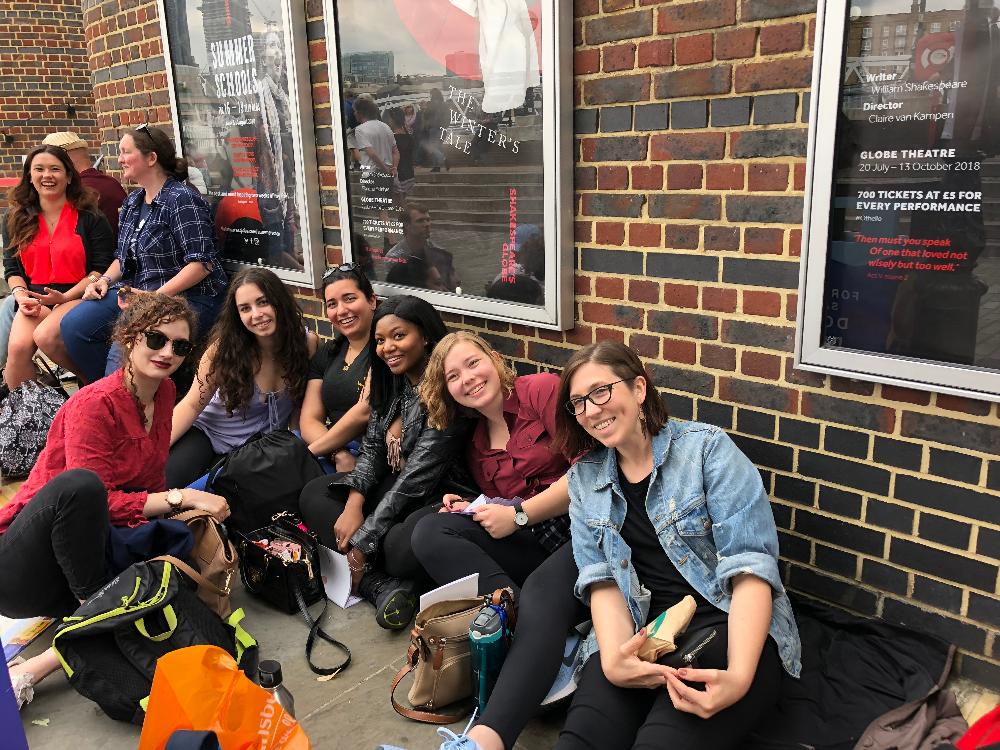 This program looks at British culture via six focal points: History, Literature, and Drama as well as Art History, Archaeology, and Architecture. Lectures are conducted on foot as the group walks around London, Norwich, Oxford, and Canterbury looking at historic and archaeological sites, important buildings and neighborhoods, museums, and the haunts of such greats as Shakespeare, Freud, Darwin, Keats, and Jane Austin. The course starts at 9:30 am every day and concludes with a play nearly every night. Guest lecturers include British academics, actors, museum curators, archaeologists, and historians. Students are required to take extensive notes in a journal they carry about with them everyday. Discussions at group meals and lunches are focused on the ideas generated by that day's visits or lectures. After the course, students will read 10 great books as well as the texts of some of the 16 or 17 plays they saw in London. Based on issues and ideas that engaged them in London, students are expected to write several short papers, including one on a topic of deep interest to them. These papers are due a month after you return.
Check out the program's Facebook page for pre-course info; updates from the faculty director; and other exciting pictures, articles and more! 
*$500 scholarships will be awarded to the first eight English majors who commit to the program by the English Department.
You must be in good academic and judicial standing and you must not have any registration blocks to participate in this program. The minimum GPA for this program is listed above.
UMD and Non-UMD freshmen, sophomores, juniors, seniors, and graduate students are eligible to apply.
In lieu of recommendations, all prospective students must come for a short, informal interview with Professor Olmert - Tawes Building (3116).  Please contact him directly to make arrangements.
If you are interested in this program but do not meet the eligibility requirements, reach out to the Program Leader (listed in the Contacts tab) to discuss your interest in the program.
After you commit to the program, Education Abroad will enroll you in one of the following three (3) credit UMD course:
ENGL409M: Study Abroad Special Topics IV: Literature, Art and Architecture in London
THET428E: Special Topics in Advanced Theatre and Performance: Literature, Art and Architecture in London
The credit you earn during this program will count as resident credit.
There will be two pre-departure meetings in April to review the course books, intellectual content, and expectations. 
A required course paper will be due after you return to the US.
 
In London, we stay in a B&B near Russell Square. In Castle Acre, we stay in the Old Red Lion B&B.
Please refer to the following resources for funding study abroad:
Financial Aid
Scholarships
Financial Policies
*Please note this program qualifies for eligible Pell Grant recipients to apply for the Gilman International Scholarship. Online applications will open mid-January and close on Thursday, March 9, 2023, at 11:59pm Pacific Time.
Costs are current for Summer 2023.
**$500 scholarships will also be awarded by the English Department to the first six English majors who commit to the program.

APPLICATION FEE
$50
This is a non-refundable fee to submit an application.
Education Abroad Fee
$500
This is a non-refundable fee charged to your account when the application status changes from "Accepted to "Committed." This includes services provided by Education Abroad such as registration, billing, advising, risk management, and pre-departure orientation.
International Health Insurance
$50
This coverage is required and complements students' regular U.S. primary health insurance coverage.
Program Fee
Housing Fee
$1,612
This fee represents the housing provided during the program.
Tuition
$3,763
These are the instructional costs which include tuition, in-country transportation, course related activities, group meals, and teaching services.
Program Fee Total
$5,375
 BILLABLE COSTS TOTAL
$5,925
This fee is charged to your student account and is based on our program deadlines. Please direct any additional questions to the Office of Student Financial Services and Cashiering.
Meals (estimate)
$400
Passport
$165
Visa
$0
Roundtrip airfare (estimate)
$1,300
Course materials
$0
Incidental expenses
$150
Trip cancelation insurance (optional)
$180
ESTIMATED OUT OF POCKET EXPENSES
$2,195
*Non-UMD graduate students will need to pay a $75 application fee to the UMD Graduate School to participate in this program.

TOTAL ESTIMATED COST OF ATTENDANCE
$8,170
PLEASE NOTE: All University of Maryland study abroad programs are financially self-supporting and, therefore, subject to cancellation due to low enrollment.
Michael Olmert, Faculty Program Leader, has taught this Study Abroad course 20 times. He holds both a B.A. and a Ph.D. (both in English) from Maryland. He also has an M.A. in English from Georgetown. He's taught in the Maryland English Department for the last 32 years, and has written 5 books, 8 plays, 3 feature films, an IMAX film, over 100 television documentaries, and more than 200 articles, essays, and reviews. He has also been awarded 3 Primetime Emmys. In 2005, he was inducted into the University of Maryland Alumni Hall of Fame.
Jonelle Walker is a wildly popular teacher and PhD candidate in the Maryland Theatre Dept. and is a produced playwright. Her edgy adaptation of Shakespeare's "Twelfth Night," called "Illyria," was produced by Avant Bard in Arlington, Va., in the fall of 2018.
For course, itinerary or in-country information, please contact the Program Leader. For general questions or assistance with applying, contact EA Short-term Programs
As a part of this program, you will engage in the following activities:
Visit Charles Darwin's house in Down, Kent.
Take a backstage tour of all three stages inside the National Theatre in London.
Walk among the 5,000-year-old stone circles at Avebury, Wiltshire.
Take a guided tour through Westminster Abbey with Freda Bates, historian and scholar.
See at least 16 plays on the West End, Off West End, and Fringe stages of London.
Visit John Keats' house in Hampstead.
Visit Shakespeare's parish church, St. Helen Axe.
Visit the great art galleries: The National Gallery of Art, the National Portrait Gallery, the Sir John Soane's Museum, The Victoria & Albert Museum, the Tate Britain and Tate Modern Galleries.
Visit the great museums: the British Museum, the Museum of London, The Natural History Museum, The Greenwich Observatory, the National Maritime Museum.
Have a curator at the Royal Geological Society talk to you about the "Map the Changed the World."
Have a curator take you through the plant and animal collections of Carl Linneaus at the Linnean Society.
Walk through Hampstead Heath.
See at least 4 plays at the restored Shakespeare's Globe Theatre.
Follow the sites associated with Marx and Engels in Soho and in the British Museum Reading Room.
Visit the site of the founding to the Pre-Raphaelite Brotherhood on Gower Street.
See the house where Jane Austen died in Winchester,
Visit 5 great cathedrals: Canterbury, Norwich, Winchester, and St. Paul's and Southwark, London.
Spend a day in Oxford. And a day in King's Lynn, Norfolk; and a day in Norwich, Norfolk.
| Term | Year | Application Deadline | Admission Notification | Program Start | Program End |
| --- | --- | --- | --- | --- | --- |
| Summerterm | 2023 | 03/05/2023 | 03/13/2023 | 06/03/2023 | 06/24/2023 |