ENGR Exchange: University of Western Australia (Australia)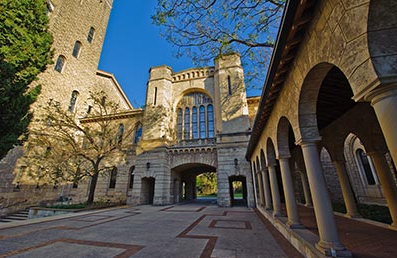 All students accepted to an Exchange program are automatically considered for an award of $1,000! See Cost tab for more information.
Host Institution
One of Australia's best and most prestigious universities, The University of Western Australia (UWA) is highly ranked internationally and is the only Western Australian university to belong to the Group of Eight (Go8) – a coalition of the top research universities in Australia.  Established in 1911, the University's ground-breaking research, quality academic staff and state-of-the-art facilities combine to offer a vibrant student experience.  The University hosts 20,000 students each year with more than 4,500 international students from 90 different countries on the multi-cultural Crawley campus.  Adjacent to the Swan River, the UWA Crawley Campus is among the most picturesque campuses in Australia with its grand sandstone and terracotta buildings sitting amongst elegant gardens. The nine different academic colleges include Architecture, Landscape & Visual Arts, Arts (including humanities), Business, Education, Engineering, Computing and Mathematics, Law, Life & Physical Sciences, Medicine, Dentistry & Health Sciences, and Natural & Agricultural Sciences.  Apart from academics, UWA has excellent students support and services, which is particularly highlighted through the Student Guild, a student representative body hosting 13,000 members and over 80 student clubs. 
Host City
UWA is located in Perth, which is Australia's fourth largest city and the capital of the State of Western Australia. Perth has an enviable standard of living, and is consistently voted one of the top ten cities in which to live by the The Economist.  Many of Perth's attractions are within easy traveling distance from the UWA campus.  These attractions include King's Park, museums and galleries, nightlife and entertainment venues, cafés, the famous Cottesloe Beach, and the historic port town of Fremantle. The Mediterranean climate with warm, dry summers is ideal for students who are interested in outdoor activities such as golf, tennis, sailing, swimming and windsurfing.
---
Exchange programs are highly competitive and space in each program is limited. You must meet the following eligibility requirements in order to apply to this program:
3.0 GPA
Completion of 2 semesters at UMD
You must be an ENGR major
Exchange programs are a good fit for students looking for immersion, personal growth, and the opportunity to strengthen qualities such as independence and adaptability.
Student Visa Information
A student visa is required for participation on this exchange. For more information, please visit our study abroad visa guide to view instructions for the country you will be visiting. Please note that visa information is subject to change and you are responsible for checking the embassy website for updates.
---
Click "Apply Now" at the top of this page. You will log in with your UMD directory ID and password.
Submit all application materials by the deadline listed below. This includes meeting with your EA advisor (listed at the top of this page), requesting a faculty letter of recommendation, and submitting an official transcript.
FOR ENGR GE3 ONLY: If you are applying for a Global E3 exchange, you will need to submit an additional GE3 application by the deadline listed on their website.
After the application deadline, we will review all completed applications and nominate students for available spots in each exchange program.
If you are nominated to participate in this exchange, you will work with your EA advisor (listed above) to apply directly to the host university, who will formally admit you to the exchange program.
Nominated students will then work with their EA advisor (listed above) and our partner universities to coordinate all aspects of the stay at the host university such as course registration, visas and arrival.
---
Academic Planning
Visit the Academics & Study Abroad page which outlines key considerations for your academic planning as you navigate different phases of study abroad:
Coursework
Disciplines available:
Mechanical Engineering
Chemical Engineering
Civil & Environmental Engineering
Electrical Engineering
There may be other course offerings on this program that are not currently listed in the Study Abroad Course Database (SACD). 
Credit
All credit you earn on this program will count as transfer credit towards your UMD degree.  Most courses at  University of Western Australia  will be converted as follows:
| | |
| --- | --- |
| University of Western Australia Credit | UMD Credit |
| 1 UWA Credit | 0.67 UMD Credit |
| 6 UWA Credits | 4 UMD Credits |
The chart above was last approved by the UMD Transfer Credit Committee on June 5, 2014.
Grading
Undergraduates must receive a C- equivalent or better in order to be eligible for the transfer of credit.
 

| | |
| --- | --- |
| University of Western Australia Grade | UMD Grade |
| 50/P | C - |
---
UWA offers a number of housing options on and off campus for exchange students.  First, there are five residential colleges affiliated with or owned by UWA including University Hall, Trinity, St. Catherine's College, St. Thomas More College, an St. George's College.  The colleges are close-knit communities full of support and activity that offer a unique opportunity to exchange students.  Students should apply early to secure a spot.
The University also owns a number of unfurnished properties very close to the Crawley campus, known as Crawley Village. These properties vary from being stand alone houses to units, and aim to provide a secure and comfortable environment.  Properties include one, two and three bedroom units and two, three and four bedroom houses. Students wishing to live off-campus have a choice of shared accommodation, renting or full-board. The University's Housing Office provides information on off-campus options.
More information on the various housing options can be found on the UWA accommodation website.
---
All students accepted to an Exchange program are considered for an automatic award of $1,000!
To be considered for this scholarship, you must:
Be a current degree seeking undergraduate UMD student (graduate students are not eligible for this award)
Not currently receive full tuition scholarship/benefits (i.e. Banneker Key, tuition remission, TAES, etc.)
If you have a completed FAFSA on file and wish to be considered for need based aid in addition to the automatic award, complete the EA fund form by the deadline. 
UMD students participating in an Exchange have the benefit of paying UMD tuition rates to attend an institution abroad. For specific information on the cost of attending this Exchange, please see the UMD Exchange Cost Sheet
Tuition and fees for exchange programs are charged directly to your UMD account, which means you can apply UMD scholarships, state and federal financial aid, and alternative loans towards the cost of an exchange. Housing costs are paid directly to the host institution or on-site housing agency.
You can use the cost of attendance comparison worksheet to view how study abroad programs compare to each other and the amount you pay on campus at UMD. As always, your EA advisor (listed above) is available help you complete this worksheet and find affordable programs that fit your study abroad goals.
Please refer to the following resources for more information on funding study abroad:
---
| Term | Year | Application Deadline | Admission Notification | Program Start | Program End |
| --- | --- | --- | --- | --- | --- |
| Spring | 2023 | 10/01/2022 | 10/11/2022 | | |
| Year (Fall-Spring) | 2023 | 03/01/2023 | 03/13/2023 | | |
| Fall | 2023 | 03/01/2023 | 03/13/2023 | | |