UMD-Winter: Italy: Ancient Greek and Roman Culture in Context (CLAS/ARTH)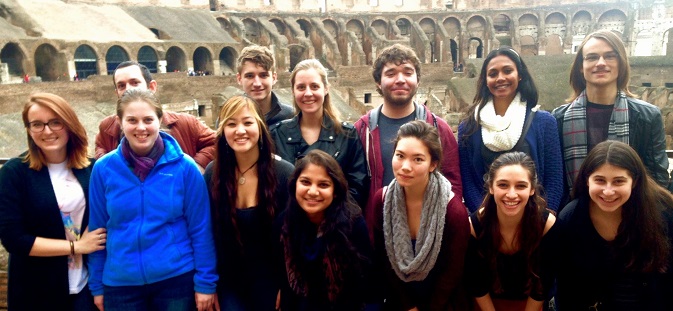 Greek temples, Roman towns, seaside villas, and the Eternal City - you will see and learn about all of these, as we explore important sites for ancient Greek and Roman culture. By participating in this course, you will gain a broad and fundamental understanding of the history and culture of both urban and rural spaces of ancient Italy. The program begins in the Bay of Naples, where we will consider the nature of public and domestic architecture, urban planning, and aspects of Roman culture. We will also engage in several excursions to relevant sites and cities, including Stabia, Pompeii, Herculaneum, Paestum, and Baia, among others. The program will then move to Rome, where the next days will be filled with lectures and tours at various sites and museums.
Through first hand examination of both small everyday objects and monumental architecture, this program will give you an intensive introduction to the public and private lives of those who lived in ancient Italy. Apply now to learn how history has been uncovered and what still remains unexplained.
IMPORTANT: Please familiarize yourself with the updated financial commitment, withdrawals and refunds policy. We strongly encourage students to purchase CFAR Worldwide Trip Protection in addition to the CISI Insurance Plan which is covered in your program cost. Additional information about insurance can be found here. Last, please apply or renew your passport now (expedited processed) if you plan to study abroad as there are significant delays.
You must be in good academic and judicial standing and you must not have any registration blocks to participate in this program. The minimum GPA for this program is listed above.
UMD and non-UMD sophomores, juniors, seniors and graduate students (MA students only) are eligible to apply.
If you are interested in this program but do not meet the eligibility requirements, reach out to the program leader (listed in the Contacts tab) to discuss your interest in the program.
After you commit to the program, Education Abroad will enroll you in one of the following three (3) credit UMD courses:
CLAS314: Italy: Greek and Roman Culture in Context (Satisfies the History and Social Sciences General Education Category and Humanities General Education Category)
ARTH369D: Special Topics in Study Abroad III
CLAS688G: Special Topics in Classical Civilization
The credit you earn during this program will count as resident credit.
There will be a pre-departure meeting before the end of the fall semester.
You will stay in shared accommodations in academic centers.
Costs listed are for winterterm 2024.
Please refer to the following resources for funding study abroad:
Financial Aid
Scholarships
Financial Commitment, Withdrawals and Refunds Policy
*This program qualifies for eligible Pell Grant recipients to apply for the Gilman International Scholarship. Online applications will open in mid-August and are due Thursday, October 5, 2023, at 11:59pm PT.

APPLICATION FEE
$25
This is a non-refundable fee to submit an application.
Housing Fee

$1,744

This fee represents the housing provided during the program.
Activities
$212

Tuition

$1,288

These are the instructional costs which include tuition, in-country transportation, course related activities, group meals, and teaching services.

PROGRAM FEE

$3,244

This fee is charged to your student account and is based on our program deadlines. Please direct any additional questions to the Office of Student Financial Services and Cashiering.
Education Abroad Fee
$700
This is a non-refundable fee charged to your account when the application status changes from "Accepted to "Committed." This includes services provided by Education Abroad such as registration, billing, advising, risk management, and pre-departure orientation.
International Health Insurance
$55
This coverage is required and complements students' regular U.S. primary health insurance coverage.
 
Meals (estimate)

$300

Passport

$165

Expedited Passport Processing (recommended)  
$60

Visa

$0

Roundtrip airfare (estimate)

$1,200

Course materials

$50

Incidental expenses

$180

Trip cancelation insurance (optional)

$200

ESTIMATED OUT OF POCKET EXPENSES

$2,155
*Non-UMD graduate students will need to pay a $75 application fee to the UMD Graduate School to participate in this program.

TOTAL ESTIMATED COST OF ATTENDANCE
$6,154
PLEASE NOTE: All University of Maryland study abroad programs are financially self-supporting and, therefore, subject to cancellation due to low enrollment.
Dr. Crispin Corrado is the program leader and a classical archaeologist specializing in Roman art. She received her Ph.D. at Brown University, and an MA in Art History and BA in Classics from the University of Chicago. Dr. Corrado is currently a faculty member at a number of American institutions in Rome and she has lived in Rome for over fifteen years.
For course, itinerary or in-country information, please contact Dr. Corrado at crispincorrado@hotmail.com.  
The on-campus contact for this program is TBD.
For general questions or assistance with applying, contact EA Short-term Programs.
As a part of this program, you will engage in the following activities:
Visits to Pompeii, Herculaneum, Oplontis, and Sperlonga, where some of the most elegant, sumptuous houses surviving from the Roman period are found.
In-depth visits to museums and ancient sites in and around the city of Rome.
Excursion to Paestum, site of the largest Greek temples that still stand.
Tour of UMD excavations of the Roman villas at Stabiae guided by local experts.
Visit to the National Archaeological Museum in Naples, which houses the world 's greatest collection of Roman paintings.
Free time in the Bay of Naples area to explore on your own such locations as Mt. Vesuvius, Capri, or the Amalfi Coast.
| Term | Year | Application Deadline | Admission Notification | Program Start | Program End |
| --- | --- | --- | --- | --- | --- |
| Winterterm | 2024 | 10/01/2023 | 10/11/2023 | 01/02/2024 | 01/21/2024 |