UMD-Summer: Australia: Natural History, Ecology and Geology (BSCI)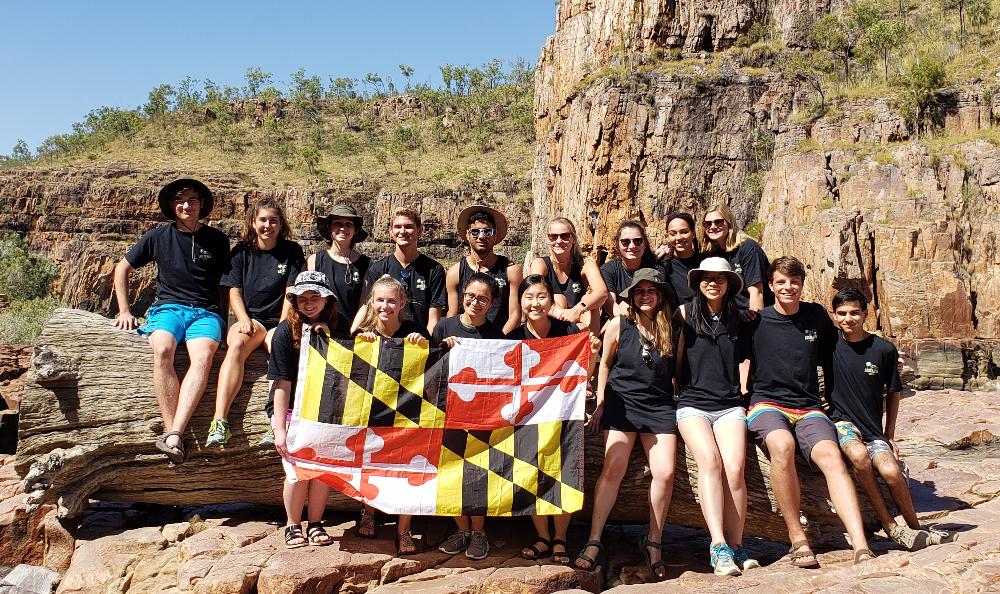 Australia holds the imagination like no other place on earth because everything is different: the landscape, the plants, the animals, the seasons. Even the cars are on the other side of the road. College Park Scholar–Life Sciences invites you to join us for a 19-day trip this summer to explore the culture, the geology, and the natural history of Australia.
The focus of this travel-study experience is the ecology, geology, and environment of the Australian deserts, tropical rainforests, and coral reefs. At each stop, we will discuss the lives of the Aboriginal peoples who settled these lands and their interactions with the environment as well as how they were subsequently affected by European colonial settlement. Your guides will be biology, geology, and ecology faculty or professionals from the University.
We begin with two days in Sydney touring the world-famous harbor, the iconic Sydney Opera House, the Taronga Zoo, the Sydney Aquarium, and the Royal Botanic Gardens. The zoo and aquarium are noted for their collections of Australian animals. Next, it is on to Darwin at "The Top End of Australia" and a 3-hour drive into the outback to Kakadu National Park. Kakadu is a World Heritage Area for both cultural and natural characteristics. We will visit Aboriginal rock painting sites and observe a variety of animals, including kangaroos, wallabies, dingoes, exotic birds, and salt- and freshwater crocodiles. The third part of the experience will center on the tropical environment of North Queensland, including Cape Tribulation and the rainforest surrounding the Daintree River. The academic focus here will be on the ecology of the tropical rainforest, as well as the negative consequences of population growth and agricultural land use on the loss of rainforest and biodiversity. The fourth and final leg of the trip will be spent on the Great Barrier Reef snorkeling along the reef and working on small group research projects.
To prepare for the travel-study experience, you will meet with faculty three to four times in the spring prior to departure. Meetings will cover the logistics and expectations of the trip as well as prepare you with information on the history, culture, biology, and geology of Australia.
Once in Australia, you will present an oral report on an Australian plant or animal, keep a daily journal, and work in groups on some small projects.
There are two scholarships available for this program - see "Costs" Tab for details.
You must be in good academic and judicial standing and you must not have any registration blocks to participate in this program. The minimum GPA for this program is listed above.
UMD freshmen, sophomores, juniors, and seniors are eligible to apply.
Successful completion of at least one introductory biology, animal science, plant science, or environmental science class is required. Students should have an academic interest in the natural world as well as in different cultures.
If you are interested in this program but do not meet the eligibility requirements, reach out to the Program Leader (listed in the Contacts tab) to discuss your interest in the program.
After you commit to the program, Education Abroad will enroll you in the following three (3) credit UMD course:
BSCI339N: Selected Topics in Biology: Natural History, Ecology, and Geology of Australia
The credit you earn during this program will count as resident credit.
In Sydney, Darwin, and Cairns, we will stay in shared accommodations in hostels and hotels. In Kakadu, Nitmiluk, and North Queensland, we will stay at full-service campgrounds in shared tents.
Please refer to the following resources for funding study abroad:
Financial Aid
Scholarships
Financial Policies
There are three scholarships available for this program:
*Costs are current for Summer 2020.

APPLICATION FEE
$50
This is a non-refundable fee to submit an application.
Education Abroad Fee
$500
This is a non-refundable fee charged to your account when the application status changes from "Accepted to "Committed." This includes services provided by Education Abroad such as registration, billing, advising, risk management, and pre-departure orientation.
International Health Insurance
$45
This coverage is required and complements students' regular U.S. primary health insurance coverage.
Housing Fee
$436
This fee represents the housing provided during the program.
Tuition
$1,719
These are the instructional costs which include tuition, in-country transportation, course related activities, group meals, and teaching services.
PROGRAM FEE / BILLABLE COSTS
$2,700
This fee is charged to your student account and is based on our program deadlines. Please direct any additional questions to the Office of Student Financial Services and Cashiering.
Meals (estimate)
$250
Passport
$145
Visa
$15
Roundtrip airfare (estimate)
$2,600
Course materials
$0
Optional activities/incidental expenses
$300
Optional trip cancelation/interruption insurance
$180
ESTIMATED OUT OF POCKET EXPENSES
$3,490
*Non-UMD graduate students will need to pay a $75 application fee to the UMD Graduate School to participate in this program.

TOTAL ESTIMATED COST OF ATTENDANCE
$6,240
PLEASE NOTE: All University of Maryland study abroad programs are financially self-supporting and, therefore, subject to cancellation due to low enrollment.
Dr. Beth Parent, Faculty Program Leader, has been on the biology faculty at the University of Maryland since 2006. Initially she developed curricula for, coordinated labs for and taught the cell biology and physiology course as well as coordinated the labs for advanced cell biology and neurobiology. Dr. Parent also created and taught a Scholars colloquium and an Honors seminar, "The Scientific Validity of Alternative Therapies." More recently, Dr. Parent served as director of the Biological Sciences program at the Universities at Shady Grove. In this position, which she held from 2011 until 2018, she recruited and advised students, and taught courses in cell biology, bioinformatics and the biology of cancer. She became director of College Park Scholars' Life Sciences program in July 2018.
Jimmy McClellan joined the College Park Scholars- Life Sciences team in the summer of 2019 as the Assistant Director. Prior to his time at Maryland, he worked for 5 years in residence life where he built connections between students and the university, managed crises, and planned educational events and programming. Jimmy has earned a BA in Political Science, an MA in Teaching, and an MAEd in Higher Education & Student Affairs. Jimmy has traveled extensively, both domestically and internationally, but he looks forward to his first trip abroad with UMD students!
Dr. John Merck has been on the faculty in Geology and the Associate Director of the College Park Scholars Science and Global Change program since 1999. Dr. Merck has an excellent rapport with students. He has a command of issues and content in geology, earth science, paleontology, and organismal biology. He has been a leader on this program to Australia three times and annually takes students to the Grand Canyon and the Southwest US each March.
 
For course, itinerary or in-country information, please contact the Program Leader. For general questions or assistance with applying, contact EA Short-term Programs.
As a part of this program, you will engage in the following activities:
Living with experts who are passionate about teaching students and make everything we see come alive. 
Interaction with traditional Aboriginal Owners of the land in Kakadu National Park to learn about their ancient culture and how it is being preserved today by tribal elders. 
Traveling to remote and hidden natural spots such as Jim Jim Falls, Nitmiluk National Park, Cape Tribulation, and Granite Gorge. 
Travel to 4 ecologically distinct regions of Australia (Temperate Forest, Dry Season Desert, Tropical Rainforest, Marine Barrier Reef). 
Faculty guided small research projects. 
Analysis of human effects on biodiversity through the introduction of invasive species, converting ancient tropical rainforest into agricultural land, and anthropogenic climate change. 
| Term | Year | Application Deadline | Admission Notification | Program Start | Program End |
| --- | --- | --- | --- | --- | --- |
| Summerterm | 2022 | 03/15/2022 | 03/25/2022 | | |