UMD-Summer: Canada: Culture + Place (ARCH)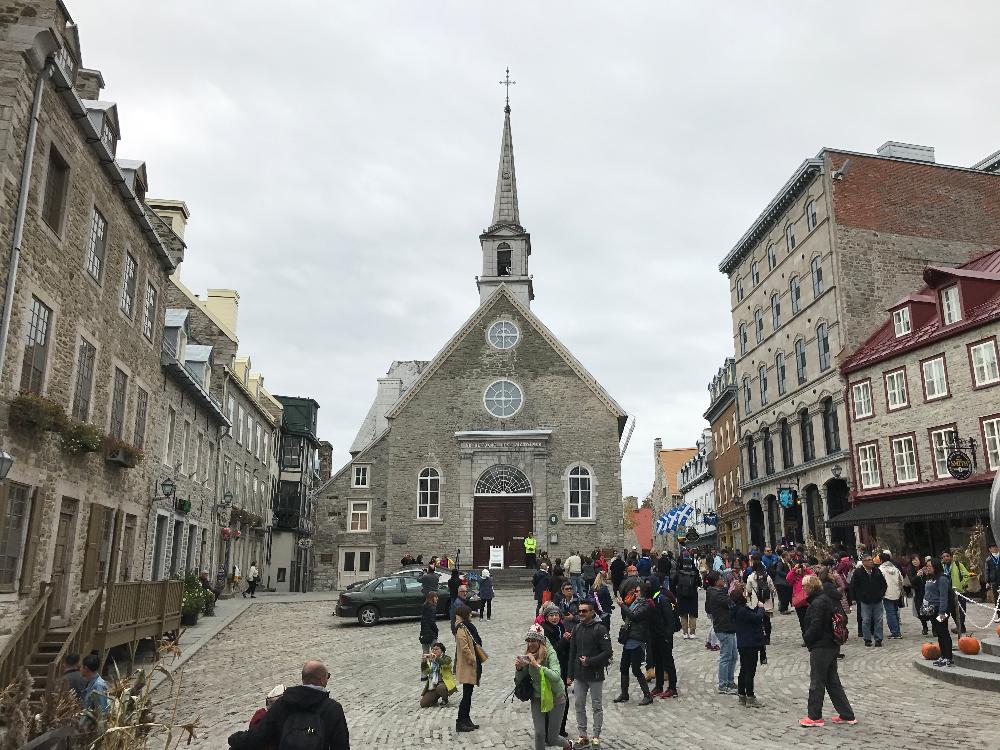 Canada: Culture + Place is a graduate visual analysis course that explores place making in eastern Canadian cities, and the relationship between form, craft, and culture. A central goal of the course is an exploration of the role that culture, geography, and history contributes to architectural form through the investigation of the built and natural environment in the region. The scope will include an examination of the built environment of the eastern capitol metropolitan areas of Quebec City, Montreal, Ottawa, and Toronto, along with excursions to further and distant sites outside of the urban centers.
The built and natural environments of the places explored in Eastern Canadian capitals will be the primary laboratories for this course. Places experienced will include historic as well as contemporary examples, and include urban design as well as buildings, including their details, and an examination of how the buildings are constructed. A focus of the course is to explore and examination the relationship between culture, building, and form in this particular place of the world.
*Additional scholarship opportunities for ARCH majors are available and students should consult directly with the Architecture program in the School of Architecture, Planning and Preservation.
You must be in good academic and judicial standing and you must not have any registration blocks to participate in this program. The minimum GPA for this program is listed above.
This program is only open to UMD sophomores, juniors, seniors and graduate students. Preference is given to students majoring in Architecture.
*ARCH 400 is a prerequisite.
If you are interested in this program but do not meet the eligibility requirements, reach out to the Program Leader (listed in the Contacts tab) to discuss your interest in the program.
After you commit to the program, Education Abroad will enroll you in two courses for a total of six (6) UMD credits.
Graduate Students:
ARCH688F: Building Canada: Craft & Culture (3 credits)
ARCH688K: Canada: Culture & Place (3 credits)
Undergraduate Students:
ARCH488F: Building Canada: Craft & Culture (3 credits)
ARCH488K: Canada: Culture & Place (3 credits)
The credit you earn during this program will count as resident credit.
You will keep a sketch and writing journal, and complete in country analysis and drawing assignments.
Students will stay in hostels and hotels within the four destination cities of Quebec, Montreal, Ottawa and Toronto.  Breakfasts are provided in the hostels, and group kitchens are available.  The program will host four group dinners, one in each city.
Please refer to the following resources for funding study abroad:
Financial Aid
Scholarships
Financial Policies
Costs are current for Summer 2020.
**Please note this program qualifies for eligible Pell Grant recipients to apply for the Gilman International Scholarship. The application deadline is March 3, 2020, 11:59 pm PT.

APPLICATION FEE
$50
This is a non-refundable fee to submit an application.
Education Abroad Fee
$500
This is a non-refundable fee charged to your account when the application status changes from "Accepted to "Committed." This includes services provided by Education Abroad such as registration, billing, advising, risk management, and pre-departure orientation.
International Health Insurance
$45
This coverage is required and complements students' regular U.S. primary health insurance coverage.
Housing Fee
$1,100
This fee represents the housing provided during the program.
Tuition
$2,605
These are the instructional costs which include tuition, in-country transportation, course related activities, group meals, and teaching services.
PROGRAM FEE / BILLABLE COSTS
$4,250
This fee is charged to your student account and is based on our program deadlines. Please direct any additional questions to the Office of Student Financial Services and Cashiering.
Meals (estimate)
$450
Passport
$145
Visa
$0
Roundtrip airfare (estimate)
$500
Course materials
$20
Optional activities/incidental expenses
$150
Optional trip cancelation/interruption insurance
$180
ESTIMATED OUT OF POCKET EXPENSES
$1,445
*Non-UMD graduate students will need to pay a $75 application fee to the UMD Graduate School to participate in this program.

TOTAL ESTIMATED COST OF ATTENDANCE
$5,745
PLEASE NOTE: All University of Maryland study abroad programs are financially self-supporting and, therefore, subject to cancellation due to low enrollment.
Peter Noonan, AIA, LEED, BD+C is the Professor of the Practice and an Architect and Principal at McInturff Architects, a nationally recognized firm dedicated to excellence in design and building craft. The work includes residential, commercial and institutional projects. His work with the firm includes over forty highly crafted projects, and he is typically involved in the entire range of architectural services, utilizing a process with considerable client interaction and involvement in an effort to tailor buildings to the needs of their users. Many of the projects he has executed with the firm have been published both locally and nationally. The firm has received more than 250 design awards, including National AIA Honor Awards for both 1247 Wisconsin Avenue, and the Martin-Schocket House, with Mr. Noonan as the Project Architect for each. Current and recent projects include a The Textile Museum, 20,000 square foot mixed-use project in Washington, DC, an alumni dining hall for the West Virginia University President's House, and several award winning houses at Merry-Go-Round Farm in Potomac, Maryland.
Karl Du Puy is the co-leader. Professor Emeritus Du Puy is an architect and professor of architecture. He directs design studios in architecture and urban design at all levels of the graduate and undergraduate programs, and offers lecture and seminar courses in urban design theory, practice, and history. Professor Du Puy has directed the architecture program and coordinated its design studio sequence; he has directed more than 150 masters' theses over the past eighteen years.  A practicing architect and urban designer with over 35 years experience, Professor Du Puy has worked in New York City as well as the District of Columbia, Maryland, and Virginia. He is licensed in both New York and Maryland. For the past 20 years he has been involved with Rockville, Maryland's planning efforts as an urban design consultant and as a member of Rockville's urban design review committee. Professor Du Puy is a veteran of many education abroad programs including Paris and extended semester long studies in the United Kingdom. 
For course, itinerary or in-country information, please contact the Program Leaders. For general questions or assistance with applying, contact EA Short-term Programs.
As a part of this program, you will engage in the following activities:
Professional office visits to leading Canadian architecture firms working in the region.
Field visits with sketching, observation and analysis to over dozens of significant architectural and cultural sites in the region including buildings, landscapes, and urban designs.
| Term | Year | Application Deadline | Admission Notification | Program Start | Program End |
| --- | --- | --- | --- | --- | --- |
| Summerterm | 2020 | 03/01/2020 | 03/11/2020 | 07/19/2020 | 08/09/2020 |