UMD-Summer: France: Classical Myths in Paris (CLAS)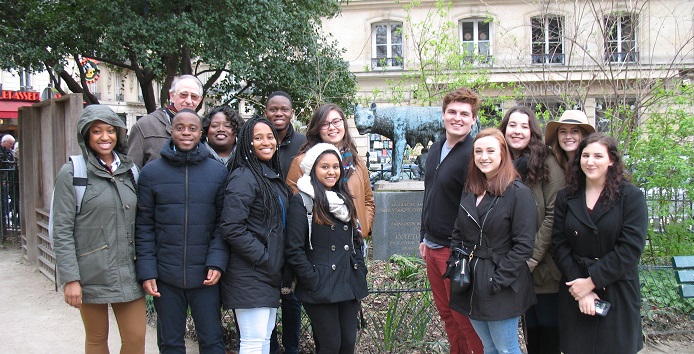 Uncover the surprising classical Greek and Roman influences that have helped shape the city of Paris and the art of France. From a home base on the Left Bank, you will explore the museums and neighborhoods where classical influences are to be found, from the Greek and Roman sculpture in the Louvre to the Champs-Elysées, named for the Elysian Fields of Greek mythology. As you explore Paris, you will investigate the Roman origins of the city, the uses of classical myth in visual art, and the political uses of antiquity in French public monuments such as the Arc de Triomphe and Colonne Vendôme.
This program will run from May 20 - May 29, 2022.
Check out this video made by one of our 2018 participants: https://www.youtube.com/watch?v=D6kacBhwcXg&feature=youtu.be
 
You must be in good academic and judicial standing and you must not have any registration blocks to participate in this program. The minimum GPA for this program is listed above.
UMD freshmen, sophomores, juniors, seniors, and graduate students are eligible to apply.
If you are interested in this program but do not meet the eligibility requirements, reach out to the program leader (listed in the Contacts tab) to discuss your interest in the program.
After you commit to the program, Education Abroad will enroll you in one of the following one (1) credit UMD courses:
CLAS171: Classical Myths in Europe
CLAS499P: Independent Study in Classical Languages and Literature: Classical Myths in Europe
The credit you earn during this program will count as resident credit.
Students will stay in a small hotel, in rooms of double or triple occupancy.
Please refer to the following resources for funding study abroad:
Financial Aid
Scholarships
Financial Commitment, Withdrawals and Refunds Policy
Costs updated for Summer 2022.

APPLICATION FEE
$50
This is a non-refundable fee to submit an application.
Education Abroad Fee
$500
This is a non-refundable fee charged to your account when the application status changes from "Accepted to "Committed." This includes services provided by Education Abroad such as registration, billing, advising, risk management, and pre-departure orientation.
International Health Insurance
$48
This coverage is required and complements students' regular U.S. primary health insurance coverage.
Housing (included in program fee)
$1,040
This fee represents the housing provided during the program.
Tuition
$2,410
These are the instructional costs which include tuition, in-country transportation, course related activities, group meals, and teaching services.
PROGRAM FEE / BILLABLE COSTS
$2,958
This fee is charged to your student account and is based on our program deadlines. Please direct any additional questions to the Office of Student Financial Services and Cashiering.
Meals (estimate)
$100
Passport
$165
Expedited Passport Processing
$60
Visa
$0
Roundtrip airfare (estimate)
$1,500
Course materials
$0
Optional activities/incidental expenses
$450
COVID Rapid Antigen Test in host country
The cost of a COVID test not prescribed by
a physician is not covered by
CISI insurance.

$180
ESTIMATED OUT OF POCKET EXPENSES
$2,325
TOTAL ESTIMATED COST OF ATTENDANCE
$5,333.00
PLEASE NOTE: All University of Maryland study abroad programs are financially self-supporting and, therefore, subject to cancellation due to low enrollment.
 
The course is led by Dr. Lillian Doherty, Professor of Classics, whose training includes a B.A. in French as well as advanced degrees in Classics. Her primary specialty is ancient Greek literature and mythology, which she teaches at all levels from introductory to advanced. Dr. Doherty, who is fluent in French, spent her own junior year in Paris and returns there as often as she can.
For course, itinerary or in-country information, please contact the Program Leader. For general questions or assistance with applying, contact EA Short-term Programs.
As a part of this program, you will engage in the following activities:
Visiting the Pantheon and Roman Baths in the Latin Quarter
Visits to the Louvre, Musée d'Orsay, and Musée Cluny
Walking tours of the Marais and Montparnasse neighborhoods
A walk down the Champs-Elysées and visit to the Arc de Triomphe
| Term | Year | Application Deadline | Admission Notification | Program Start | Program End |
| --- | --- | --- | --- | --- | --- |
| Summerterm | 2022 | 03/15/2022 | 03/25/2022 | 05/20/2022 | 05/29/2022 |