Freshmen Abroad: Terrapin Take Off: Italy: Public Spaces: Then and Now (LARC)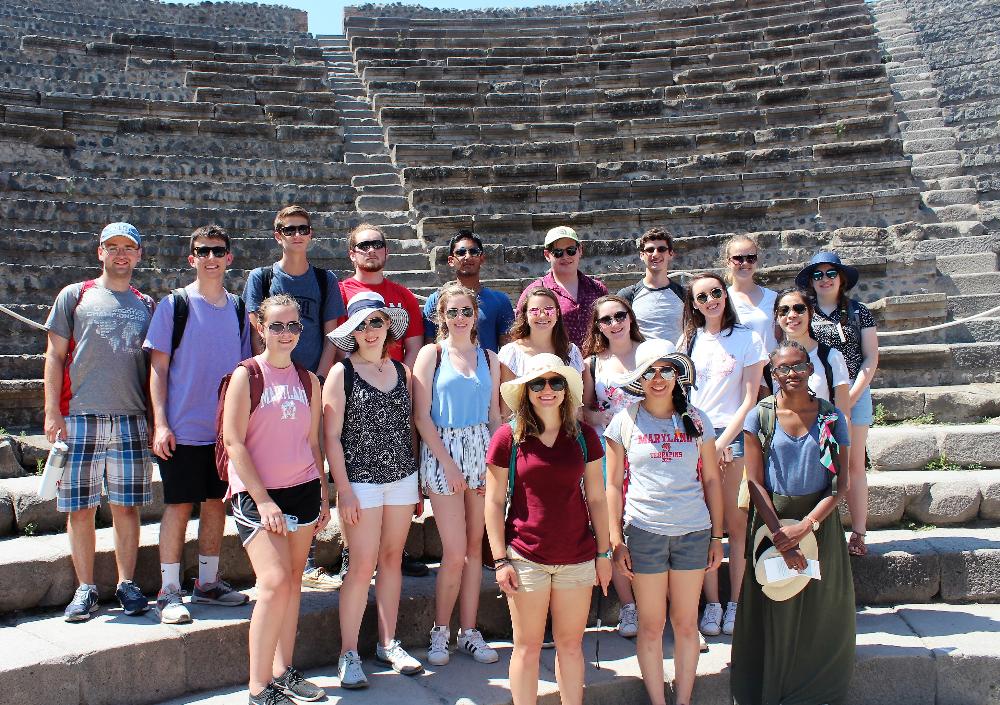 Investigate public spaces of the ancient and modern world using Sorrento and Rome as a base of study! We will explore how people perceive space, what makes a successful outdoor space, how people have historically used space, and how modern life adapts and utilizes spaces from antiquity.
We will visit and investigate many piazzas, town centers, and historic monuments. Discover the ruins of Herculaneum and Pompeii, the Greek temples at Paestum, the Amalfi coast, Florence, the Spanish Steps of Rome, the Campidogliio, the Forum, the Coliseum, St. Peter's Square, the Vatican Museum, the Ara Pacis, the Piazza Novana, the Piazza Popolo, the Pantheon, the Campo di Fiori, and the Villa D'Este.
This course visits architectural monuments and public open spaces to gain a better understanding of sustainable built, natural, and cultural systems. Included are tours of museums, archeological ruins, galleries, natural sites, farms, botanical gardens, and music venues. We travel by train, boat, and bus. The course ends with an Italian chef's cooking class and meal.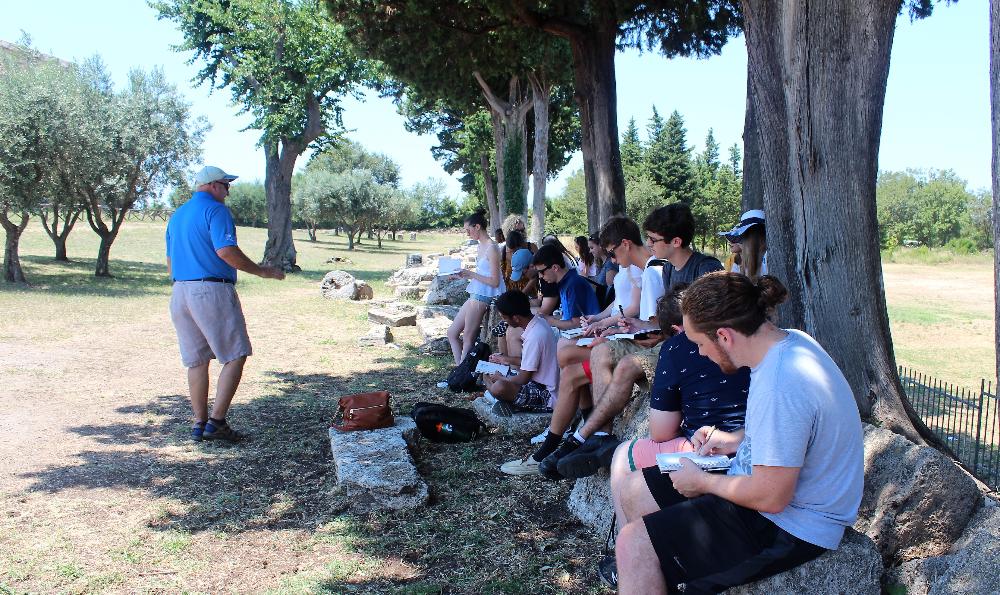 You must be in good academic and judicial standing. This program is sponsored by the Department of Plant Science and Landscape Architecture in the College of Agriculture and Natural Resources but is open to all incoming freshmen, regardless of intended major.
Students may be 17 years old, but must travel with a copy of their birth certificate and a notarized letter from their parents/guardians. More details will be given when appropriate.
This program is open to students who have been admitted to the University of Maryland as freshmen for the 2019-2020 academic year.
Students do not have to commit to UMD to apply.
Students must create their Directory ID and password to apply. 
Once you have created your UID, come back to this brochure and click "Apply Now."
This will bring you to your MyEA portal page. All of the requirements for your application are listed here. Please note, some requirements can be completed electronically, and some need to be sent to us.
The deadline for applications is April 15th.
Students can also apply for an Education Abroad Scholarship, as part of their application, to help fund their experience. The scholarship application is due April 15th.
After you commit to the program, Education Abroad will enroll you in the following three (3) credit UMD course:
LARC 188A: Public Spaces: Then and Now
This course offers survival language tutorials as well as instruction in recording entries in a field journal and field sketching techniques (sketching not graded).
The credit you earn during this program will count as resident credit.
Prior to departure, students must attend a required orientation on the UMD campus. Students will start a research paper prior to orientation.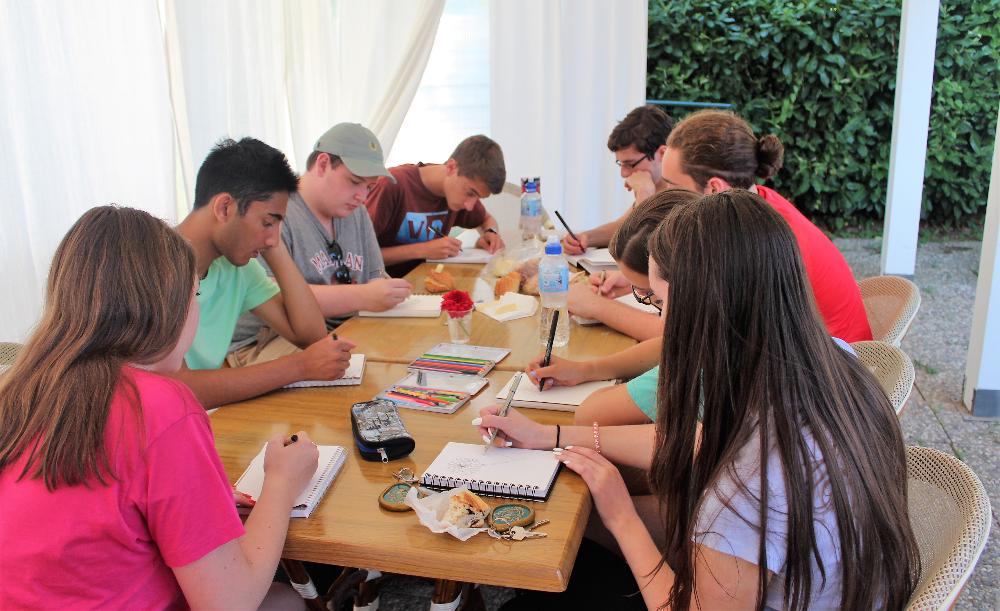 Throughout the programs students will stay in hotel accommodations. You will share a room with students of your same gender, and breakfast is included.
For the orientation, students will stay in a residence hall on the UMD campus.
 
Costs listed are for summer 2019. 
Application Fee
$50
Billable Costs
Billable costs are charged to your student account. They are due based on the Office of Student Financial Services and Cashiering's payment schedule. Be sure to check your statements when they are available.
Education Abroad Fee
$500
This fee is charged to your account when the application status changes from "Accepted" to "Committed." This fee includes Education Abroad services including registration, billing, advising, risk management, and pre-departure orientation.
International Health Insurance
$43
Tuition
$2,507
This fee is charged to your UMD account upon course registration. This fee includes: Tuition, in-country transportation, course related activities, group meals, and teaching services.
Housing Fee
$600
This fee represents the housing provided during the program.
TOTAL PROGRAM FEE
$3,650
Out-of-pocket Costs
Meals (estimate)
$250
Passport
$145
Roundtrip Airfare (estimate)
$1,700
Optional Activities/incidental expenses
$300
TOTAL ESTIMATED COST OF ATTENDANCE:
$6,095
Please refer to the following resources for more information on funding study abroad
PLEASE NOTE: All University of Maryland study abroad programs are financially self-supporting and, therefore, subject to cancelation due to low enrollment.
Dennis Nola is a professor in the landscape architecture program and serves on numerous professional boards. His expertise is in environmental restoration, working with underprivileged communities on urban renewal projects and urban agriculture. He has led over 250 students throughout Italy over the last 11 years. He is passionate about teaching and loves to work with young people. His students often have a celebratory meal at his house at the end of the course where they share photos and memories, and get to practice their newly acquired cooking skills.
 
For questions or assistance with applying, contact Malik Blue.
Term
Year
Application Deadline
Admission Notification
Program Start
Program End
Summerterm
2019
04/15/2019
04/20/2019
07/01/2019
07/14/2019
Application review will take place between the deadline ("last day to apply") and decision date shown above. Admissions notifications will be sent on or after the decision date.This program begins with a required orientation on the UMD campus on the start date shown above, followed by a group departure for the program site abroad.Travel dates and flight booking instructions will be provided to participants in May.