UMD Exchange: University of Glasgow (United Kingdom)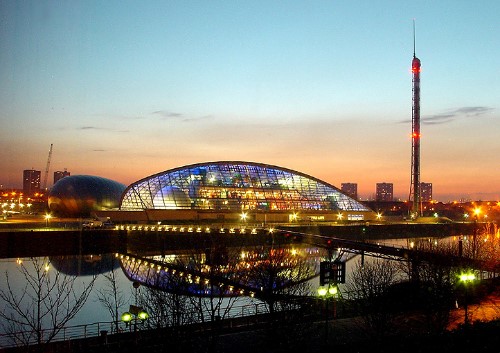 Host Institution
The University of Glasgow Exchange Program brings students from over 120 countries around the world to study at one of the world's leading scientific universities. This program affords University of Maryland students to spend time living and learning at the University of Glasgow in Scotland. Students have access to exciting classes and cutting-edge research as well as the opportunity to live and enjoy the city itself.
Host City
Glasgow combines style, urbanity, and the locals' legendary friendliness that provides the perfect destination for study abroad. Glasgow is Scotland's biggest city (and the third largest in the UK) and has evolved to become one of Britain's most intriguing. Glasgow offers Victorian architecture filled with stylish restaurants, live music, and first-rate museums.


The University of Glasgow and the University of Maryland are both members in Universitas 21 (U21). U21 is the leading global network of research-intensive universities; working together to foster global citizenship and institutional innovation through research inspired teaching and learning, student mobility, connecting our students and staff, and wider advocacy for internationalization. 
Learn more about Universitas 21 and its programs and mission on the U21 website.
---
Exchange programs are highly competitive and space in each program is limited. You must meet the following eligibility requirements in order to apply to this program:
3.0 GPA
Completion of 2 semesters at UMD
Students can choose from any of the undergraduate courses offered at the University of Glasgow. Students must coordinate with departmental advisors to pre-arrange transfer credit for these courses. Course offerings are available on the university's website.
 
Student Visa Information
As an exchange student, you are required to obtain documents to enter the UK on a Student Visitor Visa or apply for a Tier-4 student visa for the United Kingdom before you leave the US.  The type of visa you obtain depends on length of stay and activities within the UK:  http://www.ukba.homeoffice.gov.uk/visas-immigration/.
 
---
Click "Apply Now" at the top of this page. You will log in with your UMD directory ID and password.
Submit all application materials by the deadline listed below. This includes meeting with your EA advisor (listed at the top of this page), and may include requesting a faculty letter of recommendation, and submitting an official transcript. If a letter of recommendation and/or official transcript are required, it will be listed in MyEA once you start an application for this program. 
After the application deadline, we will review all completed applications and nominate students for available spots in each exchange program.
If you are nominated to participate in this exchange, you will work with your EA advisor (listed above) to apply directly to the host university, who will formally admit you to the exchange program. Nominated students must complete the host university application in accordance with the host university's stated deadlines and instructions.
Nominated students will then work with their EA advisor (listed above) and our partner universities to coordinate all aspects of the stay at the host university such as course registration, visas and arrival.
---
Academic Planning
Visit the Academics & Study Abroad page which outlines key considerations for your academic planning as you navigate different phases of study abroad:
Coursework
Students studying abroad at Glasgow through the exchange can choose from a variety of courses in Glasgow's catalogue, including some courses designed specifically for study abroad students. 
Students will have the option to select Level 1 or 2 courses in any subject area, but must have academic experience for courses at any higher levels. It is not possible to take courses from multiple levels in the same subject area in the following areas of study: engineering, business, politics, and chemistry.
Course schedules are built from course selections on the application, so students are asked to be careful in selecting their courses on their application.
There may be other course offerings on this program that are not currently listed in the Study Abroad Course Database (SACD).  If you are interested in taking a course not listed in the SACD, please submit a transfer credit evaluation request.
 
Credit
All credit you earn on this program will count as transfer credit on your UMD transcript. UMD uses the following conversion to assess how many credits you will get from this program:

| University of Glasgow Credit | UMD Credit |
| --- | --- |
| 1 Glasgow credit | 0.3 UMD credit |
| 10 Glasgow credits | 3 UMD credits |
The chart above was last approved by the UMD Transfer Credit Committee on June 10, 2014.
Grading
Undergraduates must receive a C- equivalent or better in order to be eligible for the transfer of credit.
| University of Glasgow Grade | UMD Grade |
| --- | --- |
| 40 or D3 | C - |
The University of Glasgow has a number of undergraduate residences. Please note that later year undergraduate students may be allocated to Kelvinhaugh Street, Winton Drive or any of our undergraduate residences.  For more information, please see the University of Glasgow Residential Services website:
http://www.gla.ac.uk/services/residentialservices.
---
UMD students participating in an Exchange have the benefit of paying UMD tuition rates to attend an institution abroad. For specific information on the cost of attending this Exchange, please see the UMD Exchange Cost Sheet
Tuition and fees for exchange programs are charged directly to your UMD account, which means you can apply UMD scholarships, state and federal financial aid, and alternative loans towards the cost of an exchange. Housing costs are paid directly to the host institution or on-site housing agency.
You can use the cost of attendance comparison worksheet to view how study abroad programs compare to each other and the amount you pay on campus at UMD. As always, your EA advisor (listed above) is available help you complete this worksheet and find affordable programs that fit your study abroad goals.
Please refer to the following resources for more information on funding study abroad:
---
| Term | Year | Application Deadline | Admission Notification | Program Start | Program End |
| --- | --- | --- | --- | --- | --- |
| Year (Fall-Spring) | 2023 | 03/01/2023 | 03/13/2023 | | |
| Fall | 2023 | 03/01/2023 | 03/13/2023 | 09/17/2023 | 12/16/2023 |
| Spring | 2024 | 10/01/2023 | 10/11/2023 | | |