ENGR Exchange: Shanghai Jiao Tong University Joint Institute (China)
All students accepted to an Exchange program are automatically considered for an award of $1,000! See Cost tab for more information.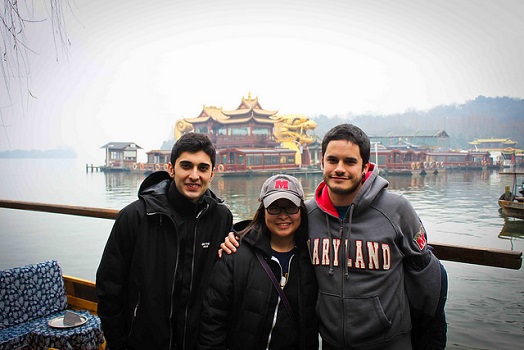 Host Institution
The UM-SJTU Joint Institute (JI) is an equal-partner institution cooperatively sponsored by the University of Michigan (UM) and Shanghai Jiao Tong University (SJTU). The Chinese Government and both partner universities have made a strong commitment to develop JI as a world-class, research-oriented, higher-learning institute.
 
As a specially designated zone in Shanghai Jiao Tong University, JI has been given a high degree of autonomy to model itself after the University of Michigan. Through the merging and utilization of the best practices of both universities, JI has demonstrated rapid development in its management model, organizational structure and educational system.
 
The unique and strategic characteristic of the JI is its global approach to structural and operational development. The JI has developed an effective model for training globally astute, creative talents. In addition to its unique program curricula modeled after UM and an all-English learning environment, JI students are exposed to an educational approach focused on holistic and rounded development of students' abilities and character.
 
As of July 2015, JI has 50 faculty members from China, the United States, Canada, Poland, Germany, France, and many other countries. Around 1,100 students are enrolled in the four-year undergraduate program, while the graduate program numbers more than 100 Masters and PhD students.
Host City
Shanghai is the most populous city in China. Home to more than 20 million residents, the city is located at the mouth of the Yangtze River, possessing the best location on the China's East Coast. Once a small fishing village, Shanghai is now one of the world's most modern and sophisticated cities, exerting influence over finance, commerce, fashion, and culture. Nearly 300 multinational companies from Fortune 500 invest in Shanghai, of which over 60 have set up their China headquarters in Shanghai. There is nowhere else in the country can you feel the same pulse and dynamism. Shanghai is also the cool, confident face of modern China, a gateway to attract millions of visitors annually from abroad (as well as all across China) who flock here to enjoy its excellent shopping, famed tourist sites, fascinating mix of architecture and buzzing street culture. Shanghai is where everything and anything is possible.

Shanghai Jiao Tong University and the University of Maryland are both members in Universitas 21 (U21). U21 is the leading global network of research-intensive universities; working together to foster global citizenship and institutional innovation through research inspired teaching and learning, student mobility, connecting our students and staff, and wider advocacy for internationalization. 
Learn more about Universitas 21 and it's programs and mission on the U21 website.
---
Exchange programs are highly competitive and space in each program is limited. You must meet the following eligibility requirements in order to apply to this program:
3.25 GPA
Completion of 2 semesters at UMD
You must be an ENGR major
Exchange programs are a good fit for students looking for immersion, personal growth, and the opportunity to strengthen qualities such as independence and adaptability.
Student Visa Information
A student visa is required for participation on this exchange. For more information, please visit our study abroad visa guide to view instructions for the country you will be visiting. Please note that visa information is subject to change and you are responsible for checking the embassy website for updates.
---
Click "Apply Now" at the top of this page. You will log in with your UMD directory ID and password.
Submit all application materials by the deadline listed below. This includes meeting with your EA advisor (listed at the top of this page), requesting a faculty letter of recommendation, and submitting an official transcript.
After the application deadline, we will review all completed applications and nominate students for available spots in each exchange program.
If you are nominated to participate in this exchange, you will work with your EA advisor (listed above) to apply directly to the host university, who will formally admit you to the exchange program.
Nominated students will then work with their EA advisor (listed above) and our partner universities to coordinate all aspects of the stay at the host university such as course registration, visas and arrival.
---
Academic Planning
Visit the Academics & Study Abroad page which outlines key considerations for your academic planning as you navigate different phases of study abroad:
Coursework
Disciplines available: Mechanical and Electrical & Computer Engineering.
 
There may be other course offerings on this program that are not currently listed in the Study Abroad Course Database (SACD). 
Credit
All credit you earn on this program will count as transfer credit towards your UMD degree.  Most courses at Shanghai Jiao Tong University Joint Institute will be converted as follows:

| | |
| --- | --- |
| Shanghai Jiao Tong University Joint Institute Credit | UMD Credit |
| 1 Credit | 1 Credit |
| 3 Credit | 3 Credit |
The credit conversion listed above was approved by the UMD Study Abroad Transfer Credit Committee on June 4, 2014. 
Grading
Undergraduates must receive a C- equivalent or better in order to be eligible for the transfer of credit.

| | |
| --- | --- |
| Shanghai Jiao Tong University Joint Institute Grade | UMD Grade |
| C - | C - |
Undergraduates must receive a C- equivalent or better in order to be eligible for the transfer of credit.The chart above was last approved by the UMD Transfer Credit Committee on June 10, 2014.
---
Exchange students are housed together with JI students on Minhang Campus in Buildings 20, 21, and 22.  The JI dorms are on the west side of the campus, with easy access to the campus living center and the main gate. Walking from the dorms to the JI classrooms takes less than 10 minutes, although almost all students use a bike for their daily commute. Accommodation is either a double or triple shared room based on availability. Click here for more information. Living off-campus is not recommended.
---
Exchange Program Cost of Attendance
UMD students participating in an Exchange program have the benefit of paying UMD tuition rates to attend an institution abroad. For specific information about this Exchange program, please reference the Cost of Attendance Chart. 
Tuition and fees for exchange programs are charged directly to your UMD account, which means you can apply UMD scholarships, state and federal financial aid, and alternative loans towards the cost of an exchange. Students participating in a BMGT or ENGR exchange program are not charged differential tuition. Housing costs are paid directly to the host institution or on-site housing agency.
You can use the cost of attendance comparison worksheet to view how study abroad programs compare to each other and the amount you pay on campus at UMD. As always, your EA advisor (listed above) is available to help you complete this worksheet and find affordable programs that fit your study abroad goals.
Exchange Scholarship
All students accepted to an Exchange program are considered for an automatic award of $1,000! To be considered for this scholarship, you must:
Be a current degree seeking undergraduate UMD student (graduate students are not eligible for this award)
Not currently receive full tuition scholarship/benefits (i.e. Banneker Key, tuition remission, Frederick Douglass Scholarship, etc.)
Additional Financial Resources
---
Maximize your time abroad by taking advantage of resources at your host institution!
Student Clubs and Organizations
For SJTU students, taking part in associations is the most important part of after-school life. In addition to the International Students Union, which hosts a variety of events throughout the semester, there are more than 100 clubs open to international students.
International Welcome/Orientation
SJTU hosts an international student campus orientation in order to ensure all students feel welcome and adjusted to their new campus. This also allows international students to have a chance to make friends!
Counseling & Health Services
International students that are studying at SJTU for two months or longer will have to purchase a health insurance plan pre approved by the university to ensure that everyone can have a safe and healthy study abroad experience!
 

---
| Term | Year | Application Deadline | Admission Notification | Program Start | Program End |
| --- | --- | --- | --- | --- | --- |
| Year (Fall-Spring) | 2022 | 03/15/2022 | 03/25/2022 | | |
| Fall | 2022 | 03/15/2022 | 03/25/2022 | | |
| Spring | 2023 | 10/01/2022 | 10/11/2022 | | |