UMD-Summer: Costa Rica: Sustainable Futures (LARC)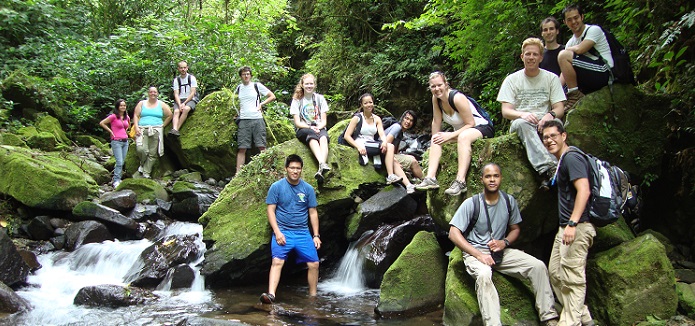 This ten-week summer course of study is designed to offer you the opportunity to live and work on ecological and social projects in a rural, but rapidly developing region in Costa Rica - the Monteverde Cloud Forest Preserve. This multi-disciplinary program is designed for various disciplines, including architecture, planning, landscape architecture, resource management, and international development. You will participate in a seminar on sustainable development, work with community residents on various projects, participate in programs hosted by the Monteverde Institute, enroll in Spanish language classes, and take an intensive studio/internship with one of the many organizations in the Monteverde zone working toward sustainability.  In addition, there will be a series of lectures and field trips to local cooperatives, ecologically managed farms, and various forest reserves.
Please note: This program qualifies for eligible Pell Grant recipients to apply for the Gilman International Scholarship (due date 3/5/19).
 
You must be in good academic and judicial standing and you must not have any registration blocks to participate in this program. The minimum GPA for this program is listed above.
You must be a junior, senior, or graduate student to participate in this program.
Only Architecture, Landscape Architecture, and Urban Studies and Planning majors are eligible to apply.
All students in the above majors (or related majors) should contact the Program Director, David Myers at dnmyers@umd.edu to schedule an interview prior to application.
After you commit to the program, Education Abroad will enroll you in all of the following UMD courses for a total of twelve (12) credits:
LARC 471: Capstone Community Design Studio (5 credits)
LARC 451: Sustainable Communities (3 credits)
LARC 489C: Special Topics in Landscape Architecture: Sustainable Futures in Costa Rica (4 credits)
The credit you earn during this program will count as resident credit.
There will be 2 orientation sessions that will be scheduled in the spring 2019 semester.
You will live in homestays with local families.
Costs listed are for summer 2019.
Please note: This program qualifies for eligible Pell Grant recipients to apply for the Gilman International Scholarship (due date 3/5/19).
Application Fee
$50
Billable Costs
Billable costs are charged to your student account. They are due based on the Office of Student Financial Services and Cashiering payment schedule. Be sure to check your statements when they are available.
Education Abroad Fee
$500
This fee is charged to your account when the application status changes from "Accepted" to "Committed." This fee includes Education Abroad services including registration, billing, advising, risk management, and pre-departure orientation.
International Health Insurance
$209
Tuition
$6,703
This fee is charged to your UMD account upon course registration. This fee includes: Tuition, in-country transportation, course related activities, group meals, and teaching services.
Housing Fee
$1,188
This fee represents the housing provided during the program.
TOTAL PROGRAM FEE
$8,600
Out-of-pocket Costs
Meals (estimate)
$250
Passport
$140
Roundtrip Airfare (estimate)
$1,500
Optional Activities/incidental expenses
$300
Optional trip cancelation/interruption Insurance (estimate)
$180
TOTAL ESTIMATED COST OF ATTENDANCE:
$11,020
NOTE: If you are a non-UMD graduate student, you will need to pay a $75 application fee to the UMD graduate school to participate in this program.
Please refer to the following resources for more information on funding study abroad
PLEASE NOTE: All University of Maryland study abroad programs are financially self-supporting and, therefore, subject to cancelation due to low enrollment.
David Myers, Ph.D, PLA, ASLA  is the Program Director and has over 35 years of interdisciplinary education and experience in landscape architecture, plant science, and biogeography with sustainable design and planning as the central focus of his research, teaching and practice. Dr. Myers has taught at the University of Maryland since 1999 where he is currently Associate Professor in the Department of Plant Science and Landscape Architecture and Director of University of Maryland Landscape Architecture. He previously served nine years as Director of Digital Studio. Dr. Myers is an Affiliate Faculty Member of National Center for Smart Growth Research. His research and creative activities include issues of sustainable design in suburban residential environments, the application of landscape ecological principles to the built environment, research on compliance in forest easements, GIS greenway planning and envisioning, and conservation design and planning. Dr. Myers has received funding from Chesapeake Bay Trust, Department of Interior -National Park Service, National Capitol Park and Planning Commission: Montgomery County and Prince George's County and the Maryland Department of Environment. His teaching focuses on GIS and greenway design and planning, landscape ethics and environmental and watershed planning, GIS and service learning. His extension and outreach includes service to ASLA and MDASLA.
For course, itinerary or in-country information, please contact the Program Director. For general questions or assistance with applying, contact EA Short-term Programs
As a part of this program, you will engage in the following activities:
Collaborate with local colleagues on studio projects identified by the community.
Immerse yourself in Costa Rican culture by living in a homestay and interacting extensively with locals.
Spanish language instruction
Field trips to local cooperatives, ecologically managed farms, and various forest reserves
| Term | Year | Application Deadline | Admission Notification | Program Start | Program End |
| --- | --- | --- | --- | --- | --- |
| Summerterm | 2019 | 03/17/2019 | 03/11/2019 | 05/26/2019 | 08/04/2019 |