UMD-Summer: Ireland: International Approaches to Drama for Learning (EDCI)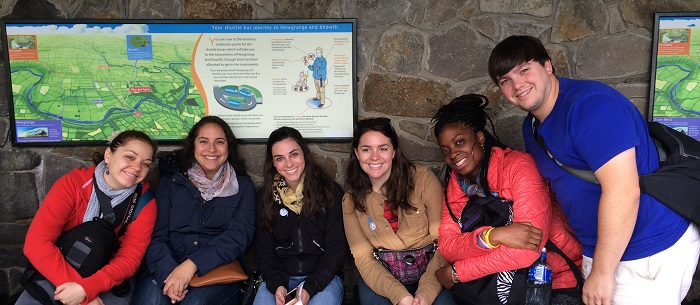 Join educators and artists from around the globe in discovering the power of drama as a medium for learning. Two-weeks of intensive workshops at Trinity College in Dublin, Ireland will prepare participants to utilize drama as a method to meet the needs of diverse learners. International experts will demonstrate how to create 21st century classrooms by placing social, emotional, artistic, and intellectual development at the core of instruction. Participants will experience daily life in Dublin, tour famous sites, and be immersed in Irish culture.
You must be in good academic and judicial standing and you must not have any registration blocks to participate in this program. The minimum GPA for this program is listed above.
This program is open to UMD graduate students, visiting graduate students, and educators.
An interview is required as part of the application process.
After you commit to the program, Education Abroad will enroll you in the following courses for a total of four (4) UMD credits:
EDCI688D Special Topics in Curriculum and Instruction: Summer School in Dublin (1 credit)
EDCI688L Special Topics in Curriculum and Instruction: International Approaches to Drama in Education (3 credits)
The courses you complete during this program will count as resident credit.
There will be two online sessions in June before leaving for Ireland. During these meetings we will review the readings and get oriented for the trip.
 One online session will be held in August after returning to the US. During this session you will share your project.
You will stay in a modern dorm, about a 10 minute walk from the college, that includes private room and bath with a shared living room and kitchen. 
Costs listed are for summer 2016. The updated budget for summer 2018 will be published when available.
Application Fee
$50
Billable Costs
Billable costs are charged to your student account. They are due based on the Bursar's payment schedule. Be sure to check your statements when they are available.
Education Abroad Fee
$500
This fee is charged to your account when the application status changes from "Accepted" to "Committed." This fee includes Education Abroad services including registration, billing, advising, risk management, and pre-departure orientation.
International Health Insurance
$40
Tuition
$2,455
This fee is charged to your UMD account upon course registration. This fee includes: Tuition, in-country transportation, course related activities, group meals, and teaching services.
Housing Fee
$800
This fee represents the housing provided during the program.
TOTAL PROGRAM FEE
$3,795
Out-of-pocket Costs
Meals (estimate)
$350
Passport
$140
Roundtrip Airfare (estimate)
$1,300
Optional Activities/incidental expenses
$300
Optional trip cancelation/interruption Insurance (estimate)
$50
TOTAL ESTIMATED COST OF ATTENDANCE:
$5,985
NOTE: If you are a non-UMD graduate student, you will need to pay a $75 application fee to the UMD graduate school to participate in this program.
Please refer to the following resources for more information on funding study abroad
PLEASE NOTE: All University of Maryland study abroad programs are financially self-supporting and, therefore, subject to cancelation due to low enrollment.
Linda Krakaur is the Program Director. She also works for the Maryland State Department of Education as the Curriculum Director for the Maryland Center for Creative Classrooms.  Ms. Krakaur has presented her inquiry-based approach to arts integration at national and international conferences including the Drama Across the Curriculum and Beyond Conference at New York University and the International Drama in Education Association conferences in Hong Kong and France. As a graduate of Trinity's Drama in Education program, Linda strives to provide U.S. teachers with the opportunity to learn more about how drama can meet the needs of diverse learners, how drama can enhance 21st century skills and knowledge, and how an international lens on drama in education may expand teacher practice in US classrooms. She will complete her doctoral studies at UMD with a focus on teacher education in May.
Dr. Carmel O'Sullivan, Dean of the School of Education, is the director of the Summer School for Drama in Education. Dr. O'Sullivan founded the Trinity College Arts Education Research Group and the Association for Drama in Education in Ireland. Dr. O'Sullivan's ten-year research and practice with students with Asperger's has been acknowledged internationally as groundbreaking work.
For course, itinerary or in-country information, please contact the Program Director. For general questions or assistance with applying, contact EA Short-term Programs
As a part of this program, you will engage in the following activities:
Two weeks of hands-on workshops (3 per day) led by international experts in drama in education.
Studying with teachers from all over the world who share an interest in arts integration.
Cultural arts opportunities including a night of traditional Irish storytelling, dance, and song.
Welcome dinner and final celebration dinner as well as an optional trip to the Irish countryside during the first weekend of the program.
| Term | Year | Application Deadline | Admission Notification | Program Start | Program End |
| --- | --- | --- | --- | --- | --- |
| Summerterm | 2017 | 03/01/2017 | 03/11/2017 | 06/30/2017 | 07/15/2017 |