UMD-Summer: Italy: Architecture, Urbanism and Landscape (ARCH)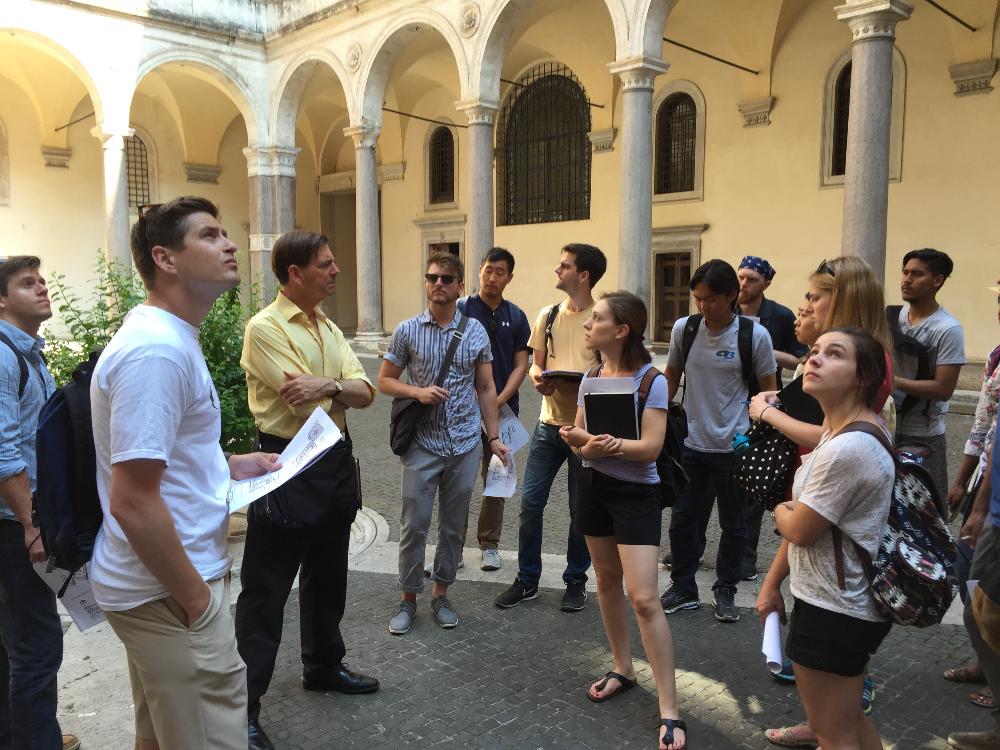 This program will expose you to the architectural, landscape, urbanistic, artistic and cultural traditions of Florence and Tuscany, which are considered by many academics to be at the foundations of these disciplines. You will learn by direct exposure to architectural, landscape, and urban sites. Most of the coursework is conducted in situ, directly in the buildings, gardens, and piazzas being studied.
You will learn through readings, lectures, but most importantly by doing, by observing, documenting, and analyzing the places you visit.
Coursework is centered about two significant approaches that we will employ throughout the summer session:
1) we will develop your representation skills course, seeking to build proficiency in a variety of media and drawing conventions, and
2) we will develop your critical thinking, analytical, and diagramming skills through a series of exercises centered around the development of a daily sketchbook journal.
You will also be exposed to the rich cultural and artistic heritage of Florence and Tuscany through museum visits, field trips, attendance at performances, and interaction with native experts in a variety of disciplines.
You must be in good academic and judicial standing and you must not have any registration blocks to participate in this program. The minimum GPA for this program is listed above.
This program is only open to undergraduate Architecture majors at the sophomore, junior, and senior levels, and/or graduate students of architecture enrolled in the March program.
Undergraduates must have successfully completed ARCH 400 Studio I to be eligible.
Graduate Students must have completed ARCH405 Graduate Studio II to be eligible.
After you commit to the program, Education Abroad will enroll you in the following course for a total of three (3) UMD credits:
ARCH 478V/678V, VISUAL ANALYSIS - THE BUILDING AND THE CITY
The credit you earn during this program will count as resident credit.
Students will be expected to participate in pre-departure meetings, lectures, as well as readings in advance of the course.
Students will live in fully furnished apartments in the historic center of Florence for the month of June. The apartments have washing machines, fully equipped kitchens and linens are provided.
Please refer to the following resources for funding study abroad:
Financial Aid
Scholarships
Financial Policies
*This program qualifies for eligible Pell Grant recipients to apply for the Gilman International Scholarship. Online applications will open in mid-January and are due Thursday, March 9, 2023, at 11:59pm PT.
*Costs below are for Summer 2023

APPLICATION FEE
$50
This is a non-refundable fee to submit an application.
Education Abroad Fee
$500
This is a non-refundable fee charged to your account when the application status changes from "Accepted to "Committed." This includes services provided by Education Abroad such as registration, billing, advising, risk management, and pre-departure orientation.
International Health Insurance
$50
This coverage is required and complements students' regular U.S. primary health insurance coverage.
Program Fee
Housing Fee
$1,400
This fee represents the housing provided during the program.
Tuition
$3,942
These are the instructional costs which include tuition, in-country transportation, course related activities, group meals, and teaching services.
Program Fee Total
$5,342
 BILLABLE COSTS TOTAL
$5,892
This fee is charged to your student account and is based on our program deadlines. Please direct any additional questions to the Office of Student Financial Services and Cashiering.
Meals (estimate)
$100
Passport
$165
Visa
$0
Roundtrip airfare (estimate)
$1,000
Course materials
$0
Incidental expenses
$150
Trip cancelation insurance (optional)
$180
ESTIMATED OUT OF POCKET EXPENSES
$1,595
*Non-UMD graduate students will need to pay a $75 application fee to the UMD Graduate School to participate in this program.

TOTAL ESTIMATED COST OF ATTENDANCE
$7,537
PLEASE NOTE: All University of Maryland study abroad programs are financially self-supporting and, therefore, subject to cancellation due to low enrollment.
Professor Brian Kelly, AIA ,Faculty, has been traveling to Italy since 1978-79 when he lived in Rome as a student. Kelly's sketchbook drawings, charcoal drawings, and watercolors have been part of a traveling exhibition. Most of these drawings were executed in conjunction with travel in Italy. In Italy, Kelly also shares his considerable knowledge of the history of Italian art and architecture with students in the program.
For general questions or assistance with applying, contact EA Short-term Programs
As a part of this program, you will engage in the following activities:
Learn about the architecture, urbanism and landscape of Italy through direct experience with expert faculty and guests.
Improve your skills by drawing in situ in some of the world's greatest buildings, urban spaces and gardens.
Improve your diagramming skills by keeping an architect's journal or sketchbook focusing on the principles of the places you'll visit.
Gain access to sites that are not typically accessed by tourists and/or scholars.
| Term | Year | Application Deadline | Admission Notification | Program Start | Program End |
| --- | --- | --- | --- | --- | --- |
| Summerterm | 2023 | 03/01/2023 | 03/13/2023 | 06/01/2023 | 06/30/2023 |