CIEE Summer Community Development And Social Justice: Theory + Practice in Cape Town, South Africa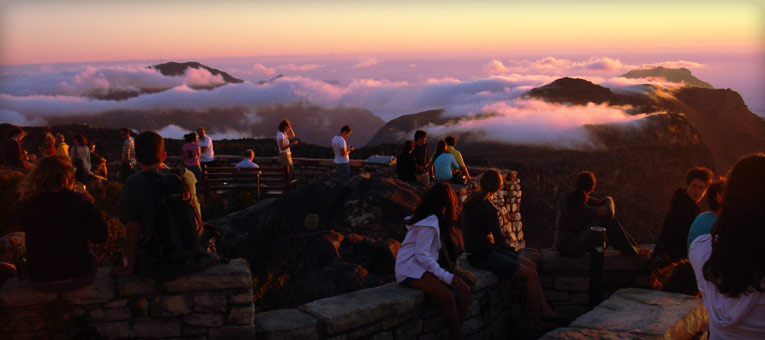 CIEE Summer Community Development And Social Justice: Theory + Practice in Cape Town, South Africa 
The summer Community Development and Social Justice program in Cape Town, South Africa is designed for students from all academic disciplines who want to learn about the challenges and realities of post-Apartheid South Africa through innovative courses and an integrated community service study abroad project.
Through this combination of theory and practice, students become participants in, rather than mere observers of, this dynamic environment and gain a comprehensive understanding of the evolving story that is South Africa.
In South Africa you will:
Acquire a greater understanding of issues around several topics in contemporary South Africa including economics, health, politics, the environment, etc., and how these issues inform the discourse on poverty and development and their relationship to globalization
Develop and use specific Afrikaans or isiXhosa vocabulary necessary for community engagement activities and courses
Choose from a host of quality community engagement opportunities
Explore various points of interest in and around Cape Town and the Western Cape Province
Please check the CIEE website for final program dates, and speak with your CIEE Study Abroad Advisor prior to booking airfare.
To apply to this program, you must complete two main steps:
Submit a UMD approval application - start by clicking "apply now" at the top of this page. This application allows UMD Education Abroad to approve your study abroad program selection so you may earn credit in a program outside of UMD.
This application will require you to meet with your EA advisor, who will communicate important details related to participating in this program. If you do not complete this application by the stated deadline, you may not receive credit for your study abroad program and will lose your student status for the time you are not studying at UMD.
Apply directly to the program provider. After receiving UMD approval, you should submit the program application directly to the program sponsor by their deadline. Your program sponsor will determine your official acceptance to a program. You must adhere to the provider's timeline, eligibility standards, and application requirements.
After being accepted to your program, your EA advisor will guide you through the course pre-approval process where you will determine which credits you will fulfill abroad.
UMD partners with CIEE to offer affiliate program options to UMD students across the globe. While you will maintain your UMD student status while you are away, you will work directly with CIEE program staff as a participant on their program. Your EA advisor will assist you with this process and can answer questions you may have about the application process.
Academics on a CIEE program
All CIEE courses are considered for transfer credit. However UMD cannot yet approve transfer credit for CIEE's field studies, internships or experiential learning courses.  Study tours and classes offered on a pass/fail basis are not transferable.
Transcript from a CIEE program
UMD will require the CIEE School of Record transcript from Tulane University in order to apply your study abroad credits to your UMD degree. CIEE waives the fee to issue a School of Record transcript for UMD students. Please ensure that the transcript from Tulane University is sent to UMD Education Abroad at the end of your semester abroad. CIEE will provide instructions and deadlines for submitting your School of Record Request.
Costs & Billing for a CIEE program
The affiliate program costs apply to this program.  All fees are billed to your UMD student account unless otherwise noted. The following CIEE program fee discounts apply to UMD students: 
$2,000 off of CIEE semester program fee (MSI Grant)

Pell-eligible students are also guaranteed free airfare through the GAIN travel grant (see below)

$750 off of CIEE summer program fee (MSI Grant + UMD discount)

Pell-eligible students are also guaranteed free airfare* through the GAIN travel grant

Waiver of $500 school of record fee
As part of your program application to CIEE, you will pay a $50 application fee to CIEE directly. If accepted, you will then pay a $300 confirmation fee (deposit) to CIEE directly. The remaining CIEE program fees, including housing, will be charged to your UMD student account. You will be able to use any financial aid you receive from UMD towards these charges.
Scholarships
Scholarships for this program are available through the UMD Education Abroad Fund and for up to a maximum of $6,500 in CIEE Scholarships & Grants, including need-based awards, and automatic CIEE discounts and awards for UMD students (see above).
In addition to the guaranteed UMD student discount or MSI grant, CIEE competitive scholarships and grants, Pell-eligible students automatically qualify for the following:
*Guaranteed* GAIN travel grant, which covers the cost of airfare (up to $2,000) to your CIEE program site. 
Gilman Go Global Grant of up to $2,500 for semester programs and $1,000 for summer programs if you qualify and apply to the Benjamin A. Gilman Scholarship (regardless of whether or not you receive the Gilman scholarship).
To be considered for the CIEE funding, just check the "Scholarships and Grants" box on your CIEE program application.
Term
Year
Application Deadline
Admission Notification
Program Start
Program End
Summerterm
2018
03/15/2018
01/01/2018
06/18/2018
07/31/2018
Dates reflect information that is available on the program sponsor/host university website. Please confirm with program sponsor/host university before making your travel plans.