UMD-Winter: Ecuador: Technology, Education and Society: Ecuador in Context (CPSP/LASC)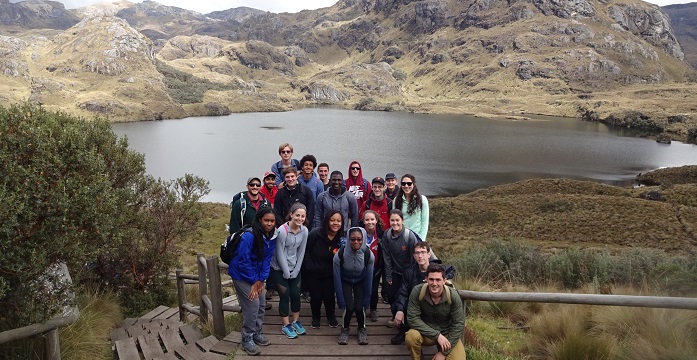 This 3-credit winter course explores the diverse social, geographic and ecological contexts of Ecuador. Set in the UNESCO World Heritage Site of Cuenca, Ecuador students engage in a series of activities to get a firsthand look at the interactions between technology and social issues such as education, the environmental, energy, food security and public health. Program partnerships between UMD, the University of Cuenca, and indigenous communities of Shiña and Saraguro offer participants opportunities to work, live and study alongside students, families and faculty in Ecuador. Activities include Spanish language classes, field trips, lectures, guest speakers and service- learning experiences. During the course, students discuss critical issues of technology and society in conversations and activities with government, NGO, academic, indigenous and other stakeholders. Students also experience the natural and cultural beauty of Ecuador through visits to various National Parks, museums and communities on the coast, mountains and tropical forests. Don't miss this opportunity to apply your own knowledge and expertise while working with students, teachers and community leaders throughout Ecuador!
*There is one $1,000 scholarship available for a student in the STS Program. Please contact the Faculty Director for additional information once you have completed your program application.
You must be in good academic and judicial standing and you must not have any registration blocks to participate in this program. The minimum GPA for this program is listed above.
UMD and Non-UMD undergraduates of all majors are eligible to apply. If graduate students are interested in applying, please work with your Academic Advisor to arrange an independent study. 
After you commit to the program, Education Abroad will enroll you in one of the following three (3) credit UMD courses:
CPSP279T Practicum: Study Abroad: Technology and Society: Ecuador in Context
LASC269T Special Topics in Study Abroad II: Technology and Society: Ecuador in Context
The credit you earn during this program will count as resident credit.
Participating students earn General Education credits for both Scholarship in Practice and Cultural Competence.
Prior to departure students are expected to complete some preparatory work and participate in two pre-program meetings.
Students will primarily stay with host families in and around Cuenca. During weekend trips to various historical and cultural sites, students will stay in hotels or hostels.
Costs are current for winter 2020.
*Please note this program qualifies for eligible Pell Grant recipients to apply for the Gilman International Scholarship. Online applications are now open and the deadline is Tuesday, October 1st at 11:59pm Central Daylight Time (CDT). 
**There is one $1,000 scholarship available for a student in the STS Program. Please contact the Faculty Director for additional information once you have completed your program application.
Application Fee
$50
Billable Costs
Billable costs are charged to your student account. They are due based on the Office of Student Financial Services and Cashiering payment schedule. Be sure to check your statements when they are available.
Education Abroad Fee
$500
This fee is charged to your account when the application status changes from "Accepted" to "Committed." This fee includes Education Abroad services including registration, billing, advising, risk management, and pre-departure orientation.
International Health Insurance
$45
Tuition
$1,937
This fee is charged to your UMD account upon course registration. This fee includes: Tuition, in-country transportation, course related activities, group meals, and teaching services.
Housing Fee
$468
This fee represents the housing provided during the program.
TOTAL PROGRAM FEE
$2,950
Out-of-pocket Costs
Meals (estimate)
$100
Visa
$0
Passport
$145
Roundtrip Airfare (estimate)
$1,000
Course Materials
$0
Optional Activities/incidental expenses
$150
Optional trip cancelation/interruption Insurance (estimate)
$180
TOTAL ESTIMATED COST OF ATTENDANCE:
$4,575
NOTE: If you are a non-UMD graduate student, you will need to pay a $75 application fee to the UMD graduate school to participate in this program.
Please refer to the following resources for more information on funding study abroad
PLEASE NOTE: All University of Maryland study abroad programs are financially self-supporting and, therefore, subject to cancelation due to low enrollment.
Timothy Reedy is the Program Director and is currently pursuing a doctoral degree at the University of Maryland, College Park, in international education policy. He is an experienced science educator holding a bachelor's degree in science education from the University of Missouri and a Master of Science in biology from Washington University in St. Louis.
As a high school science teacher, Reedy worked to increase access and create opportunities for students around the world and to position them to be successful in today's knowledge-based, global economy. As an academic, his research interest operates in the context of urban schools and communities and developing countries. He is particularly interested in how sociocultural factors and epistemological beliefs about science and technology impact socioscientific decision-making, particularly regarding environmental issues, and how science education can better prepare citizens to critically engage in those issues. He is an active member of Comparative International Education Society (CIES) and National Science Teachers Association (NSTA), serving as a presenter for their many professional development workshops. Reedy's career has crossed state and national lines; he has lived, worked or conducted research in institutions across the Midwest and in numerous countries such as South Korea, China, Cuba and Belize.
For course, itinerary or in-country information, please contact the Program Director. For general questions or assistance with applying, contact EA Short-term Programs
As a part of this program, you will engage in the following activities:
Meetings and collaborations with academic, government and non-government professionals
Service-learning projects in the rural indigenous communities and schools of Shiña
Community tourism with the indigenous community of Saraguro
Spanish classes and tandem language partners at the University of Cuenca
Visits to National Parks that may include hiking in El Cajas National Park in the mountains, the tropical forests of National Park Podocarpus and hiking and snorkeling on Isla de Plata in National Park Machalilla on the coast. 
| Term | Year | Application Deadline | Admission Notification | Program Start | Program End |
| --- | --- | --- | --- | --- | --- |
| Winterterm | 2020 | 10/01/2019 | 10/11/2019 | 01/03/2020 | 01/24/2020 |