UMD-Winter: Europe and the US: Accounting's Future, Present, and Past (BMGT)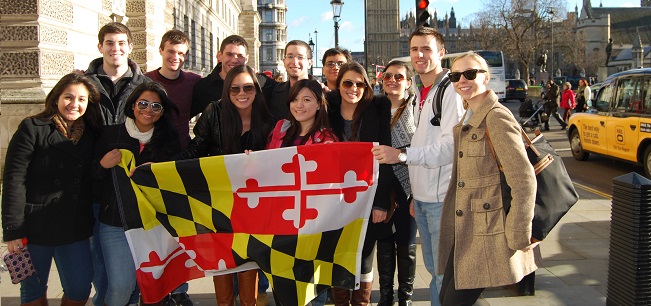 This course will explore current topical themes in accounting in the United States and abroad as well as look at historic foundations of accounting that brought us to this point. A large part of the course would include visits to sites that are significant to the development of the accounting profession and offices of accounting thought leaders. This course will count as a general business course and as an accounting elective for degree requirements for students majoring in accounting.
"In addition to the educational benefits, I view this course as an employment vehicle - with all of our New York and DC large accounting firm recruiters being made aware of the participants, given resumes, and at times interacting with them (note that these same firms hire numerous non-accounting majors as well). Some of the organizations and persons we will meet with, affect virtually every professional accountant in the US and most accountants overseas and affect almost all large multinational corporations. The organizations we will visit will be integral to your lives as professional accountants and will only increase in importance to you as you progress through your career. Students will be able to compare the professional and educational careers of professional accountants in the US, UK, France, and Italy." - Jim McKinney, Course Leader
For more detailed information regarding the winter 2018 course, please see the course website.
You must be in good academic and judicial standing and you must not have any registration blocks to participate in this program. The minimum GPA for this program is listed above.
UMD freshmen through seniors are welcome to apply. Applicants must have satisfactorily completed BMGT 220 (Principles of Accounting I) prior to start of the course.
If you are interested in this program but do not meet the eligibility requirements, reach out to the program director (listed in the Contacts tab) to discuss your interest in the program.
After you commit to the program, Education Abroad will enroll you in the following three (3) credit UMD course:
BMGT428D: Accounting's Future, Present, and Past (UK, France, Italy, NYC, DC)
The credit you earn during this program will count as resident credit.
This course counts as an accounting elective for students earning a degree in Accounting.
There are two post-travel required visits occurring on Friday, January 26, 2018 and Friday, February 2, 2018 afternoons occurring in DC Metro accessible locations. Additionally, students will be required to participate in both pre-departure and post-experience sessions as part of the Smith School Common Core for undergraduate faculty-led, short-term programs. Pre-departure sessions will focus on global mindset, country specific business curriculum, and logistics/health and safety. Post-experience sessions will include a subject specific debrief in addition to career application. The Smith School Common Core culminates in the Global Showcase, where students will be able to demonstrate their cultural curiosity and global business acumen through individual or group poster presentations. Dates for all sessions will be detailed on the course syllabus.
You will stay in shared accommodations in hotels.
Costs are current for winter 2018. 
Application Fee
$50
Billable Costs
Billable costs are charged to your student account. They are due based on the Bursar's payment schedule. Be sure to check your statements when they are available.
Education Abroad Fee
$500
This fee is charged to your account when the application status changes from "Accepted" to "Committed." This fee includes Education Abroad services including registration, billing, advising, risk management, and pre-departure orientation.
International Health Insurance
$37
Tuition
$1,853
This fee is charged to your UMD account upon course registration. This fee includes: Tuition, in-country transportation, course related activities, group meals, and teaching services.
Housing Fee
$1,500
This fee represents the housing provided during the program.
TOTAL PROGRAM FEE
$3,900
Out-of-pocket Costs
Meals (estimate)
$400
Visa
$0
Passport
$140
Roundtrip Airfare (estimate)
$1,200
Course Materials
$0
Optional Activities/incidental expenses
$300
Optional trip cancelation/interruption Insurance (estimate)
$0
TOTAL ESTIMATED COST OF ATTENDANCE:
$5,940
NOTE: If you are a non-UMD graduate student, you will need to pay a $75 application fee to the UMD graduate school to participate in this program.
Please refer to the following resources for more information on funding study abroad
PLEASE NOTE: All University of Maryland study abroad programs are financially self-supporting and, therefore, subject to cancelation due to low enrollment.
For course, itinerary or in-country information, please contact the Course Leader, Professor James McKinney. 
For general questions or assistance with applying, contact Smith's Undergraduate Program Manager, Greg Rafal.
As a part of this program, you will engage in the following anticipated accounting related site visits:
US Headquarters of Deloitte (Global HQ), EY, KPMG, and PwC
New York Offices of Grant Thornton and overseas offices of Deloitte, EY (Global HQ), KPMG, PwC (Global HQ), and RSM (Global HQ)
Financial Accounting Foundation (FAF) and Financial Accounting Standards Board (FASB-US accounting standard setter)
International Auditing and Assurance Standards Board and International Federation of Accountants (IAASB - International auditing standard setter)
US, UK, French, and Italian accounting regulators, accounting standard setters, and accounting profession representative bodies
You will also participate in cultural and business tours of New York, London, Paris, Florence, and Rome, One World Trade Center, the Tower of London, St. Paul's Cathedral, the Eiffel Tower, the Roman Colosseum
 
    ...and much more!
 
Term
Year
Application Deadline
Admission Notification
Program Start
Program End
Winterterm
2018
10/01/2017
10/06/2017
01/02/2018
01/19/2018
Pre-departure and post-experience sessions will be required. Dates for these sessions will be announced soon. Please see the academics tab for more info.