UMD Exchange: University of Queensland (Australia)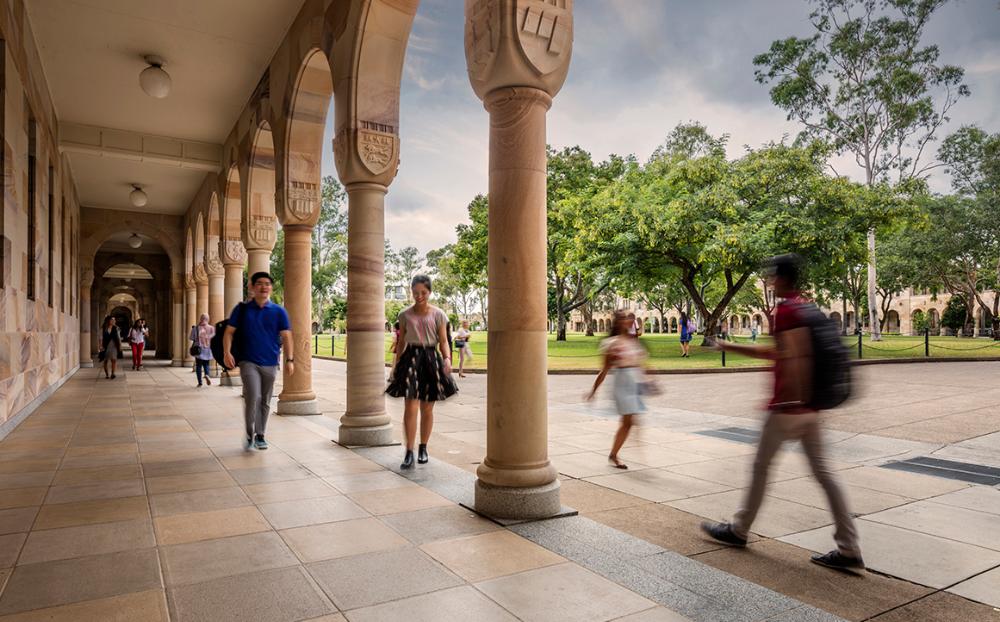 All students accepted to an Exchange program are automatically considered for an award of $1,000! See Cost tab for more information.
Host Institution
The University of Queensland (UQ) is one of Australia's top teaching and research institutions.  Founded in 1910, the University is internationally renowned for its highly awarded teaching staff, world-class facilities and superior campus environment and consistently ranks in the top 1 percent of world university rankings.   As a member of Universitas 21 (U21), the leading global network of researchintensive universities working together to foster global citizenship and institutional innovation through researchinspired teaching and learning and student mobility, it maintains intensive contact with other leading research universities around the world. The 285-acre campus hosts 51,000 students, including 13,300 international students from 141 countries.  UQ's main campus is located in the picturesque inner-city suburb of St Lucia. Bounded by the Brisbane River on three sides, and a short distance from the Brisbane city center, the campus provides students with the perfect study, research and living environment. Each campus of the St. Lucia, Ipswich and Gatton campuses have Student Centres which provide information and student support services. The UQ Union is the student representation body that coordinates various student services and activities, including over 190 affiliated clubs and societies. Check out this video about the UQ campus.
Host City
The University of Queensland is located in Brisbane, Australia, which is the capital city of Queensland and the third largest city in Australia. The environment is safe, friendly, and multicultural to make for an excellent location for exchange students.  The inner city features the Brisbane River, parklands, museums, art galleries, a casino, shopping districts, and a host of cosmopolitan restaurants and cafés.  Students tend to enjoy the sub-tropical climate all year round and the city is conveniently located just one hour away from the golden beaches of the Gold Coast and the national park rainforests of the hinterland.


The University of Queensland and the University of Maryland are both members in Universitas 21 (U21). U21 is the leading global network of research-intensive universities; working together to foster global citizenship and institutional innovation through research inspired teaching and learning, student mobility, connecting our students and staff, and wider advocacy for internationalization. 
Learn more about Universitas 21 and it's programs and mission on the U21 website.
 
---
Exchange programs are highly competitive and space in each program is limited. You must meet the following eligibility requirements in order to apply to this program:
3.0 GPA
Completion of 2 semesters at UMD
Exchange programs are a good fit for students looking for immersion, personal growth, and the opportunity to strengthen qualities such as independence and adaptability.
Student Visa Information
As an exchange student, you are required to obtain a student visa for Australia before you leave the US.  For information about student visa requirements, please visit the Australian Government's Department of Home Affairs.
---
Click "Apply Now" at the top of this page. You will log in with your UMD directory ID and password.
Submit all application materials by the deadline listed below. This includes meeting with your EA advisor (listed at the top of this page), requesting a faculty letter of recommendation, and submitting an official transcript.
After the application deadline, we will review all completed applications and nominate students for available spots in each exchange program.
If you are nominated to participate in this exchange, you will work with your EA advisor (listed above) to apply directly to the host university, who will formally admit you to the exchange program.
Nominated students will then work with their EA advisor (listed above) and our partner universities to coordinate all aspects of the stay at the host university such as course registration, visas and arrival.
---
Exchange students can select from many of the 4,000 courses offered across six of the academic colleges at UQ, including Arts, Business, Engineering, Architecture & Information Technology, Science, and Social & Behavioural Sciences.  Most Health Science courses (Medicine, Dentistry, Physiotherapy, Pharmacy, Occupational and Speech Therapy, and Vet Science courses) cannot be studied by exchange students.
Course Offerings Website: https://my.uq.edu.au/programs-courses/. To look up a course enter a search term, select "Courses" from the drop-down menu, then "Search". Once the search results have appeared, click on the "Study Abroad" link under "Refine your search" (to the left of the screen). Choose "Show only pre-approved courses for Study Abroad students" (only courses not requiring approval from UQ will show up).
Credit
All credit you earn on this program will count as transfer credit towards your UMD degree.  Most courses at the University of Queensland will be converted as follows:
| University of Queensland Credit | UMD Credit |
| --- | --- |
| 1 credit | 2 credits |
| 2 credits | 4 credits |
The chart above was last approved by the UMD Transfer Credit Committee on June 5, 2014.
You can view how courses at this institution have previously been evaluated for UMD equivalents through the Transfer Credit Services Equivalency Database (TCEQ). If you are interested in taking a course not listed on TCEQ, you may have it evaluated for acceptability by following the UMD Registrar's evaluation request guidelines.
Grading
Undergraduates must receive a C- equivalent or better in order to be eligible for the transfer of credit.
 
| | |
| --- | --- |
| University of Queensland Grade | UMD Grade |
| 4/P | C - |
---
UQ offers guaranteed accommodation at one of their approved accommodation providers to individual international students who have accepted their UQ offer and are commencing their first semester at UQ St Lucia or UQ Herston. 
Students can choose their  accommodation provider on StudentHub and, if eligible will receive an accommodation offer within five days of application. 
There are also 10 on-campus halls of residence. Space is limited and exchange students interested in staying on-campus should apply early. Students can download an application from the Accommodation website. On-campus housing is fully catered and includes three meals a day.  Please see the following website for more information on both options: http://www.uq.edu.au/studyabroad/find-accommodation.
Most students studying at UQ will live in off-campus accommodations.  Off-campus halls of residence, apartments and share-housing are available.
Orientation and Student Life
UQ offers a in depth orientation (O-Fest) before classes starts. O-Fest is an action packed week filled with activities to help your semester start right. Sessions focus on life at UQ, Australian culture, and academic success. You can find out more about O-Fest on the UQ website. 
The 0 to 4 Mentor Program is a great way to meet local students. You will be connected with an experienced UQ student who will guide you from O-Fest until Week 4 of the semester. Mentors will show you around campus, provide housing tips, and help support your transition. 
---
Exchange Program Cost of Attendance
UMD students participating in an Exchange program have the benefit of paying UMD tuition rates to attend an institution abroad. For specific information about this Exchange program, please reference the Cost of Attendance Chart. 
Tuition and fees for exchange programs are charged directly to your UMD account, which means you can apply UMD scholarships, state and federal financial aid, and alternative loans towards the cost of an exchange. Housing costs are paid directly to the host institution or on-site housing agency.
You can use the cost of attendance comparison worksheet to view how study abroad programs compare to each other and the amount you pay on campus at UMD. As always, your EA advisor (listed above) is available to help you complete this worksheet and find affordable programs that fit your study abroad goals.
Exchange Scholarship
All students accepted to an Exchange program are considered for an automatic award of $1,000! To be considered for this scholarship, you must:
Be a current degree seeking undergraduate UMD student (graduate students are not eligible for this award)
Not currently receive full tuition scholarship/benefits (i.e. Banneker Key, tuition remission, Frederick Douglass Scholarship, etc.)
Additional Financial Resources
---
Term
Year
Application Deadline
Admission Notification
Program Start
Program End
Spring
2020
09/10/2019
09/20/2019
02/15/2020
06/20/2020
Dates reflect information that is available on the program sponsor website. Please confirm with program sponsor/host university before making your travel plans.
Year (Fall-Spring)
2020
03/01/2020
03/11/2020
Fall
2020
03/01/2020
03/11/2020