UMD-Winter: Southeast Asia: Global Immersion Experience (CPBE/HONR)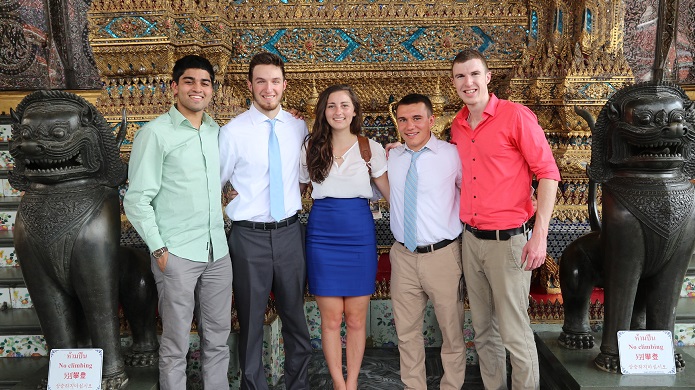 If you love the idea of learning about different cultures, meeting new people, meeting three general education requirements in one course, and traveling, the 2020 Winter term Southeast Asia immersion experience offers a lifetime opportunity as you will visit Vietnam, Thailand, Singapore, and Malaysia.
 
See first hand how Vietnam has become one of the most attractive emerging markets, explore the Cu Chi Tunnels, and travel by boat through the Mekong Delta. In a single generation, Vietnam moved from being one of the world's poorest nations to lower middle-income status, and from economic stagnation to a successful market economy. Vietnam ranks number 4 out of 149 countries assessed when it comes to converting the country's wealth into well-being for its population, according to the Boston Consulting Group's Sustainable Economic Development Assessment. 
In Singapore, you will see how a country with no natural resources, has transformed itself to become a world leader for business, public policy, education, community development, crime control, and urban planning. Singapore is one of the world's leading financial centers, international air and sea hubs, and one of the most open economies for trade and investments. Singapore is one of Asia's great success stories, transforming from a developing country to a modern industrial economy in one generation. Singapore is frequently considered the world's most successful society. Singapore's nation-building strategy focused on economic development and establishing peace and harmony within its multiracial and multi-religious society. This course will show how Singapore has managed to be a model of success in a rapidly changing global economy while also providing sustainable social protections.
Take a walk with Elephants in Thailand and take part in feeding, bathing and preparing medicine for them while they roam freely in a cage-less sanctuary. Discover the importance of Elephants in Thai society and how they are an important part of Buddhism in Thailand. In Malaysia, learn from the locals about the food and how to cook it, while learning the stories behind the flavors.   
This tour of Southeast Asia offers an extraordinary experience to see distinct societies through business and cultural activities. With its combined population of more than 600 million people, you will learn about the dynamic growth of the economies in Southeast Asia. The course will also examine the influences of economic development and emerging trends in global business. The Southeast Asia Global Immersion program highlights the diversity and commonalities of the region in terms of political systems, modernization trends, religious traditions, ethnic identities, emerging social issues, and dominant cultural systems. Additionally, this course draws on first-hand experiences in the region to explore the cultural, historical, political, and social challenges in the region. Southeast Asia is a fascinating and important region of the world, characterized first and foremost by remarkable diversity in culture and history. It includes some of the world's major religions and ethnic groups, as well as many local cultures, and languages. 
*The list of cities may change given unforeseen situations such as new travel warning, changing political conditions, risk management issues, etc. 
You must be in good academic and judicial standing and you must not have any registration blocks to participate in this program. The minimum GPA for this program is listed above.
UMD freshmen, sophomores, juniors, and seniors are eligible to apply.
Four pre­-departure meetings will be held in the fall. The purpose of these pre­-departure meetings is to orient and prepare the students for both the culture and business environment they will experience. In preparation for the trip the students will get an overview of each country, have guest speakers about the current business climate they will experience and be required to complete course readings and videos. These meetings will help you to become more familiar with Singaporean and Malaysian news issues and concerns, challenges and opportunities of doing business in South East Asia, and its business environment. 
At the end of the study trip, each participant will complete a final exam and a reflection/study trip journal. A final class session will take place where they must submit their work and discuss the lessons learned from the course.
If you are interested in this program but do not meet the eligibility requirements, reach out to the program director (listed in the Contacts tab) to discuss your interest in the program.
After you commit to the program, Education Abroad will enroll you in one of the following three (3) credit UMD courses:
CPBE270: College Park Scholars: Business, Society & the Economy Education Abroad
HONR348C: 
The credit you earn during this program will count as resident credit. The course meets three general education requirements: DSSP, DVCC, and SCIS.
Global scholarships of $600 are available for faculty-led programs for students enrolled in 1) the Robert H. Smith School of Business, 2) QUEST, or 3) the College Park Scholars Business, Society & the Economy (BSE) program.  Open only to students who have not previously earned credits from a UMD global program and/or transferred in any credits from a foreign university.  Please note that there is a global leadership & service requirement for all scholarship recipients (details on application). More information can be found here.
You will stay in shared accommodations in hotels throughout the program.
Costs are current for winter 2020.
Application Fee
$50
Billable Costs
Billable costs are charged to your student account. They are due based on the Office of Student Financial Services and Cashiering payment schedule. Be sure to check your statements when they are available.
Education Abroad Fee
$500
This fee is charged to your account when the application status changes from "Accepted" to "Committed." This fee includes Education Abroad services including registration, billing, advising, risk management, and pre-departure orientation.
International Health Insurance
$45
Tuition
$2,830
This fee is charged to your UMD account upon course registration. This fee includes: Tuition, in-country transportation, course related activities, group meals, and teaching services.
Housing Fee
$375
This fee represents the housing provided during the program.
TOTAL PROGRAM FEE
$3,750
Out-of-pocket Costs
Meals (estimate)
$300
Visa
$0
Passport
$145
Roundtrip Airfare (estimate)
$1,750
Course Materials
$0
Optional Activities/incidental expenses
$300
Optional trip cancelation/interruption Insurance (estimate)
$180
TOTAL ESTIMATED COST OF ATTENDANCE:
$6,475
Please refer to the following resources for more information on funding study abroad
PLEASE NOTE: All University of Maryland study abroad programs are financially self-supporting and, therefore, subject to cancelation due to low enrollment.
Dr. Mark H. Wellman is currently a faculty member in the Department of Management and Organization at the University of Maryland's Robert H. Smith School of Business and he serves as director of the College Park Scholars Business, Society and Economy (BSE) program. Dr. Wellman is recognized for his innovative courses and his memorable, relevant experiences outside of the classroom. He has designed global study courses to the United Arab Emirates, Singapore, Malaysia, and Australia as the faculty director for the programs, and over 425 students have participated in his global immersion programs since 2009.  He is the recipient of many honors, including the prestigious University of Maryland Brit Kirwan Award and the Outstanding Faculty Educator Award.
For course, itinerary or in-country information, please contact the Program Director. For general questions or assistance with applying, contact EA Short-term Programs.
Past global class trips have involved visiting the:
Singapore Economic Development Board (EDB), the lead government agency for planning and executing strategies to enhance Singapore's position as a global business center
ExxonMobil, the largest foreign manufacturing investor in Singapore
Marina Bay Sands, the world's most expensive stand-alone casino property worth $8 billion 
Additional organizational visits have included the American Chamber of Commerce, ScanCom Vietnam, Singapore Housing and Development Board, BBC, Singapore Airlines, Air Asia, Universal Studios, LEGOLAND Malaysia,  Port of Singapore Authority, Discovery Networks, Royal Selangor, Singapore's Parliament and Supreme Court, Nike Vietnam LLC, Intel Vietnam,  Agency for Science, Technology and Research (A*STAR),  Yahoo! Singapore,  Thai Son S.P. Knitwear Garment Factory, AJ Hackett Sentosa, Google Singapore, Accenture Singapore, LinkedIn Singapore, Singapore Airlines, Facebook Singapore.
Additional activities have included Singapore Gardens by the Bay, Batu Caves, Cu Chi Tunnels, Mekong River Delta,  War Remnants Museum, Phang Nga Bay Tour, John Grey Tour, Gibbon Sanctuary, Elephant Sanctuary, and Native Village Tour.
| Term | Year | Application Deadline | Admission Notification | Program Start | Program End |
| --- | --- | --- | --- | --- | --- |
| Winterterm | 2020 | 10/01/2019 | 10/11/2019 | 01/10/2020 | 01/25/2020 |