UMD-Winter: Dominican Republic: Global Service and Critical Reflection on U.S. Identity (BSGC/LASC)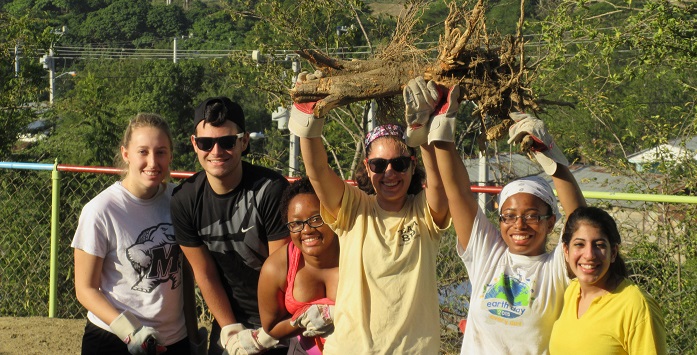 This course is designed to give students real-life, hands-on experience as international community service providers, by applying scholarship to practice and using critical reflection to explore how our experiences and identities inform the ways we approach addressing social inequalities. By working in teams with community partners in the Dominican Republic and engaging in critical reflection through intergroup dialogue, you will be introduced to existing responses to social problems and will work to formulate our own individual and collective responses.
Your daily service activities may vary based on community needs, but will likely involve physical activity (e.g. building a playground, renovating a community kitchen, etc.). Meaningful reflection and intergroup dialogue is a critical component of service-learning, and will be integrated into all aspects of the course.
In addition, you will have several evening seminars on various aspects of Dominican culture including: Dominican history and traditions, Dominican/Haitian/U.S. relations, and conversations and dance lessons with local university students. You will take group excursions around Santiago; to the city of Santo Domingo; 27 Charcos, a series of beautiful waterfalls outside Santiago; and other locations such as the beachside town of Cabarete.
On this program participants will learn to:
Define and demonstrate a deeper understanding of your service experience in the Dominican Republic.

Articulate the relationship between civic engagement and social justice with service, in a global context.

Demonstrate the ability to think critically about social issues in the Dominican Republic.

Demonstrate cross-cultural learning and communication skills by engaging in reflective intergroup dialogue with a multicultural group

Develop recommendations and action items with community service partners.
You must be in good academic and judicial standing and you must not have any registration blocks to participate in this program. The minimum GPA for this program is listed above.
The program is open to ALL majors and for all undergraduates from first-year students to seniors. This program will benefit students on any career path and is well-suited for students who may have little or no previous study abroad experience.
Group reflection and intergroup dialogue are critical pieces of the program so students should be open to connecting with the group and the local community in a meaningful way. Our reflections will include critical conversations about social justice issues such as poverty, race, identity, power, and privilege. Students should also be open to participating in service work, which may include physical labor. Spanish language skills are helpful for this program but are not required.
If you are interested in this program but do not meet the eligibility requirements, reach out to the program director (listed in the Contacts tab) to discuss your interest in the program.
After you commit to the program, Education Abroad will enroll you in one of the following three (3) credit UMD courses:
EDHI338H: Global Service Abroad: Global Service in the Dominican Republic
BSGC338D: Global Service Abroad: Global Service in the Dominican Republic
LASC369R: Special Topics in Study Abroad III: Global Service in the Dominican Republic
The credit you earn during this program will count as resident credit. This course has been approved for General Education: Diversity/Cultural Competence and as an elective for Global Poverty Minor.
The group will live with host families (at least two students per family), who have been pre-screened and undergo an interview process and home visits. The home-stay component of the program is intended to maximize cross-cultural communication and skill-building opportunities. Our partner program provider, ISA, has an office and field staff who will serve as additional support for program participants and are available on-call during the entire duration of the program. Housing, three meals/day, local transportation, and excursions are included in the program fee.
Costs are current for winter 2019 and will be updated by July 1, 2019 for winter 2020.  
Application Fee
$50
Billable Costs
Billable costs are charged to your student account. They are due based on the Bursar's payment schedule. Be sure to check your statements when they are available.
Education Abroad Fee
$500
This fee is charged to your account when the application status changes from "Accepted" to "Committed." This fee includes Education Abroad services including registration, billing, advising, risk management, and pre-departure orientation.
International Health Insurance
$40
Tuition
$1,850
This fee is charged to your UMD account upon course registration. This fee includes: Tuition, in-country transportation, course related activities, group meals, and teaching services.
Housing Fee
$170
This fee represents the housing provided during the program.
TOTAL PROGRAM FEE
$2,560
Out-of-pocket Costs
Meals (estimate)
$50
Visa
$20
Passport
$140
Roundtrip Airfare (estimate)
$575
Course Materials
$0
Optional Activities/incidental expenses
$150
Optional trip cancelation/interruption Insurance (estimate)
$180
TOTAL ESTIMATED COST OF ATTENDANCE:
$3,725
NOTE: If you are a non-UMD graduate student, you will need to pay a $75 application fee to the UMD graduate school to participate in this program.
Please refer to the following resources for more information on funding study abroad
PLEASE NOTE: All University of Maryland study abroad programs are financially self-supporting and, therefore, subject to cancellation due to low enrollment.
Co-Instructor: Jeremy Gombin-Sperling is a Ph.D. student in the International Education Policy (IEP) program and a Research Associate in Education Abroad at University of Maryland with a focus on projects aimed at advancing diversity and inclusion. He has been an instructor with the Global Communities Living Learning Program since 2016 and a facilitator/instructor with the Words of Engagement Intergroup Dialogue Program. Jeremy earned his Bachelor's in Psychology and Religious Studies at New York University, and later his M.A., also in the IEP program at UMD. His professional career has revolved around international education and exchange programs as well as initiatives on diversity and inclusion. He has worked as a Language and Cultural Assistant as part of a national bilingual education program in Spain, as an Advisor and Program Manager in Education Abroad at the University of Maryland, and most recently before returning to UMD, as a Program Officer for the Fulbright Program at the U.S. Department of State. Jeremy's research interests focus around the intersections of language, identity, and trends in globalization.
Co-Instructor: Jazmin Pichardo, Assistant Director of Diversity Training & Education for UMD's Office of Diversity and Inclusion, is a first-generation graduate and New York native. She received her B.A. in English from Vassar College and completed her Master's in Student Affairs in May 2016. At the University of Maryland, Jazmin has served as an Education & Training Specialist in the Office of Diversity & Inclusion where she continues to facilitate intergroup dialogue courses. As a second generation immigrant, with roots in the Dominican Republic, she has traveled frequently to the area to reconnect with family and enhance her knowledge of her language and culture. Jazmin recognizes the transformative power of study abroad experiences, has studied in Barcelona, Spain and Cuba, and is passionate about exposing students to new culturally immersive experiences.
For course, itinerary or in-country information, please contact the Program Director. For general questions or assistance with applying, contact EA Short-term Programs.
As a part of this program, you will engage in the following activities:
Engage in Service Learning 
Visit to 27 Charcos, a magnificent waterfall
Cultural activities 
Participate in intergroup dialogues
Live with a host family and improve your Spanish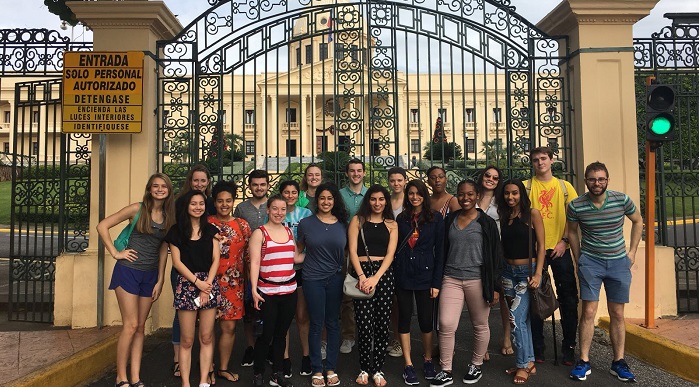 | Term | Year | Application Deadline | Admission Notification | Program Start | Program End |
| --- | --- | --- | --- | --- | --- |
| Winterterm | 2019 | 10/15/2018 | 10/11/2018 | 01/07/2019 | 01/19/2019 |
| Winterterm | 2020 | 10/01/2019 | 10/11/2019 | 01/05/2020 | 01/18/2020 |