UMD-Winter: India: Capstone: Perspectives from Northern India (PLCY)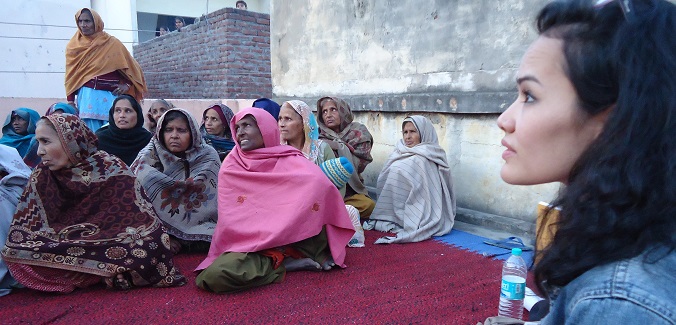 This winter, contextualize your management, policy, financial, economic, quantitative, ethical, analytical and/or communication training in Northern India.  Based in Delhi, we will engage in deep and meaningful exploration of key cultural sites in Northern India to understand cultural, social and economic roots of contemporary India as relevant for students of public policy.
You must be in good academic and judicial standing and you must not have any registration blocks to participate in this program. The minimum GPA for this program is listed above.
Non-UMD and UMD juniors, seniors, and graduate students (including PhD students) are eligible to apply.
While there are no prerequisites for the course, there is a preference for those who have taken one or more of the following courses:
BUSI610: Introduction to Financial Accounting
BUSI662: Leadership and Teamwork
HONR349I: Leading and Investing in Social Change: Redefining and Experimenting with Philanthropy
PLCY359I: Leading and Investing in Social Change: Redefining and Experimenting with Philanthropy
PLCY388D: Innovation and Social Change: Do Good Now
PLCY689D: Social Entrepreneurship
PLCY689E: Program Evaluation and Cost-Benefit Analysis
PLCY688F: Financial Management for Nonprofit Organizations
PLCY689P: Strategic Philanthropy
PLCY689Y: Theory, Practice, and New Paradigms in Nonprofit Fundraising
PLCY689Z: Strategic Management for Nonprofit and Public Organizations
PLCY699J: Pathways to Development
PLCY698R: Development Challenges
PLCY783: Ethics, Development and Foreign Aid
PLCY798Y: Nonprofit Management and Leadership
If you are interested in this program but do not meet the eligibility requirements, reach out to the program director (listed in the Contacts tab) to discuss your interest in the program.
After you commit to the program, Education Abroad will enroll you in the following three (3) credit UMD course:
PLCY790: India: Education and Project Engagement (PLCY)
PLCY798I: India: Education and Project Engagement (PLCY)
PLCY388K: India: Education and Project Engagement (PLCY)
The proceeding fall semester involves project scooping, teamwork and client interaction using distance technology. MPP Students taking the course as their project course are required to register for PLCY699W - Policy Engagement Project A. Other students will register for the fall 2 credit seminar as an elective. In special circumstances and with the instructor's permission, alternative arrangements to meet fall preparatory requirements can be made. 
The credit you earn during this program will count as resident credit.
You will stay in modern hotel accommodations in New Delhi, with potential other local hotels in other northern India cultural sites and during fieldwork with your NGO consultancy team.
 
Costs are current for winter 2020. 
Application Fee
$50
Billable Costs
Billable costs are charged to your student account. They are due based on the Office of Student Financial Services and Cashiering payment schedule. Be sure to check your statements when they are available.
Education Abroad Fee
$500
This fee is charged to your account when the application status changes from "Accepted" to "Committed." This fee includes Education Abroad services including registration, billing, advising, risk management, and pre-departure orientation.
International Health Insurance
$45
Tuition
$3,790
This fee is charged to your UMD account upon course registration. This fee includes: Tuition, in-country transportation, course related activities, group meals, and teaching services.
Housing Fee
$1,540
This fee represents the housing provided during the program.
TOTAL PROGRAM FEE
$5,875
Out-of-pocket Costs
Meals (estimate)
$300
Visa
$150
Passport
$145
Roundtrip Airfare (estimate)
$1,200
Course Materials
$0
Optional Activities/incidental expenses
$200
Optional trip cancellation/interruption Insurance (estimate)
$180
TOTAL ESTIMATED COST OF ATTENDANCE:
$8,100
NOTE: If you are a non-UMD graduate student, you will need to pay a $75 application fee to the UMD graduate school to participate in this program.
Please refer to the following resources for more information on funding study abroad
PLEASE NOTE: All University of Maryland study abroad programs are financially self-supporting and, therefore, subject to cancellation due to low enrollment.
Angela Bies, Ph.D. is endowed associate professor of global philanthropy and nonprofit leadership at the School of Public Policy at the University of Maryland and affiliated with the SPP Do Good Institute. Previously, she was chair of the faculty, associate professor and director of international programs at the Indiana University Lilly Family School of Philanthropy. Her research interests include comparative nonprofit and NGO regulation, accountability and governance; the emerging role of philanthropy in China; nonprofit capacity-building; and nonprofits and disasters. Prior to Indiana University, she was an associate professor of public administration at the Bush School of Government & Public Service at Texas A&M University, where she provided leadership on the creation of their nonprofit management program. She served as a board member and annual conference chair for the Association for Research on Nonprofit Organizations and Voluntary Action, on the editorial board of Nonprofit Management & Leadership, and is Editor-in-Chief of Nonprofit and Voluntary Sector Quarterly. Professor Bies has an extensive background consulting for international NGOs and as a former nonprofit CEO.
For course, itinerary or in-country information, please contact the Program Director. For general questions or assistance with applying, contact EA Short-term Programs.
As a part of this program, you will engage in the following activities:
Collaborative consulting projects with local, innovative NGOs and Social Enterprises in India.
Guest lectures with thought leaders in the social sector.
Cultural excursions in northern India.
Opportunity to develop program evaluation, social entrepreneurship, leadership, and international development skills.
| Term | Year | Application Deadline | Admission Notification | Program Start | Program End |
| --- | --- | --- | --- | --- | --- |
| Winterterm | 2020 | 07/31/2019 | 07/18/2019 | 01/01/2020 | 01/17/2020 |