UMD-Spring Break: Japan: Disaster Recovery and Resilience in Japan (INST/BSST)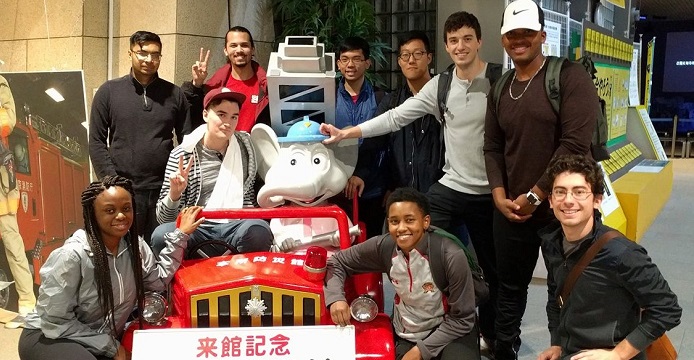 Eight years after Japan's March 11, 2011, earthquake, tsunami, and nuclear disaster, University of Maryland students will travel to Japan to better understand how individuals and groups build resilience to disaster through informal and formal practices of community resilience and recovery. The course will focus on Japanese principles of community and kizuna ("connectedness") and their role in post-tsunami Japan, with a particular focus on the ways in which storytelling and oral history efforts have factored into recovery and preparedness efforts. Students will travel from Tokyo through the Tohoku region of Japan, meeting with government officials, small business owners, volunteers, educators, and students, to learn how their experiences of disaster have shaped their communities and Japan's public and private sectors.
 
Students will participate in a 5-week program that combines online learning, in-person debriefing, and international exchange. Students will participate in 2 weeks of pre-departure online coursework in the U.S., and 1 week of study and travel in Japan. Students will work in groups while in Japan to acquire footage for a video-based oral history project, which they will compile after the trip. The class will meet two weeks after their return to debrief and to view the video projects.
To learn more about the program, read this article on the 2016 program: www.ter.ps/T2T2016start?
 
You must be in good academic and judicial standing and you must not have any registration blocks to participate in this program. The minimum GPA for this program is listed above.
UMD and non-UMD freshman, sophomores, juniors, seniors, and graduate students are eligible to apply. Working professionals are also eligible, though an additional application is required. 
The program may tax some individuals more than others, however. Students with mobility concerns may experience difficulty in the rough terrain of the redeveloping Tohoku region or in carrying their own luggage up and down stairs. The program also requires a good deal of walking. Students with anxiety disorders, claustrophobia, and/or agoraphobia may experience difficulty using public transportation in Tokyo, especially during rush hours. Students should be prepared to ride in a very densely packed train car for up to 30 minutes at a time. Students with disabilities related to these program activities or others should contact the program director to determine what accommodations are necessary.
 
If you are interested in this program but do not meet the eligibility requirements, reach out to the program director (listed in the Contacts tab) to discuss your interest in the program.
After you commit to the program, Education Abroad will enroll you in one of the following three (3) credit UMD courses:
INST408J: Information and Preparedness, Response and Recovery in Japan
INST728J: Information and Preparedness, Response and Recovery in Japan
ANTH 469J: Information and Preparedness, Response and Recovery in Japan
BSST358J: Information and Preparedness, Response and Recovery in Japan
BSST638J: Information and Preparedness, Response and Recovery in Japan 
The credit you earn during this program will count as resident credit.
Graduate students in other departments who may require adapted content to meet departmental expectations should contact the program director to discuss potential further adaptation to meet the needs of their disciplines.
You will stay in shared hotel accommodations with wireless internet service and laundry service available for extra cost, with the exception of one night in a group homestay experience.
Costs are current for spring break 2019.
Application Fee
$50
Billable Costs
Billable costs are charged to your student account. They are due based on the Office of Student Financial Services and Cashiering payment schedule. Be sure to check your statements when they are available.
Education Abroad Fee
$500
This fee is charged to your account when the application status changes from "Accepted" to "Committed." This fee includes Education Abroad services including registration, billing, advising, risk management, and pre-departure orientation.
International Health Insurance
$22
Tuition
$1,543
This fee is charged to your UMD account upon course registration. This fee includes: Tuition, in-country transportation, course related activities, group meals, and teaching services.
Housing Fee
$445
This fee represents the housing provided during the program.
TOTAL PROGRAM FEE
$2,510
Out-of-pocket Costs
Meals (estimate)
$300
Visa
$0
Passport
$140
Roundtrip Airfare (estimate)
$1,500
Course Materials
$0
Optional Activities/incidental expenses
$150
Optional trip cancelation/interruption Insurance (estimate)
$180
TOTAL ESTIMATED COST OF ATTENDANCE:
$4,830
NOTE: If you are a non-UMD graduate student, you will need to pay a $75 application fee to the UMD graduate school to participate in this program.
Please refer to the following resources for more information on funding study abroad
PLEASE NOTE: All University of Maryland study abroad programs are financially self-supporting and, therefore, subject to cancelation due to low enrollment.
Dr. Katherine Worboys Izsak serves as Director of the program. She is University of Maryland's Undergraduate and Graduate Director for Terrorism Studies and the Education Director for the National Consortium for the Study of Terrorism and Responses to Terrorism. She also maintains a Faculty Affiliation in UMD's Department of Anthropology. Dr. Izsak holds a Ph.D. in History and Anthropology from the University of Michigan and has taught widely on impacts of terrorism and responses to terrorism, as well as other topics related to national and international security. She has taught short-term study abroad programs for UMD in Singapore, Netherlands, Germany, France, and Australia, and has directed this program since 2016. She also co-taught the UMD/Coursera Massive Open Online Course, Understanding Terrorism and the Terrorist Threat, where she facilitated a cross-cultural dialogue on terrorism between 20,000 participants.
For course, itinerary or in-country information, please contact the Program Director. For general questions or assistance with applying, contact EA Short-term Programs.
As a part of this program, you will engage in the following activities:
Cultural exchange and service learning with Japanese university students in the Tohoku region, which was hardest hit by the March 2011 disaster.
Disaster preparedness training, including undergoing simulations of earthquakes, fires, and typhoons (bring your towel!).
Immersion in Japanese culture-- including a crash-course in Japanese etiquette and basic travel phrases-- and visits to places such as trendy Harajuku and historic Asakusa in Tokyo, and the beautiful Sanriku coast in Tohoku. Also: karaoke.
| Term | Year | Application Deadline | Admission Notification | Program Start | Program End |
| --- | --- | --- | --- | --- | --- |
| Spring Break | 2019 | 10/01/2018 | 10/11/2018 | 03/16/2019 | 03/23/2019 |