BMGT Exchange: Shanghai Jiao Tong University (China)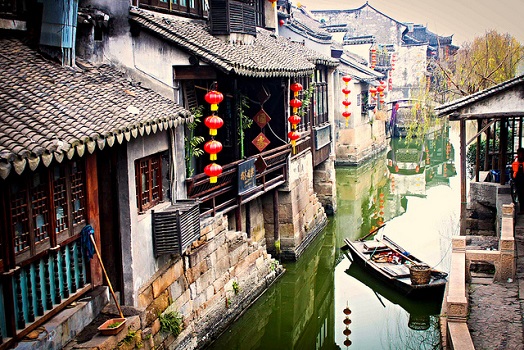 All students accepted to an Exchange program are automatically considered for an award of $1,000! See Cost tab for more information.
Host Institution
Shanghai Jiao Tong University (SJTU) enjoys a world renowned reputation and has become a top university in China, known for comprehensive, research-orientated, and internationalized curriculum.  SJTU's mission incorporates the preservation of cultural heritage while invigorating the Chinese nation and developing ideas which benefit mankind.
SJTU has 64 undergraduate programs covering 9 major disciplines; economics, law, literature, science, engineering, agriculture, medicine, management, and arts. SJTU enjoys an increasingly high scientific research level and technology innovation level.  Since 2013, SJTU has ranked first for four consecutive years in terms of the project number and the amount of money issued by National Natural Science Foundation of China.
Host City
Shanghai, China is the largest city, by population, in the world.  Shanghai sits on the Yangtze River Delta on China's eastern coast and is a global financial center and transportation hub.  Shanghai has long been the cultural and economic center for East Asia and boasts important museums, architecture, fashion, and art traditions.


Shanghai Jiao Tong University and the University of Maryland are both members in Universitas 21 (U21). U21 is the leading global network of research-intensive universities; working together to foster global citizenship and institutional innovation through research inspired teaching and learning, student mobility, connecting our students and staff, and wider advocacy for internationalization. 
Learn more about Universitas 21 and it's programs and mission on the U21 website: https://universitas21.com/
---
Exchange programs are highly competitive and space in each program is limited. You must meet the following eligibility requirements in order to apply to this program:
3.0 GPA
Completion of 2 semesters at UMD
You must be a BMGT major
Exchange programs are a good fit for students looking for immersion, personal growth, and the opportunity to strengthen qualities such as independence and adaptability.
Student Visa Information
A student visa is required for participation on this exchange. For more information, please visit our study abroad visa guide to view instructions for the country you will be visiting. Please note that visa information is subject to change and you are responsible for checking the embassy website for updates.
---
Click "Apply Now" at the top of this page. You will log in with your UMD directory ID and password.
Submit all application materials by the deadline listed below. This includes meeting with your EA advisor (listed at the top of this page), requesting a faculty letter of recommendation, and submitting an official transcript.
After the application deadline, we will review all completed applications and nominate students for available spots in each exchange program.
If you are nominated to participate in this exchange, you will work with your EA advisor (listed above) to apply directly to the host university, who will formally admit you to the exchange program.
Nominated students will then work with their EA advisor (listed above) and our partner universities to coordinate all aspects of the stay at the host university such as course registration, visas and arrival.
---
As the only business school in Chinese Mainland triple-accredited by AACSB, EQUIS and AMBA, the Antai College of Economics & Management (ACEM), Shanghai Jiao Tong University, aims to develop the highest-level managerial talent, with fully international viewpoints and capabilities, and the ability to compete in the global economy. While focusing on academic research, the College is also committed to serving national and international corporations and institutions, through leading-edge consulting and research.
Antai College of Economics & Management offers a variety of coursework in English. You can view general information about ACEM here: http://www.acem.sjtu.edu.cn/en/. An overview of the core courses for undgraduates offered at ACEM are listed here: http://www.acem.sjtu.edu.cn/en/ung/overview.html.
Credit
All credit you earn on this program will count as transfer credit towards your UMD degree. Most courses at Shanghai Jiao Tong University will be converted as follows:
| | |
| --- | --- |
| Shanghai Jiao Tong University | UMD Credit |
| 1 STJU Credit | 1 UMD Credit |
| 3 STJU Credit | 3 UMD Credit |
The credit conversion listed above was approved by the UMD Study Abroad Transfer Credit Committee on June 10, 2014. 
You can view how courses at this institution have previously been evaluated for UMD equivalents on the Undergraduate Exchange page hosted by the Smith School of Business and the Transfer Credit Services Equivalency Database (TCEQ).  If you are interested in taking a course not listed on TCEQ, you may have it evaluated for acceptability by following the UMD Registrar's evaluation request guidelines.
Grading
Undergraduates must receive a C- equivalent or better in order to be eligible for the transfer of credit.
 
| | |
| --- | --- |
| Shanghai Jiao Tong University Grade | UMD Grade |
| C - | C - |
---
On-campus student housing is available.  Students apply to live on-campus after acceptance.  If on-campus housing is unavailable at the time of acceptance, students must arrange to rent an apartment off campus. You can learn more about accommodation at SJTU on the website: http://isc.sjtu.edu.cn/EN/show.aspx?info_lb=164&info_id=65&flag=53
---
Exchange Program Cost of Attendance
UMD students participating in an Exchange program have the benefit of paying UMD tuition rates to attend an institution abroad. For specific information about this Exchange program, please reference the Cost of Attendance Chart. 
Tuition and fees for exchange programs are charged directly to your UMD account, which means you can apply UMD scholarships, state and federal financial aid, and alternative loans towards the cost of an exchange. Students participating in a BMGT or ENGR exchange program are not charged differential tuition. Housing costs are paid directly to the host institution or on-site housing agency.
You can use the cost of attendance comparison worksheet to view how study abroad programs compare to each other and the amount you pay on campus at UMD. As always, your EA advisor (listed above) is available to help you complete this worksheet and find affordable programs that fit your study abroad goals.
Exchange Scholarship
All students accepted to an Exchange program are considered for an automatic award of $1,000! To be considered for this scholarship, you must:
Be a current degree seeking undergraduate UMD student (graduate students are not eligible for this award)
Not currently receive full tuition scholarship/benefits (i.e. Banneker Key, tuition remission, Frederick Douglass Scholarship, etc.)
Global Scholarship (Smith School)
The Smith School offers $1,100 Global Scholarships to business students participating in exchange programs. Visit the Smith School website to learn more about eligibility requirements.
Additional Financial Resources
---
Term
Year
Application Deadline
Admission Notification
Program Start
Program End
Spring
2020
10/01/2019
10/11/2019
02/22/2020
06/28/2020
Dates reflect information that is available on the program sponsor website. Please confirm with program sponsor/host university before making your travel plans.
Year (Fall-Spring)
2020
03/01/2020
03/11/2020
Fall
2020
03/01/2020
03/11/2020