UMD-Winter: South Africa: Social Entrepreneurship and Innovation in the Contemporary South African Context (BMGT)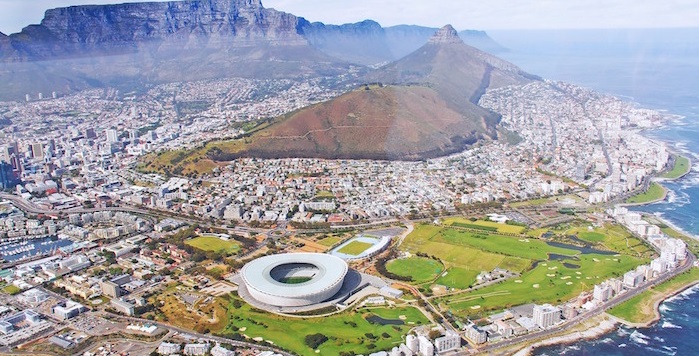 The time in Cape Town will inspire students' academically, professionally and personally by immersing them in the field of social innovation. The course includes visits to locally owned companies such as Bo-Kaap, Macassar Pottery and Hangberg Community. Also included are thought-provoking tours of Robben Island, a UNESCO World Heritage site and the former maximum-security prison where the late Nelson Mandela was imprisoned for 18 years. In Langa Township, students will learn the sobering history of apartheid and hear stories stories of rising above their history to improve their livelihoods and local infrastructure for themselves and their fellow countrymen from residents of the oldest Black township in Cape Town.
Students will be challenged to design creative, sustainable processes towards social change using multiple learning strategies. Students will develop a firsthand toolkit for innovative ideas through the SyNovation workshop. By the end of the course, students will be able to articulate their own definition and approach to social entrepreneurship and innovation and will have begun to develop the concepts, mind-sets, skills, and relationships that will result in becoming effective life-long social innovators.
Additional edu-tourism activities include a trip up Table Mountain, visit to the V&A Waterfront and Aquila Game Drive.
You must be in good academic and judicial standing and you must not have any registration blocks to participate in this program. The minimum GPA for this program is listed above.
UMD freshmen through seniors of all majors are welcome to apply.
If you are interested in this program but do not meet the eligibility requirements, reach out to the program director (listed in the Contacts tab) to discuss your interest in the program.
 
After you commit to the program, Education Abroad will enroll you in one of the following three (3) credit UMD courses:
BMGT498I: Social Entrepreneurship and Innovation in the Contemporary South African Context
The credit you earn during this program will count as resident credit.
You will be required to participate in both pre-departure and post-experience sessions as part of the Smith School Common Core for undergraduate faculty-led, short-term programs. Pre-departure sessions will focus on global mindset, country specific business curriculum, and logistics/health and safety. Post-experience sessions will include a subject specific debrief in addition to career application. The Smith School Common Core culminates in the Global Showcase, where students will be able to demonstrate their cultural curiosity and global business acumen through individual or group poster presentations. Dates for all sessions will be detailed on the course syllabus. 
You will stay in shared accommodations in a hotel. 
Costs are current for winter 2019. 
Application Fee
$50
Billable Costs
Billable costs are charged to your student account. They are due based on the Office of Student Financial Services and Cashiering payment schedule. Be sure to check your statements when they are available.
Education Abroad Fee
$500
This fee is charged to your account when the application status changes from "Accepted" to "Committed." This fee includes Education Abroad services including registration, billing, advising, risk management, and pre-departure orientation.
International Health Insurance
$24
Tuition
$1,710
This fee is charged to your UMD account upon course registration. This fee includes: Tuition, in-country transportation, course related activities, group meals, and teaching services.
Housing Fee
$670
This fee represents the housing provided during the program.
TOTAL PROGRAM FEE
$2,954
Out-of-pocket Costs
Meals (estimate)
$100
Visa
$0
Passport
$140
Roundtrip Airfare (estimate)
$1,200
Course Materials
$0
Optional Activities/incidental expenses
$200
Optional trip cancelation/interruption Insurance (estimate)
$180
TOTAL ESTIMATED COST OF ATTENDANCE:
$4,774
NOTE: If you are a non-UMD graduate student, you will need to pay a $75 application fee to the UMD graduate school to participate in this program.
Please refer to the following resources for more information on funding study abroad
PLEASE NOTE: All University of Maryland study abroad programs are financially self-supporting and, therefore, subject to cancelation due to low enrollment.
Faculty Leader- Victor Mullins, PhD is the Program Director.
Program Assistant- Jeanette Snider
For course, itinerary or in-country information, please contact the Program Director. For general questions or assistance with applying, contact Smith's Undergraduate Program Manager, Greg Rafal.
As a part of this program, you will engage in the following activities:
Tours of Robben Island, a UNESCO World Heritage site and the former maximum-security prison where the late Nelson Mandela was imprisoned for 18 years.
Visit to the District Six Museum, where you will learn the sobering history of apartheid. 
Tour of the Cape Peninsula (Cape of Good Hope, Cape Point, Boulder Bay, Hout Bay, Chapman's Peak, etc.)
Experience High Tea at Mount Nelson Hotel 
Tour of the Winelands
Take an all-day safari 
Term
Year
Application Deadline
Admission Notification
Program Start
Program End
Winterterm
2019
10/01/2018
10/11/2018
01/06/2019
01/19/2019
In addition to the program dates above, all students will be required to participate in the Undergraduate Common Core (November 8, 2018) and the Global Showcase (February 14, 2019).