UMD Exchange: University of Nottingham (United Kingdom)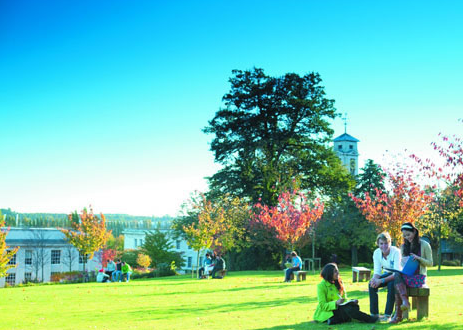 All students accepted to an Exchange program are automatically considered for an award of $1,000! See Cost tab for more information.
Host Institution
The University of Nottingham is world-class university, ranked in the UK and European top 30 and in the top 1 per cent of all universities worldwide.  The university was named Times Higher Education "University of the Year" in 2006, Times Higher Education "Entrepreneurial University of the Year" in 2008, and finished runner up in the 2010 Sunday Times "University of the Year". 
The University of Nottingham Students' Union is heavily involved with providing student activities at the university and has more than 190 student societies affiliated to it. A further 76 clubs are affiliated to the Students' Union's Athletic Union. The Students' Union also organizes a number of activities and events involving students and staff with the local community. The Student Volunteer Centre sees more than 600 students each year volunteering in local schools and community organizations, as well as a range of other projects throughout the city of Nottingham.
Host City
Nottingham is located in the East Midlands of England.  It is best known for the legend of Robin Hood.  The city has an estimated population of just over 300,000.  Nottingham is home to the University of Nottingham as well as Nottingham Trent University as well as several community colleges, making it one of the largest centers of higher learning in the United Kingdom. 


The University of Nottingham and the University of Maryland are both members in Universitas 21 (U21). U21 is the leading global network of research-intensive universities; working together to foster global citizenship and institutional innovation through research inspired teaching and learning, student mobility, connecting our students and staff, and wider advocacy for internationalization. 
Learn more about Universitas 21 and its programs and mission on the U21 website. 
---
Exchange programs are highly competitive and space in each program is limited. You must meet the following eligibility requirements in order to apply to this program:
3.0 GPA
Completion of 2 semesters at UMD
Exchange programs are a good fit for students looking for immersion, personal growth, and the opportunity to strengthen qualities such as independence and adaptability.
Student Visa Information
As an exchange student to the United Kingdom, you are required to obtain a student visa before you leave the U.S.  You can learn more about the visa process on the University of Nottingham's website or visit the website for the Embassy of the United Kingdom.
---
Click "Apply Now" at the top of this page. You will log in with your UMD directory ID and password.
Submit all application materials by the deadline listed below. This includes meeting with your EA advisor (listed at the top of this page), and may include requesting a faculty letter of recommendation, and submitting an official transcript. If a letter of recommendation and/or official transcript are required, it will be listed in MyEA once you start an application for this program. 
After the application deadline, we will review all completed applications and nominate students for available spots in each exchange program.
If you are nominated to participate in this exchange, you will work with your EA advisor (listed above) to apply directly to the host university, who will formally admit you to the exchange program. Nominated students must complete the host university application in accordance with the host university's stated deadlines and instructions.
Nominated students will then work with their EA advisor (listed above) and our partner universities to coordinate all aspects of the stay at the host university such as course registration, visas and arrival.
Any student wishing to study in one of the following Schools must meet the early nomination deadline of April 30 and must apply by May 31:
Nottingham University Business School
School of English
Department of Architecture and Built Environment
Department of Culture, Film and Media 
---
Academic Planning
Visit the Academics & Study Abroad page which outlines key considerations for your academic planning as you navigate different phases of study abroad:
Coursework
Students can choose from a variety of modules (classes) but are limited to selecting modules from a maximum of two academic Schools/Departments. Nottingham offers a wide variety of coursework that exchange students can choose from.
There may be other course offerings on this program that are not currently listed in the Study Abroad Course Database (SACD).  If you are interested in taking a course not listed in the SACD, please submit a transfer credit evaluation request.
Credit
All credit you earn on this program will count as transfer credit towards your UMD degree.  Most courses at University of Nottingham  will be converted as follows:
| University of Nottingham Credit | UMD Credit |
| --- | --- |
| 1 Nottingham credit | 0.3 UMD credit |
| 10 Nottingham credits | 3 UMD credits |
The chart above was last approved by the UMD Transfer Credit Committee on June 10, 2014.
 
Grading
Undergraduates must receive a C- equivalent or better in order to be eligible for the transfer of credit.
| | |
| --- | --- |
| University of Nottingham Grade | UMD Grade |
| 40  | C - |
---
On-campus student housing is available and guaranteed for exchange students who apply by the deadline. 
University of Nottingham on-campus accommodation is purpose-built and will have everything you need right where you need it – from laundry and kitchen facilities to bike storage, and all the accommodation is either on or within easy walking distance from campus. Students live in a social and supportive atmosphere with wardens and tutors on hand to help you every step of the way and student reps to organize events and activities for you all to get to know each other.
You can learn more about accommodation at Nottingham on the website.
---
Exchange Program Cost of Attendance
UMD students participating in an Exchange program have the benefit of paying UMD tuition rates to attend an institution abroad. For specific information about this Exchange program, please reference the Cost of Attendance Chart. 
Tuition and fees for exchange programs are charged directly to your UMD account, which means you can apply UMD scholarships, state and federal financial aid, and alternative loans towards the cost of an exchange. Housing costs are paid directly to the host institution or on-site housing agency.
You can use the cost of attendance comparison worksheet to view how study abroad programs compare to each other and the amount you pay on campus at UMD. As always, your EA advisor (listed above) is available to help you complete this worksheet and find affordable programs that fit your study abroad goals.
Exchange Scholarship
All students accepted to an Exchange program are considered for an automatic award of $1,000! To be considered for this scholarship, you must:
Be a current degree seeking undergraduate UMD student (graduate students are not eligible for this award)
Not currently receive full tuition scholarship/benefits (i.e. Banneker Key, tuition remission, Frederick Douglass Scholarship, etc.)
Additional Financial Resources
---
Maximize your time abroad by taking advantage of resources at your host institution!
Student Clubs and Organizations
The University of Nottingham offers a variety of sport and fitness activities as well as societies and volunteering opportunities for students!
International Welcome/Orientation
The university hosts a welcome program for international students to help them get to know the campus and meet other students during social events.
Counseling & Health Services
The University of Nottingham stresses the importance of mental health and offers counseling services for all students in need. Additional health services are available to provide you with advice on staying healthy during your time abroad.
Resource Guide for Students with Disabilities*
*This resource guide provides general information about services at UMD's partner institution. For more information, consult your EA advisor.
---
| Term | Year | Application Deadline | Admission Notification | Program Start | Program End |
| --- | --- | --- | --- | --- | --- |
| Spring | 2023 | 10/01/2022 | 10/11/2022 | | |
| Year (Fall-Spring) | 2023 | 03/01/2023 | 03/13/2023 | | |
| Spring | 2024 | 10/01/2023 | 10/11/2023 | | |