AMIDEAST Area & Arabic Language Studies in Morocco (Semester/Academic Year)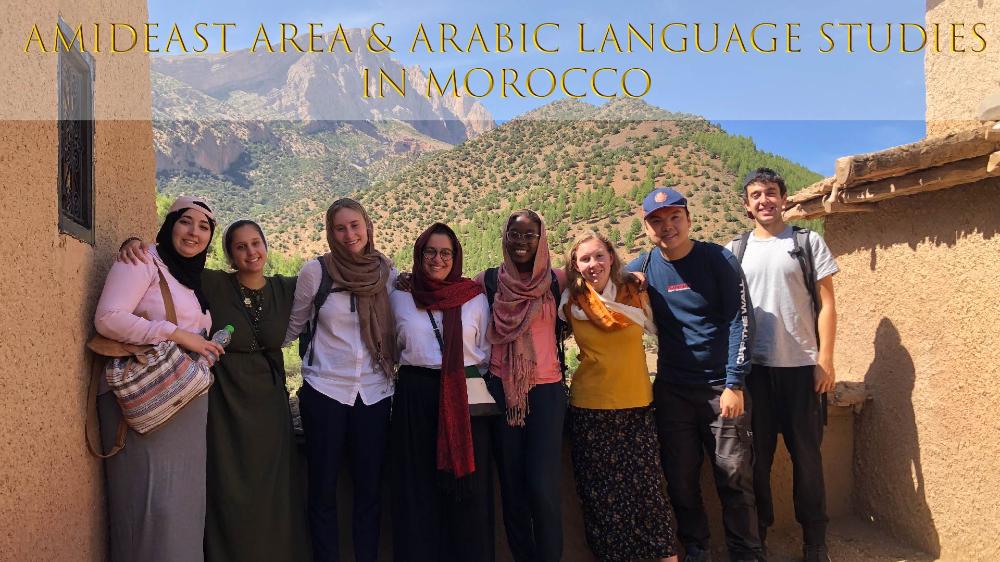 Merhaba!
In the westernmost outpost of the Arab world, students learn firsthand from leading faculty about Morocco's efforts to address contemporary issues such as gender rights, ethnic diversity, and democratization. Students' access to Moroccan culture offers unparalleled insights into the country's approach to pressing social, religious, and cultural matters of the Middle East and North Africa. In this semester/academic year program in Rabat, Morocco, students will take 12-17 credits per semester and have the option of both Arabic and Area Studies courses taught in English. Students live with host families in Rabat. There will be multiple excursions per semester, such as to Fez or Zaouiat Ahansal.
Academic Overview
Arabic: Blended Modern Standard & Moroccan Arabic (8 credits) is recommended
Colloquial Moroccan Arabic (3 credits) is required if not in the 8-credit course
Elective Area Studies Courses (3 credits each) taught in English in a variety of disciplines including a Community-Based Learning course. Recent courses have been drawn from Middle East & North Africa studies, history, political science, sociology, and Amazigh studies.
Media Arabic (3 credits) is also available as an elective
Community-Based Learning
Every semester we offer our Community-Based Learning course. This interdisciplinary course aims at strengthening and deepening students' knowledge of the Middle East through direct experience in local organizations and a series of lectures aimed at providing the theoretical framework for studying and interacting with Moroccan society, culture, and politics.
Students will have a volunteer placement in a local organization where they are expected to spend at least five hours a week. There are also lectures/seminars to contextualize the placement, providing the opportunity to directly observe and analyze different aspects of Moroccan culture, social relations, and politics under the framework provided by the class readings and discussions.
If you're curious to see what topics are covered or need to confirm whether a class will count for your university, please download the latest available syllabi here.
To apply to this program, you must complete two main steps:
Submit a UMD approval application - start by clicking "apply now" at the top of this page. This application allows UMD Education Abroad to approve your study abroad program selection so you may earn credit in a program outside of UMD.
This application will require you to meet with your EA advisor, who will communicate important details related to participating in this program. If you do not complete this application by the stated deadline, you may not receive credit for your study abroad program and will lose your student status for the time you are not studying at UMD.
Apply directly to the program provider. After receiving UMD approval, you should submit the program application directly to the program sponsor by their deadline. Your program sponsor will determine your official acceptance to a program. You must adhere to the provider's timeline, eligibility standards, and application requirements.
After being accepted to your program, your EA advisor will guide you through the course pre-approval process where you will determine which credits you will fulfill abroad.
Academics
Visit the Academics & Study Abroad page which outlines key considerations for your academic planning as you navigate different phases of study abroad:
Browse UMD course evaluations in the Study Abroad Course Database:
 

There may be other course offerings on this program that are not currently listed in the Study Abroad Course Database (SACD).  If you are interested in taking a course not listed in the SACD, please submit a transfer credit evaluation request.
Costs
Costs for Other Approved Programs are outlined on the Costs of Study Abroad page.
| Term | Year | Application Deadline | Admission Notification | Program Start | Program End |
| --- | --- | --- | --- | --- | --- |
| Year (Fall-Spring) | 2020 | 03/15/2020 | 05/15/2020 | | |
| Fall | 2020 | 03/15/2020 | 05/15/2020 | | |