UMD-Summer: Ireland: The Archaeology of Ireland's Early Modern Period (ANTH)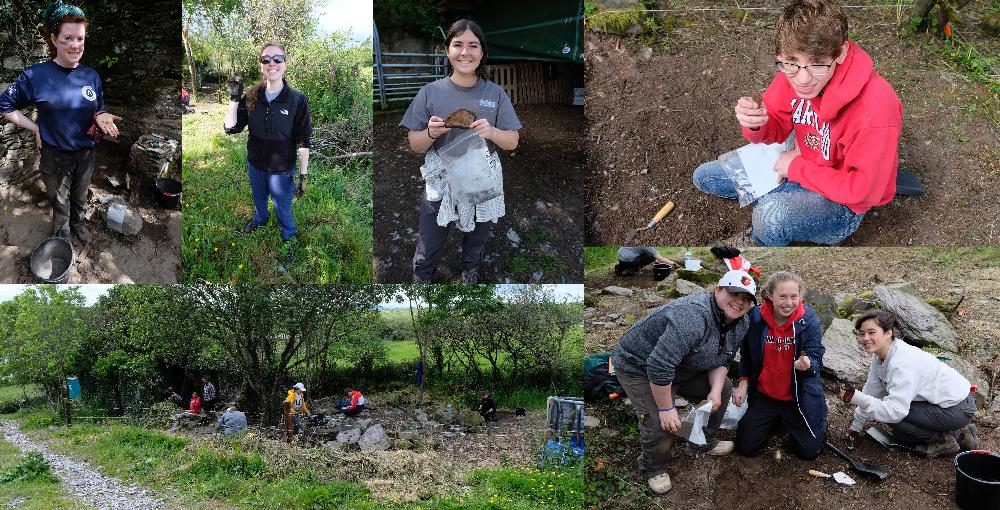 This summer Applied Field Program will explore the material history of the Irish Diaspora in County Cork. The location of the study is the area around Skibbereen, County Cork. Skibbereen is located 51 miles (82 km) southeast of Cork City. It became infamous as a metaphor for the impacts and horrific sufferings of the Great Starvation. Skibbereen is ideal due to its commitment to collecting Ireland's rich heritage. The Skibbereen Museum and Heritage Center is a natural conduit between the archaeologist and the local community.
Through archaeological investigations, archival research, and interviews with local historians of the Skibbereen Heritage Center and members of the community, you will receive extensive and intensive experience learning the importance and meaning of material culture as it relates to the larger study of the Irish Diaspora, socio-cultural change in Ireland over time, as well as form the foundation for a comparable database to model and interpret the diverse worlds and experiences of Irish immigrants internationally.
This research is an important move forward in modeling the diversity of material identities in Ireland and creating a database that will be significant not only to Ireland, but also to understanding material and social continuity and change in Irish diasporic communities worldwide.
This is a Scholarship in Practice (SIP) course. There are no requirements and all students are welcome to apply. Students will earn 6 credits for participating. Students will be in the field daily and no experience necessary. It is a excellent way to learn about Irish history, culture, and heritage.
For more information, visit the program blog and Facebook page.
You must be in good academic and judicial standing and you must not have any registration blocks to participate in this program. The minimum GPA for this program is listed above.
All UMD and non-UMD graduate and undergraduate students are eligible to apply.
If you are interested in this program but do not meet the eligibility requirements, reach out to the Program Leader (listed in the Contacts tab) to discuss your interest in the program.
After you commit to the program, Education Abroad will enroll you in the following six (6) credit UMD course:
ANTH496: Field Methods in Archaeology
The credit you earn during this program will count as resident credit. This course is also eligible to fulfill the general education requirement for Scholarship in Practice.
Please refer to the following resources for funding study abroad:
Financial Aid
Scholarships
Financial Policies
*Please note this program qualifies for eligible Pell Grant recipients to apply for the Gilman International Scholarship. Online applications will open mid-January and close on Thursday, March 9, 2023, at 11:59pm Pacific Time.
ALL COST INFORMATION REPRESENTS 2023 COSTS. 2024 COSTS WILL BE UPDATED SOON.
 

APPLICATION FEE
$50
This is a non-refundable fee to submit an application.
Education Abroad Fee
$500
This is a non-refundable fee charged to your account when the application status changes from "Accepted to "Committed." This includes services provided by Education Abroad such as registration, billing, advising, risk management, and pre-departure orientation.
International Health Insurance
$100
This coverage is required and complements students' regular U.S. primary health insurance coverage.
Program Fee
Housing Fee
$1,173
This fee represents the housing provided during the program.
Tuition
$3,517
These are the instructional costs which include tuition, in-country transportation, course related activities, group meals, and teaching services.
Program Fee Total
$4,690
 BILLABLE COSTS TOTAL
$5,290
This fee is charged to your student account and is based on our program deadlines. Please direct any additional questions to the Office of Student Financial Services and Cashiering.
Meals (estimate)
$100
Passport
$165
Visa
$0
Roundtrip airfare (estimate)
$1,000
Course materials
$0
Incidental expenses
$150
Trip cancelation insurance (optional)
$180
ESTIMATED OUT OF POCKET EXPENSES
$1,595
*Non-UMD graduate students will need to pay a $75 application fee to the UMD Graduate School to participate in this program.

TOTAL ESTIMATED COST OF ATTENDANCE
$6,935
PLEASE NOTE: All University of Maryland study abroad programs are financially self-supporting and, therefore, subject to cancellation due to low enrollment.
Dr. Stephen A. Brighton, Faculty Program Leader, is an Assistant Professor with 18 years of experience leading international field schools. Dr. Brighton is a licensed archaeologist in Ireland and known for his excavations focusing on cultural resilience and transformation as it relates to the Irish Diaspora. Dr. Brighton has written a book "Historical Archaeology of the Irish Diaspora: A Transnational Approach" that details much of his research in North America. The research program in Ireland represents one of the first of its kind to critically bring together historical and archaeological data to understand and give a voice to underrepresented and largest population in early modern Ireland that formed much of the 19th century Irish Diaspora.
For course, itinerary or in-country information, please contact the Program Leader.
For general questions or assistance with applying, contact EA Short-term Programs.
As a part of this program, you will engage in the following activities:
Learning methods and theories of historical archaeology and applying in real excavations.
Understanding the global impact of the Irish Diaspora and Irish heritage from leading experts in the field at the Skibbereen Heritage Center.
Gain an understanding of Irish culture through interacting with Irish individuals and families in the host town of Skibbereen.
Weekend visit to the numerous and diverse heritage sites throughout Ireland such as New Grange, the Hill of Tara, and Blarney Castle.
| Term | Year | Application Deadline | Admission Notification | Program Start | Program End |
| --- | --- | --- | --- | --- | --- |
| Summerterm | 2023 | 03/01/2023 | 03/07/2023 | 05/27/2023 | 07/01/2023 |