ENGR Exchange: Yonsei University (Korea)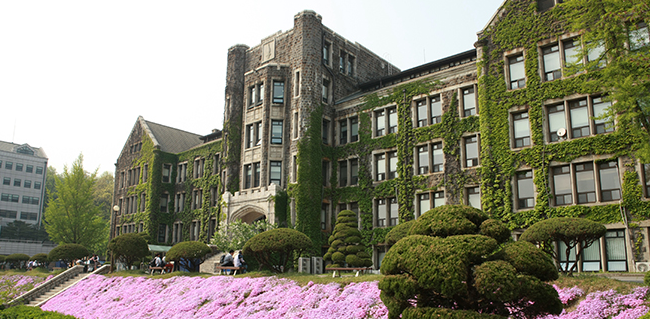 We are not accepting ENGR Exchange: Yonsei University applications for the Spring 2023 semester. Students interested in studying at Yonsei can do so through the direct enroll option.
All students accepted to an Exchange program are automatically considered for an award of $1,000! See Cost tab for more information.
Host Institution
Yonsei University opened the door to modern higher education over one century ago. It has since then emerged as the nation's top private university and ranks among the world's most prestigious universities. Building on our history and tradition, Yonsei will actively pursue a new future. Seeking to find our place in the spectrum of civilizational transition, Yonsei will lead the next 100 years and write a new history.
History of Yonsei University starts on April 10th, 1885, from Korea's first modernized hospital 'Gwanghyewon.' 2 weeks after opening, Gwanghyewon changed its name to 'Chejungwon,' named by the King Kojong. Gwanghyewon was established by a medical missionary named Allen. Prior to opening, missionary Underwood visited Korea, assisting Chejungwon's medical businesses while starting works in education and missionary works. These two mens business based at Chejungwon has become current-day Yonsei's foundation.
Since then, the medical sector has developed to Severance Medical College, Severance Hospital, and Severance Medical School, and the education sector grew into Yonhi University after Underwood School, Gyeongsin School, and Yonhi College. Yonhi and Severance worked for independence and modernization of Korea while under Japanese occupation and at times of crises. They also took responsibility of universities for establishing democracy and modern society after the Korean War.
Host City
Yonsei University is located in Sinchon, about 6km off west of central Seoul. Walking towards the Mu-Ak Mountain from Sinchon Rotary will bring you to the gateway of Yonsei University, Baekyang Ro. On the rightthere is Sookyung Won, the tomb of the royal concubine Lee and the green hill that spans wide facing Gwan-ak the propitous site of Mu-ak, the school site of Yonse, once the site of Yonhi Palace.
Pyon Su Alumni Fellowship Program
The Pyon Su Alumni Fellowship Program offers UMD undergraduate students the opportunity to study Korean culture, society, language, history and related areas in Korea. Pyon Su graduated with a Bachelor of Science degree in Agriculture from the University of Maryland in 1891. He was the first Korean ever to acquire a degree at an American university. The UMCP Korean Alumni Association has endowed this fellowship program. Two awards up to 5,000,000 Korean Won will be awarded per calendar year. For additional information please email the EA advisor for Korea. 
---
Exchange programs are highly competitive and space in each program is limited. You must meet the following eligibility requirements in order to apply to this program:
3.0 GPA
Completion of 2 semesters at UMD
You must be an ENGR major
Exchange programs are a good fit for students looking for immersion, personal growth, and the opportunity to strengthen qualities such as independence and adaptability.
Student Visa Information
A student visa is required for participation on this exchange. For more information, please visit our study abroad visa guide to view instructions for the country you will be visiting. Please note that visa information is subject to change and you are responsible for checking the embassy website for updates.
---
Click "Apply Now" at the top of this page. You will log in with your UMD directory ID and password.
Submit all application materials by the deadline listed below. This includes meeting with your EA advisor (listed at the top of this page), and may include requesting a faculty letter of recommendation, and submitting an official transcript. If a letter of recommendation and/or official transcript are required, it will be listed in MyEA once you start an application for this program. 
After the application deadline, we will review all completed applications and nominate students for available spots in each exchange program.
If you are nominated to participate in this exchange, you will work with your EA advisor (listed above) to apply directly to the host university, who will formally admit you to the exchange program. Nominated students must complete the host university application in accordance with the host university's stated deadlines and instructions.
Nominated students will then work with their EA advisor (listed above) and our partner universities to coordinate all aspects of the stay at the host university such as course registration, visas and arrival.
---
Academic Planning
Visit the Academics & Study Abroad page which outlines key considerations for your academic planning as you navigate different phases of study abroad:
Coursework
Disciplines available: Chemical Engineering, Electrical and Electronics Engineering, Architectural Engineering, Architectural Design, Urban Planning Engineering, Civil and Environmental Engineering, Mechanical Engineering, Metallurgical Engineering, Ceramic Engineering, Information and Industrial Engineering, Computer Science, Integrated Information Technology
Languages of Instruction: English, Korean
There may be other course offerings on this program that are not currently listed in the Study Abroad Course Database (SACD). 
Credit
All credit you earn on this program will count as transfer credit on your UMD transcript. UMD uses the following conversion to assess how many credits you will get from this program:
| Yonsei University Credit | UMD Credit |
| --- | --- |
| 1 Yonsei credit | 1 UMD credit |
The chart above was last approved by the UMD Transfer Credit Committee on August 7, 2014.
Undergraduates must receive a C- equivalent or better in order to be eligible for the transfer of credit. The minimum passing grade at Yonsei is a C-.
---
Exchange students studying at Yonsei University have the option of staying in the SK Global House or the International House on campus. For more information about these two housing options, including pricing, furnishings, and facilities included, please visit the two websites listed below.
General info: https://oia.yonsei.ac.kr/campus/preHousing.asp
Pricing, Furnishings, Facilities: https://dorm.yonsei.ac.kr/en/
Exchange Program Cost of Attendance
UMD students participating in an Exchange program have the benefit of paying UMD tuition rates to attend an institution abroad. For specific information about this Exchange program, please reference the Cost of Attendance Chart. 
Tuition and fees for exchange programs are charged directly to your UMD account, which means you can apply UMD scholarships, state and federal financial aid, and alternative loans towards the cost of an exchange. Students participating in a BMGT or ENGR exchange program are not charged differential tuition. Housing costs are paid directly to the host institution or on-site housing agency.
You can use the cost of attendance comparison worksheet to view how study abroad programs compare to each other and the amount you pay on campus at UMD. As always, your EA advisor (listed above) is available to help you complete this worksheet and find affordable programs that fit your study abroad goals.
Exchange Scholarship
All students accepted to an Exchange program are considered for an automatic award of $1,000! To be considered for this scholarship, you must:
Be a current degree seeking undergraduate UMD student (graduate students are not eligible for this award)
Not currently receive full tuition scholarship/benefits (i.e. Banneker Key, tuition remission, Frederick Douglass Scholarship, etc.)
Additional Financial Resources
---
Maximize your time abroad by taking advantage of resources at your host institution!
Student Clubs and Organizations
There are a lot of clubs and organizations to allow you to stay active and involved in the university!
International Welcome/Orientation
Yonsei University hosts an orientation for international students to familiarize them with the university and life in Yonsei.
Counseling & Health Services
There are individual counseling and group counseling services provided for students to help with a variety of concerns including homesickness and culture shock.
 

---
| Term | Year | Application Deadline | Admission Notification | Program Start | Program End |
| --- | --- | --- | --- | --- | --- |
| Year (Fall-Spring) | 2023 | 03/01/2023 | 03/13/2023 | | |
| Fall | 2023 | 03/01/2023 | 03/13/2023 | | |