The School for Field Studies (SFS) Bhutan - Himalayan Environment and Society in Transition (Semester)
SFS BHUTAN: HIMALAYAN ENVIRONMENT AND SOCIETY IN TRANSITION (SEMESTER)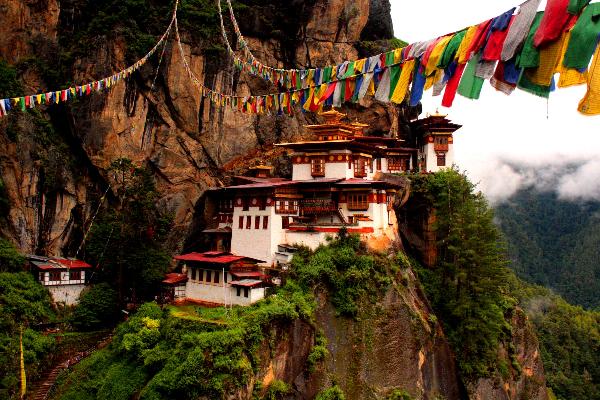 PROGRAM DETAILS
Terms: Fall, Spring
Credits: 18 semester-hour credits
Prerequisites: One semester of college-level ecology, biology, or environmental studies/science; 18 years of age
Application Deadline: Rolling admissions. Early applications encouraged
Financial Aid: All accepted students can apply for need-based scholarships, grants, and loans
OVERVIEW
Explore a corner of the Himalayas where few foreigners ever step foot. Experience Bhutan's unique culture and diverse ecosystems as you trek through remote villages and high mountain passes. Learn how Buddhist philosophy influences the country's environmental policies and how the people of Bhutan are addressing the challenge of maintaining biodiversity and traditional rural lifestyles in a time of transition. Gain practical skills in field research and data collection and apply them to an extensive research project.
PROGRAM HIGHLIGHTS:
Embark on a multi-day cultural trek to experience the natural beauty of Bhutan's countryside and the traditional lifestyles of its people.
Visit monasteries and take part in unforgettable tshechus (festivals) to learn more about Buddhism and Bhutanese culture.
Explore Bhutan's diverse range of biomes through trips to Himalayan ridges, the subtropical Punakha and Chukha Valleys, and the alpine meadows of Phobjikha.
SFS students live and study at the Center for Himalayan Environment and Development Studies. The Center is located at one end of the stunning Paro Valley, at the base of a towering ridgeline dotted with Buddhist monasteries. Campus is a small cluster of buildings designed in the traditional Bhutanese architectural style. A pleasant 15-minute walk brings you to the markets, shops, and cultural events of Paro Town.

RESEARCH THEMES
Mountain ecology and conservation
Climate change
Gross National Happiness
Forest management
River ecosystems
Agriculture and urban migration
CORE SKILLS
GIS and mapping
Species identification
Camera trapping and mist-netting
Biodiversity surveys
Research design and implementation
Data collection and analysis
Research presentation
CONNECT WITH SFS
Visit the SFS website
Call the Admissions Hotline at 800.989.4418
Email admissions@fieldstudies.org
Read updates from the field on the SFS Blog
Follow SFS on Instagram and Facebook
Watch student videos on YouTube and Vimeo
 
To apply to this program, you must complete two main steps:
Submit a UMD approval application - start by clicking "apply now" at the top of this page. This application allows UMD Education Abroad to approve your study abroad program selection so you may earn credit in a program outside of UMD.
This application will require you to meet with your EA advisor, who will communicate important details related to participating in this program. If you do not complete this application by the stated deadline, you may not receive credit for your study abroad program and will lose your student status for the time you are not studying at UMD.
Apply directly to the program provider. After receiving UMD approval, you should submit the program application directly to the program sponsor by their deadline. Your program sponsor will determine your official acceptance to a program. You must adhere to the provider's timeline, eligibility standards, and application requirements.
After being accepted to your program, your EA advisor will guide you through the course pre-approval process where you will determine which credits you will fulfill abroad.
Academics
Visit the Academics & Study Abroad page which outlines key considerations for your academic planning as you navigate different phases of study abroad:
Browse UMD course evaluations in the Study Abroad Course Database:
 

There may be other course offerings on this program that are not currently listed in the Study Abroad Course Database (SACD).  If you are interested in taking a course not listed in the SACD, please submit a transfer credit evaluation request.
Costs
Costs for Other Approved Programs are outlined on the Costs of Study Abroad page.
| Term | Year | Application Deadline | Admission Notification | Program Start | Program End |
| --- | --- | --- | --- | --- | --- |
| Year (Fall-Spring) | 2020 | 03/15/2020 | 05/15/2020 | | |
| Fall | 2020 | 03/15/2020 | 05/15/2020 | | |