UMD-Winter: Mexico: Photography in Oaxaca (JOUR/ARTT)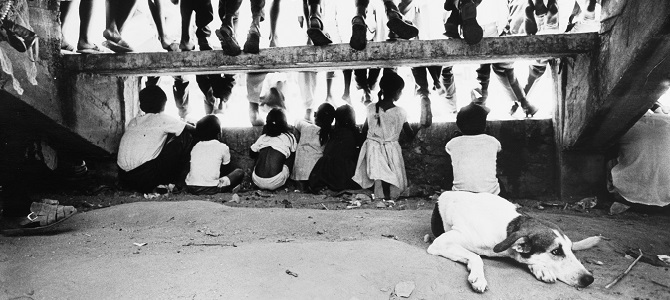 Oaxaca, the capital city of the state of Oaxaca, is located in the Centro District in the Central Valleys region of the state. It is a visual paradise rich with cultural traditions and welcoming people. This course is designed to broaden your perspectives in photography as you explore and promote the culture and humanity of Mexico. Through daily exploration, field trips to local markets, introductions to Mexican families, arranged community projects, and meetings with local photographers, you will become fully immersed in this cross-cultural experience. This program will let you experience the visually and culturally fascinating aspects of Oaxaca while teaching you to become a better more capable and confident photographer (visual communicator / storyteller).
Check out the program website for more information. 
You must be in good academic and judicial standing and you must not have any registration blocks to participate in this program. The minimum GPA for this program is listed above.
All UMD and non-UMD freshmen, sophomores, juniors, seniors and graduate students are eligible to apply.
You must have some photography experience with a DSLR camera or mirrorless cameras and be interested in using photography to convey your creative vision. This program involves long days of shooting followed by critique and instruction. Please note you must bring your own DSLR or mirrorless camera and laptop with an external, portable hard drive. Journalism students have the option of borrowing a camera from the department.
If you are interested in this program but do not meet the eligibility requirements, reach out to the program director (listed in the Contacts tab) to discuss your interest in the program.
After you commit to the program, Education Abroad will enroll you in one of the following three (3) credit UMD courses:
JOUR458P: Special Topics in Journalism; Photography in Oaxaca
ARTT489P: Special Topics in Studio Art; Photography in Oaxaca
The credit you earn during this program will count as resident credit.
There will be a pre-departure orientation in the middle of December 2019 to review the syllabus, discuss goals, expectations, behavioral guidelines, and review any necessary program logistics and tips on what to pack. The pre-departure meeting date/time will be determined on participants availability.
You will stay in a hotel in the center of town in shared rooms (2-4 students per room). The rooms include a private bathroom, closet, TV, and Wi-Fi.
Costs are current for winter 2020.
Application Fee
$50
Billable Costs
Billable costs are charged to your student account. They are due based on the Office of Student Financial Services and Cashiering payment schedule. Be sure to check your statements when they are available.
Education Abroad Fee
$500
This fee is charged to your account when the application status changes from "Accepted" to "Committed." This fee includes Education Abroad services including registration, billing, advising, risk management, and pre-departure orientation.
International Health Insurance
$45
Tuition
$2,055
This fee is charged to your UMD account upon course registration. This fee includes: Tuition, in-country transportation, course related activities, group meals, and teaching services.
Housing Fee
$350
This fee represents the housing provided during the program.
TOTAL PROGRAM FEE
$2,950
Out-of-pocket Costs
Meals (estimate)
$250
Visa
$0
Passport
$145
Roundtrip Airfare (estimate)
$1,000
Course Materials
$0
Optional Activities/incidental expenses
$300
Optional trip cancelation/interruption Insurance (estimate)
$180
TOTAL ESTIMATED COST OF ATTENDANCE:
$4,875
NOTE: If you are a non-UMD graduate student, you will need to pay a $75 application fee to the UMD graduate school to participate in this program.
Please refer to the following resources for more information on funding study abroad
PLEASE NOTE: All University of Maryland study abroad programs are financially self-supporting and, therefore, subject to cancelation due to low enrollment.
Sora Devore is a documentary and fine art photographer based in Washington, DC. She assisted acclaimed photographers Mary Ellen Mark and Graciella Iturbide while living in Mexico. Sora was selected for Review Santa Fe based on La Familia Ramirez, an eighteen-year photographic study of one family's slow steady evolution and ultimately a heart-felt example of their determination and success. She continues to document the Ramirez family, as well as a family in Washington, D.C. that she met through her work with the I Have a Dream Foundation. She has received numerous grants to teach photography to low socio-economic communities nationally and internationally. Currently she is an adjunct professor at the University of Maryland and continues to freelance for clients such as The National Geographic, The Washington Humane Society, and The Washington Post, among others.
Vittorio D'Onofri is an Italian born professional photographer who has been living in Oaxaca, Mexico for the last 20 years. He has collaborated with Italian, German, French, American and Mexican magazines and exhibited his images worldwide. In 2012 he won third place in the Coahuila, Mexico Contemporary Photography contest. He received an honorable mention in the fourth Biennial Mexican photojournalism and documentary contest (2001) and was awarded third place and best interpretation of the theme in the Francis Gamichon International Competition in Paris, France (1991). He currently teaches photography at the Centro Fotografico Manuel Alvarez Bravo, Taller Espacio Alternativo, and the Fototeca de Nuevo Leon en Monterrey.
For course, itinerary or in-country information, please contact the Program Director. For general questions or assistance with applying, contact EA Short-term Programs.
As a part of this program, you will engage in the following activities:
Shooting trips to 3 very distinct markets: Etla, Zachilla, and Talacalula.
Presentations by and conversations with Mexican photographers.
Two (3 day) photo projects of Families and School for Down Syndrome. Additional project options are constantly being researched.
Additional photography excursions: Rodeo, Lucha Libre (wrestling), Soccer Match, Hierve el Agua (dependent on availability within our program dates.)
| Term | Year | Application Deadline | Admission Notification | Program Start | Program End |
| --- | --- | --- | --- | --- | --- |
| Winterterm | 2020 | 10/01/2019 | 10/11/2019 | 01/06/2020 | 01/19/2020 |