UMD-Winter: Morocco: In the Footsteps of the Beat Generation (ARHU/ENGL)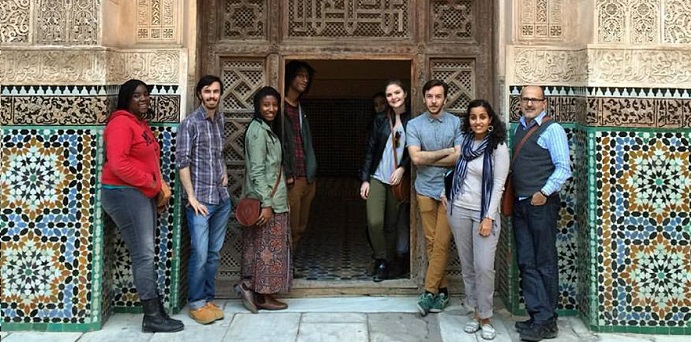 Take a literary journey to explore the influence of Moroccan culture on American culture, specifically on the writers and poets associated with the Beat movement in the US. We will be based in Rabat with long weekend visits to Marrakech, Chefchaouen, Tangier, and Essaouira, all while reading works written by Moroccan and American writers who lived in the country, as well as watching movies from American cinema filmed in Morocco. As we travel through Morocco, we will study the authors from the Beat movement and investigate hippy culture in Morocco. We will discuss the interweave between American and Moroccan culture, understand the historical and socio-political background of the film and literature we will be studying, and explore themes such as orientalism, globalization, and colonialism.
You must be in good academic and judicial standing and you must not have any registration blocks to participate in this program. The minimum GPA for this program is listed above.
All UMD and non-UMD students are eligible to apply.
If you are interested in this program but do not meet the eligibility requirements, reach out to the program director (listed in the Contacts tab) to discuss your interest in the program.
After you commit to the program, Education Abroad will enroll you in one of the following three (3) credit UMD courses:
ARHU269A: Morocco: In the Footsteps of the Beat Generation
ENGL269M: Morocco: In the Footsteps of the Beat Generation
This program has been approved for the Diversity-Cultural Competence requirement of the General Education program. The credit you earn during this program will count as resident credit.
There will be two mandatory pre-departure meetings in December 2018. Meeting time and location TBD. Some course reading will be required prior to departure. 
While in Rabat, you will have homestays with local families in the trendy Agdal neighborhood, full of cafes, restaurants, and very affordable public transportation. Homestay families are vetted by our on-site provider, AMIDEAST, and they will also provide home cooked breakfasts and dinners for you. Preference surveys will be completed to match you to homestay families that best suit your preferences. Most homestays will have WiFi and include a variety of other amenities. Cell phones will be provided to you while in Morocco. We will be taking long weekend trips, during which you will be in shared hotel rooms.
Costs are current for winter 2019.
Application Fee
$50
Billable Costs
Billable costs are charged to your student account. They are due based on the Office of Student Financial Services and Cashiering payment schedule. Be sure to check your statements when they are available.
Education Abroad Fee
$500
This fee is charged to your account when the application status changes from "Accepted" to "Committed." This fee includes Education Abroad services including registration, billing, advising, risk management, and pre-departure orientation.
International Health Insurance
$40
Tuition
$2,733
This fee is charged to your UMD account upon course registration. This fee includes: Tuition, in-country transportation, course related activities, group meals, and teaching services.
Housing Fee
$467
This fee represents the housing provided during the program.
TOTAL PROGRAM FEE
$3,740
Out-of-pocket Costs
Meals (estimate)
$250
Visa
$0
Passport
$140
Roundtrip Airfare (estimate)
$1,200
Course Materials
$50
Optional Activities/incidental expenses
$150
Optional trip cancelation/interruption Insurance (estimate)
$180
TOTAL ESTIMATED COST OF ATTENDANCE:
$5,760
NOTE: If you are a non-UMD graduate student, you will need to pay a $75 application fee to the UMD graduate school to participate in this program.
Please refer to the following resources for more information on funding study abroad
PLEASE NOTE: All University of Maryland study abroad programs are financially self-supporting and, therefore, subject to cancelation due to low enrollment.
Zein El-Amine obtained his MFA in Poetry from the University of Maryland in 2010. He teaches creative writing and Global Literature and Social Change in the English Department, as well as Arabic language and culture courses in the Arabic Department. Zein has led literary study abroad trips to Egypt and continues to lead one to Ireland. Additionally, he hosts the radio show Shay Wa Naa Naa, a program that focuses on Middle Eastern culture, on the Pacifica Station in Washington D.C. His poems have been published by Wild River Review, Folio, Foreign Policy in Focus, Beltway Quarterly, DC Poets Against the War Anthology, Penumbra, GYST, Joybringer and Middle East Report magazine, and his short stories have been published by Boundoff and Uno Mas magazines.
 Miranda Abadir received her MA in English Literature from the University of Maryland in 2009. She has designed and co-led study abroad courses to Egypt and Morocco and will co-lead this trip.
For course, itinerary or in-country information, please contact the Program Director. For general questions or assistance with applying, contact EA Short-term Programs.
As a part of this program, you will engage in the following activities:
Guided walking tours with a historical and literary focus
Cultural activities and excursions
Ongoing mini survival French and Arabic tutorials
Daytrip to Casablanca (optional)
Museums in Rabat (optional)
| Term | Year | Application Deadline | Admission Notification | Program Start | Program End |
| --- | --- | --- | --- | --- | --- |
| Winterterm | 2019 | 10/01/2018 | 10/11/2018 | 01/08/2019 | 01/26/2019 |