UMD Exchange: University of British Columbia (Canada)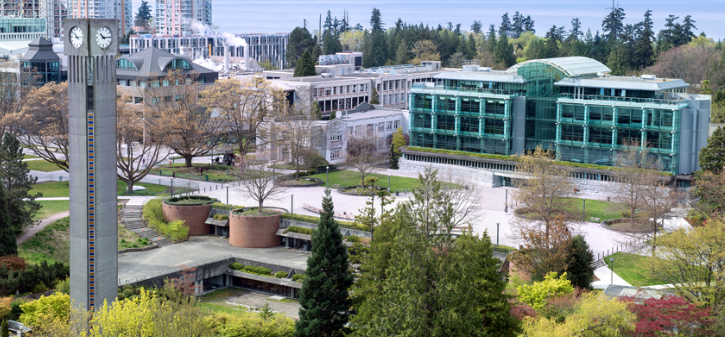 All students accepted to an Exchange program are automatically considered for an award of $1,000! See Cost tab for more information.
Host Institution
The University of British Columbia is a global center for research and teaching, consistently ranked among the 40 best universities in the world. Since 1915, UBC's West Coast spirit has embraced innovation and challenged the status quo. Its entrepreneurial perspective encourages students, staff and faculty to challenge convention, lead discovery and explore new ways of learning. At UBC, bold thinking is given a place to develop into ideas that can change the world.
Located 30 minutes from the heart of downtown Vancouver, the Vancouver campus is a spectacular location that is a 'must-see' for any visitor to the city — where snow-capped mountains meet ocean and breathtaking vistas greet you around every corner. The campus is home to more than 39,000 undergraduate and nearly 10,000 graduate students.
Host City
Vancouver has been named one of the world's "Most Liveable Cities" and provides an ideal backdrop for your exchange semester. Vancouver offers both outstanding opportunities for outdoor adventure and the sophisticated amenities of a world-class city. Take advantage of the city's ocean-side location, with plenty of green space and many recreation opportunities in the mountains 20 minutes north of downtown.


The University of Nottingham and the University of Maryland are both members in Universitas 21 (U21). U21 is the leading global network of research-intensive universities; working together to foster global citizenship and institutional innovation through research inspired teaching and learning, student mobility, connecting our students and staff, and wider advocacy for internationalization. 
Learn more about Universitas 21 and it's programs and mission on the U21 website: https://universitas21.com/
---
Exchange programs are highly competitive and space in each program is limited. You must meet the following eligibility requirements in order to apply to this program:
3.0 GPA
Completion of 2 semesters at UMD
Exchange programs are a good fit for students looking for immersion, personal growth, and the opportunity to strengthen qualities such as independence and adaptability.
Student Visa Information
Canada does not require students with U.S. citizenship to apply for a visa. Students who plan to study at UBC for more than 6 months (two semester applicants) must apply for a Study Permit. The UBC website provides detailed instructions on how to apply for a Study Permit.
 
---
Click "Apply Now" at the top of this page. You will log in with your UMD directory ID and password.
Submit all application materials by the deadline listed below. This includes meeting with your EA advisor (listed at the top of this page), and may include requesting a faculty letter of recommendation, and submitting an official transcript. If a letter of recommendation and/or official transcript are required, it will be listed in MyEA once you start an application for this program. 
After the application deadline, we will review all completed applications and nominate students for available spots in each exchange program.
If you are nominated to participate in this exchange, you will work with your EA advisor (listed above) to apply directly to the host university, who will formally admit you to the exchange program. Nominated students must complete the host university application in accordance with the host university's stated deadlines and instructions.
Nominated students will then work with their EA advisor (listed above) and our partner universities to coordinate all aspects of the stay at the host university such as course registration, visas and arrival.
---
Academic Planning
Visit the Academics & Study Abroad page which outlines key considerations for your academic planning as you navigate different phases of study abroad:
Coursework
The University of British Columbia offers a wide variety of coursework. Exchange students register for 12-15 credits (4-5 courses) per semester.
Class in the following departments are not open to exchange students: Audiology and Speech Sciences, Dentistry, Journalism, Medicine, Nursing, Pharmaceutical Sciences, and Rehabilitation Sciences. Most courses in Theatre and Film are not open to exchange students.
The following departments at UBC have restrictions on specific courses: Applied Science, Architecture, Arts, Commerce, Creative Writing, Education, Kinesiology, Landscape Architecture/Environmental Design, Law, Music, and Science. 
 
There may be other course offerings on this program that are not currently listed in the Study Abroad Course Database (SACD).  If you are interested in taking a course not listed in the SACD, please submit a transfer credit evaluation request.
 
Credit
All credit you earn on this program will count as transfer credit towards your UMD degree.  Most courses at the University of British Columbia will be converted as follows:
| University of British Columbia Credit | UMD Credit |
| --- | --- |
| 1 British Columbia credit | 1 UMD credit |
| 3 British Columbia credits | 1 UMD credits |
The chart above was last approved by the UMD Transfer Credit Committee on February 9, 2017.
Grading
Undergraduates must receive a C- equivalent or better in order to be eligible for the transfer of credit.
| | |
| --- | --- |
| University of British Columbia Grade | UMD Grade |
| C- or 55. | C - |
---
Exchange Program Cost of Attendance
UMD students participating in an Exchange program have the benefit of paying UMD tuition rates to attend an institution abroad. For specific information about this Exchange program, please reference the Cost of Attendance Chart. 
Tuition and fees for exchange programs are charged directly to your UMD account, which means you can apply UMD scholarships, state and federal financial aid, and alternative loans towards the cost of an exchange. Housing costs are paid directly to the host institution or on-site housing agency.
You can use the cost of attendance comparison worksheet to view how study abroad programs compare to each other and the amount you pay on campus at UMD. As always, your EA advisor (listed above) is available to help you complete this worksheet and find affordable programs that fit your study abroad goals.
Exchange Scholarship
All students accepted to an Exchange program are considered for an automatic award of $1,000! To be considered for this scholarship, you must:
Be a current degree seeking undergraduate UMD student (graduate students are not eligible for this award)
Not currently receive full tuition scholarship/benefits (i.e. Banneker Key, tuition remission, Frederick Douglass Scholarship, etc.)
Additional Financial Resources
---
| Term | Year | Application Deadline | Admission Notification | Program Start | Program End |
| --- | --- | --- | --- | --- | --- |
| Year (Fall-Spring) | 2023 | 03/01/2023 | 03/13/2023 | | |
| Fall | 2023 | 03/01/2023 | 03/13/2023 | | |
| Spring | 2024 | 10/01/2023 | 10/11/2023 | | |