UMD-Summer: Czech Republic: Sustainability & Smart Cities (ENCE)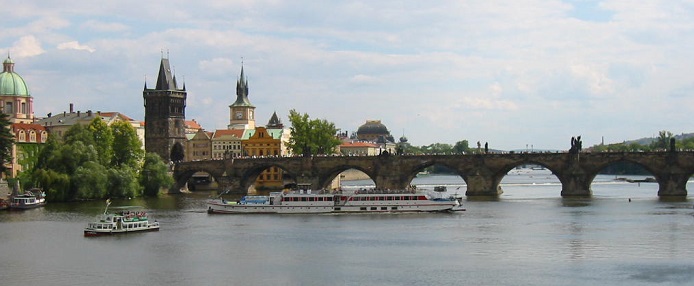 With the rapid world's population growth and the transition from rural to urban living, over 50 percent of the population is now living in cities. By 2050, it is predicted that nearly 70 percent of the world's population (about six billion people) will be living in urban areas. Large cities represent only two percent of the world's surface area, yet they are the economic drivers of the world's economy, accounting for over 80 percent of the world's gross domestic product (GDP). With these staggering statistics the concepts and principles of "Sustainable Infrastructure" and "Smart Cities" are vital for the survival of urban settlements and the development of healthy living conditions, along with economic prosperity. Prague, in the Czech Republic, and more specifically the Czech Technical University in Prague, has been in the forefront of the development of "Smart Cities" initiatives within the European Union. The specific history and cultural challenges of the city provides unique challenges and complexity in such effort.
On this program, you will explore the different approaches to the development of smart cities,  as well as the concept of smart cities and their major challenges.  We will address the development of "smart cities"  from both the i) the broad and complex "system" point of view, as well as, ii) focus on system engineering, system decomposition, and design/technical aspect. We will discuss smart cities' building blocks, such as "smart streets" or "smart buildings" as a matter of pragmatic and feasible level of details. Additionally, we will explore selected tools needed for developing real projects focusing on smart cities, along with specific case studies demonstrating the challenges and success of smart cities development. The program includes several site visits related to "smart cities" systems, and cultural and engineering marvels in the city of Prague and city of Pisek. The coursework will take place at the Czech Technical University in Prague, under the auspices of the "Smart Cities" Center.
You must be in good academic and judicial standing and you must not have any registration blocks to participate in this program. The minimum GPA for this program is listed above.
UMD and non-UMD sophomores, juniors, seniors, and graduate students are eligible to apply.
If you are interested in this program but do not meet the eligibility requirements, reach out to the program director (listed in the Contacts tab) to discuss your interest in the program.
After you commit to the program, Education Abroad will enroll you in the following three (3) credit UMD course:
ENCE489C: Special Problems in Civil Engineering: Sustainability & Smart Cities
The credit you earn during this program will count as resident credit.
This course is approved for the Sustainability Minor.
To view the syllabus for this program: Summer 2018 Czech Republic ENCE Syllabus
Pre-departure orientation and travel information meeting is TBD.
You will be housed at the dormitories of the Czech Technical University in Prague and will be using on campus lecture rooms, the library and laboratory facilities.
These costs are current for summer 2018.
Application Fee
$50
Billable Costs
Billable costs are charged to your student account. They are due based on the Office of Student Financial Services and Cashiering payment schedule. Be sure to check your statements when they are available.
Education Abroad Fee
$500
This fee is charged to your account when the application status changes from "Accepted" to "Committed." This fee includes Education Abroad services including registration, billing, advising, risk management, and pre-departure orientation.
International Health Insurance
$37
Tuition
$2,158
This fee is charged to your UMD account upon course registration. This fee includes: Tuition, in-country transportation, course related activities, group meals, and teaching services.
Housing Fee
$660
This fee represents the housing provided during the program.
TOTAL PROGRAM FEE
$3,355
Out-of-pocket Costs
Meals (estimate)
$50
Course Materials
$10
Passport
$140
Roundtrip Airfare (estimate)
$1,200
Optional Activities/incidental expenses
$450
Optional trip cancelation/interruption Insurance (estimate)
$180
TOTAL ESTIMATED COST OF ATTENDANCE:
$5,435
NOTE: If you are a non-UMD graduate student, you will need to pay a $75 application fee to the UMD graduate school to participate in this program.
Please refer to the following resources for more information on funding study abroad
PLEASE NOTE: All University of Maryland study abroad programs are financially self-supporting and, therefore, subject to cancelation due to low enrollment.
Dr. Dimitrios Goulias is the Program Director and Assosiate Professor in the CEE Department at UMD. Dr. Goulias teaches in the areas of construction and highway materials, quality assurance and specifications, infrastructure/pavement condition assessment and management systems. His expertise, research and publications are related to the: use of recycled and reclaimed materials in construction materials and pavements; condition assessment, durability and performance prediction of materials and pavement structures; development of quality assurance plans, testing protocols and construction material specifications.
For course, itinerary or in-country information, please contact the Program Director. For general questions or assistance with applying, contact EA Short-term Programs.
As a part of this program, you will engage in the following activities:
Working in teams and interacting with Czech students at the Czech Technical University.
Developing alternative smart cities while incorporating sustainability principles and analysis related to alternative city conditions.
Exploring Czech culture by visiting monuments and museums.
Site Visit & Field Trips: most important cultural & civil engineering marvels in Prague, Dancing House Office Space, UCEEB Labs for Energy Efficient Buildings.
 
| Term | Year | Application Deadline | Admission Notification | Program Start | Program End |
| --- | --- | --- | --- | --- | --- |
| Summerterm | 2018 | 03/01/2018 | 03/11/2018 | 05/18/2018 | 05/30/2018 |