UMD Exchange: McGill University (Canada)
All students accepted to an Exchange program are automatically considered for an award of $1,000! See Cost tab for more information.
Canada's most international university, McGill is located in vibrant multicultural Montreal, in the francophone province of Quebec.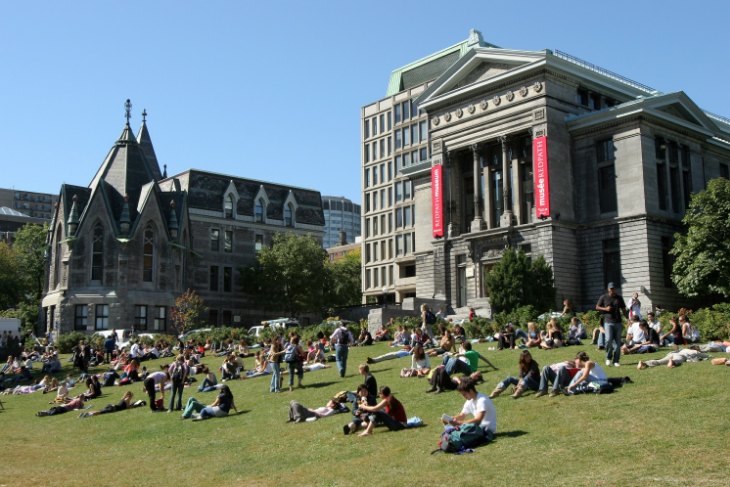 Host Institution
With some 300 buildings, 40,000 students, 250,000 living alumni, and a reputation fro excellence that reaches around the globe, McGill University has carved out a spot among the world's greatest universities. McGill is currently ranked #24 in the world (QS World University Rankings 2016). The unversity has a strong focus on interdisciplinary work and ranks amojng the finest research-intensive universities of the world.
Host City
McGill University is located in Montreal, Canada. Montreal is steeped in culture and infused with internationalism, the result is a world-class city teeming with energy. Montreal is one of the world's most student-friendly cities offering rich cultural miliue as well as famous cafes, hiking space, and a world-renowned jazz Festival. The city is a commercial and industrial hub for aerospace, pharmaceuticals, software engineering, telecommunications and other next-generation industries. It is safe and socially vibrant, consistently rated as one of the world's most liveable cities.


The University of Nottingham and the University of Maryland are both members in Universitas 21 (U21). U21 is the leading global network of research-intensive universities; working together to foster global citizenship and institutional innovation through research inspired teaching and learning, student mobility, connecting our students and staff, and wider advocacy for internationalization. 
Learn more about Universitas 21 and it's programs and mission on the U21 website: https://universitas21.com/
---
Exchange programs are highly competitive and space in each program is limited. You must meet the following eligibility requirements in order to apply to this program:
3.0 GPA
Completion of 2 semesters at UMD
Exchange programs are a good fit for students looking for immersion, personal growth, and the opportunity to strengthen qualities such as independence and adaptability.
Student Visa Information
A student visa may be required for participation on this exchange depending onthe length of your program. For more information, please visit the McGill International Student Services website. Please note that visa information is subject to change and you are responsible for checking the Canadian Embassy website for updates.
---
Click "Apply Now" at the top of this page. You will log in with your UMD directory ID and password.
Submit all application materials by the deadline listed below. This includes meeting with your EA advisor (listed at the top of this page), requesting a faculty letter of recommendation, and submitting an official transcript.
After the application deadline, we will review all completed applications and nominate students for available spots in each exchange program.
If you are nominated to participate in this exchange, you will work with your EA advisor (listed above) to apply directly to the host university, who will formally admit you to the exchange program.
Nominated students will then work with their EA advisor (listed above) and our partner universities to coordinate all aspects of the stay at the host university such as course registration, visas and arrival.
---
McGill offers a wide range of course offerings to exchange students. You can browse for available courses on the McGill course calendar. A full-time course load at McGill is considered 12-15 credits per semester. Exchange students are not permitted to take more than 15 credits per semester. The McGill Incoming Student page has information regarding course load, registration, and restrictions.
Not all courses are offered each semester. You are advised to check the semester availability of courses based on the current academic year. Some courses at McGill are restricted including research project and thesis courses and special topics courses. If a course is only open to degree seeking students it will be noted in the course calendar.
Restrictions: 
Music - Fall semester only. Must be a declared music major at UMD. Certain course restrictions apply and students may be responsible for supplemental fees associated with particular courses. Applicants who wish to participate in lessons, ensembles, or other performance classes are required to submit a recorded audition for evaluation.
Architecture - Not available
Credit
All credit you earn on this program will count as transfer credit towards your UMD degree.  Most courses at McGill University  will be converted as follows:
| | |
| --- | --- |
| McGill University Credit | UMD Credit |
| 1 Credit | 1 Credit |
| 3 Credit | 3 Credit |
The credit conversion listed above was approved by the UMD Study Abroad Transfer Credit Committee on May 14, 2015
You can view how courses at this institution have previously been evaluated for UMD equivalents through the Transfer Credit Services Equivalency Database (TCEQ). If you are interested in taking a course not listed on TCEQ, you may have it evaluated for acceptability by following the UMD Registrar's evaluation request guidelines.  
Grading
Undergraduates must receive a C- equivalent or better in order to be eligible for the transfer of credit.
| | |
| --- | --- |
| McGill University Grade | UMD Grade |
| C or 2.0 or 55 | C - |
---
On-campus housing is available at McGill but priority is given to first-year degree students. If you are applying to begin in the Fall semester, indicate "yes" under "Residence Accommodation" of the online applicaiton. For spring applicants, email
housing.residences@mcgill.ca
to inquire about availability. There is more information for on-campus accommodation on the
McGill Residence Options website
.
McGill provides off-campus housing suggestions on their Off-campus housing website.
The International Student Services at McGill provides resources and support to exchange students. McGill offers an orientation as well as many opportunities to get involved in campus life. Orientation includes specific information for international and exchange students. You'll have the chance to meet other new students and explore Montreal. The International Buddy Program matches international and local students. Your buddy can provide cultural guidance and insight about life at McGill. 

---
Exchange Program Cost of Attendance
UMD students participating in an Exchange program have the benefit of paying UMD tuition rates to attend an institution abroad. For specific information about this Exchange program, please reference the Cost of Attendance Chart. 
Tuition and fees for exchange programs are charged directly to your UMD account, which means you can apply UMD scholarships, state and federal financial aid, and alternative loans towards the cost of an exchange. Housing costs are paid directly to the host institution or on-site housing agency.
You can use the cost of attendance comparison worksheet to view how study abroad programs compare to each other and the amount you pay on campus at UMD. As always, your EA advisor (listed above) is available to help you complete this worksheet and find affordable programs that fit your study abroad goals.
Exchange Scholarship
All students accepted to an Exchange program are considered for an automatic award of $1,000! To be considered for this scholarship, you must:
Be a current degree seeking undergraduate UMD student (graduate students are not eligible for this award)
Not currently receive full tuition scholarship/benefits (i.e. Banneker Key, tuition remission, Frederick Douglass Scholarship, etc.)
Additional Financial Resources
---
Term
Year
Application Deadline
Admission Notification
Program Start
Program End
Spring
2020
09/10/2019
09/20/2019
01/04/2020
04/30/2020
Dates reflect information that is available on the program sponsor website. Please confirm with program sponsor/host university before making your travel plans.
Year (Fall-Spring)
2020
03/01/2020
03/11/2020
Fall
2020
03/01/2020
03/11/2020