SACI College of Art & Design Florence
The extensive range of studio arts, design, conservation, art history, and Italian culture and language courses provides our students with the means to meet their individual educational needs while connecting them with the rich cultural heritage of Italy.
The student body is comprised of students enrolled at US universities and at institutions in other countries. In both Fall and Spring, a student can enroll in five classes for a total of 15 credits. During these terms, students additionally have the possibility to work as apprentices with artisans, and advanced students may be eligible to take a directed independent study or traineeship in a design firm, museum, or gallery. As part of their classes, SACI students often create artwork for local hospitals and human rights organizations, and restore major art treasures that are a part of Italy's cultural heritage. Outside of class, student volunteers can teach English at elementary schools, serve as English-language museum guides, and assist at human rights agencies.
In addition to visiting many famous Italian cities over the course of the year, students use a museum pass provided by SACI to visit Florentine museums and historic sites. Students visit artists' and designers' studios, private collections, galleries, art fairs, and theaters. They have access to modern and historic art collections, research libraries, and contemporary art museums.
Academic Year and Semester Abroad Program students enjoy many opportunities to exhibit their artwork in SACI's two galleries. The Academic Year Abroad culminates in a major end-of-year student exhibition which serves as an opportunity for students to display their work also to the Florentine public.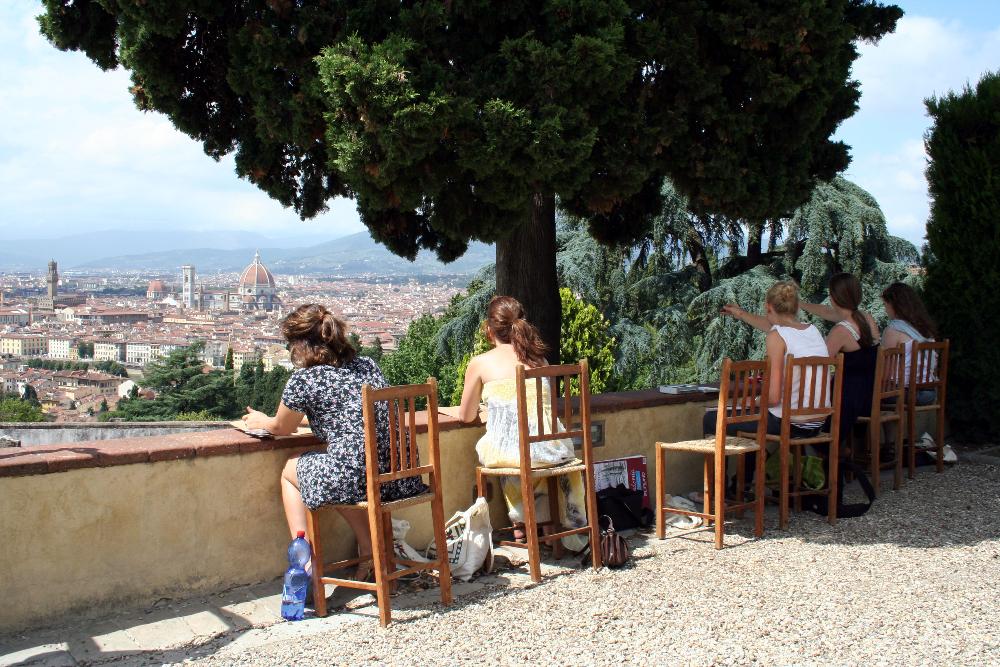 Click HERE to learn more about our semester and year-long programs!
To apply to this program, you must complete two main steps:
Submit a UMD approval application - start by clicking "apply now" at the top of this page. This application allows UMD Education Abroad to approve your study abroad program selection so you may earn credit in a program outside of UMD.
This application will require you to meet with your EA advisor, who will communicate important details related to participating in this program. If you do not complete this application by the stated deadline, you may not receive credit for your study abroad program and will lose your student status for the time you are not studying at UMD.
Apply directly to the program provider. After receiving UMD approval, you should submit the program application directly to the program sponsor by their deadline. Your program sponsor will determine your official acceptance to a program. You must adhere to the provider's timeline, eligibility standards, and application requirements.
After being accepted to your program, your EA advisor will guide you through the course pre-approval process where you will determine which credits you will fulfill abroad.
Academics
Visit the Academics & Study Abroad page which outlines key considerations for your academic planning as you navigate different phases of study abroad:
Browse UMD course evaluations in the Study Abroad Course Database:
 

There may be other course offerings on this program that are not currently listed in the Study Abroad Course Database (SACD).  If you are interested in taking a course not listed in the SACD, please submit a transfer credit evaluation request.
Costs
Costs for Other Approved Programs are outlined on the Costs of Study Abroad page.
| Term | Year | Application Deadline | Admission Notification | Program Start | Program End |
| --- | --- | --- | --- | --- | --- |
| Fall | 2020 | 03/15/2020 | 01/01/2020 | 09/03/2020 | 12/21/2020 |