UMD-Winter: Germany and Italy: Energy, Climate Change and Options for a Low-Carbon Economy (AREC/ECON)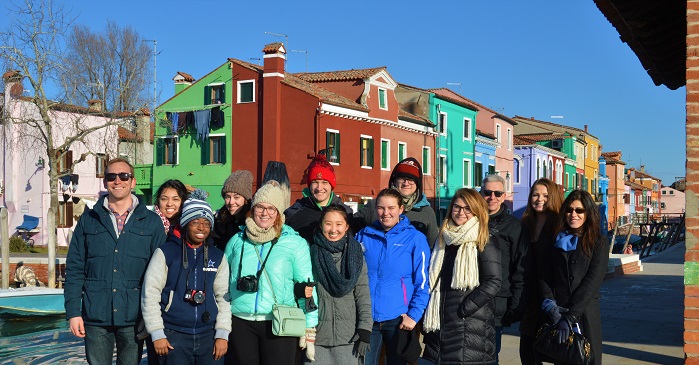 Do you have an interest in climate change, power generation or the use of fossil fuels that produce greenhouse gas emissions? Would you like to learn about the potential consequences of climate change on economic activity, health and ecosystems, and ways to reduce greenhouse gas emissions? Are you interested in ways in which the damages of climate change can be curbed? Would you like to do an in-depth study of Germany's transition to a low-carbon economy?
Then consider this winter semester study abroad course that takes place in Berlin, Germany, and Venice, Italy.  Lectures are taught by research scientists at the top climate change research institutions in Germany and Italy—the Ecologic Institute and the Euro-Mediterranean Centre for Climate Change, respectively—with world-renowned guest lecturers who specialize in the legal and technical issues of carbon capture and storage, adaptation, and global health and climate change.
We will stay in the heart of Berlin, one of the most exciting and vibrant cities in Europe, and experience living on the Zattere in Venice, on the Canale della Giudecca and steps away from the prestigious Gallerie dell'Accademia and the Accademia Bridge.
We will take two field trips, one at each location—in Germany, to a commercial wind power generation facility, and in Italy, a boat tour of the Venice Lagoon, with its delicate ecosystems, endangered cultural resources and monuments, and engineering feats to protect the city from the tides and from coastal erosion. Visit world-renowned museums, try your hand at the city life and taste the wonderful local foods.
You must be in good academic and judicial standing and you must not have any registration blocks to participate in this program. The minimum GPA for this program is listed above.
You must be a UMD or non-UMD undergraduate to be eligible for this program. Preference is given to majors in AREC, ENST, ENSP, ECON, Public Policy, and Engineering. Some knowledge of microeconomics is desirable but not required.
If you are interested in this program but do not meet the eligibility requirements, reach out to the program director (listed in the Contacts tab) to discuss your interest in the program.
After you commit to the program, Education Abroad will enroll you in one of the following three (3) credit UMD courses:
AREC457: Energy, Climate Change, and Options for a Low-Carbon Economy
ECON358: Energy, Climate Change, and Options for a Low-Carbon Economy
The credit you earn during this program will count as resident credit.
In Berlin, we will stay at the Aparthotel Adagio, which is just a few minutes away from the Ecologic Institute and steps away from the prestigious Kurfürstendamm (Berlin's shopping street). It is also close to the Zoo and well connected to the major sights via U-Bahn and public transit. We will stay in "studios" with bedroom, bathroom and a practical kitchenette. The hotel has a gym. There are supermarkets, bakeries, and a variety of coffee places within 50 meters from the hotel.
In Venice, we will stay on the Zattere, on the Canale della Giudecca and around the corner from the Gallerie dell'Accademia and the Accademia Bridge. Walk to San Marco in 20 minutes.
Costs listed are for winter 2019.  
Application Fee
$50
Billable Costs
Billable costs are charged to your student account. They are due based on the Office of Student Financial Services and Cashiering payment schedule. Be sure to check your statements when they are available.
Education Abroad Fee
$500
This fee is charged to your account when the application status changes from "Accepted" to "Committed." This fee includes Education Abroad services including registration, billing, advising, risk management, and pre-departure orientation.
International Health Insurance
$40
Tuition
$3,665
This fee is charged to your UMD account upon course registration. This fee includes: Tuition, in-country transportation, course related activities, group meals, and teaching services.
Housing Fee
$295
This fee represents the housing provided during the program.
TOTAL PROGRAM FEE
$4,500
Out-of-pocket Costs
Meals (estimate)
$250
Visa
$0
Passport
$140
Roundtrip Airfare (estimate)
$1,600
Course Materials
$0
Optional Activities/incidental expenses
$120
Optional trip cancelation/interruption Insurance (estimate)
$180
TOTAL ESTIMATED COST OF ATTENDANCE:
$6,840
NOTE: If you are a non-UMD graduate student, you will need to pay a $75 application fee to the UMD graduate school to participate in this program.
Please refer to the following resources for more information on funding study abroad
PLEASE NOTE: All University of Maryland study abroad programs are financially self-supporting and, therefore, subject to cancelation due to low enrollment.
Anna Alberini is a Professor in the Department of Agricultural and Resource Economics of the University of Maryland, where she teaches econometrics and statistics to PhD students, and a course on the economics of climate change to undergraduate students. She has collaborated the members of the Euro-Mediterranean Center for Climate Change for over 15 years. Professor Alberini specializes in environmental and energy economics, and much of her environmental economics research focuses on the valuation of mortality and morbidity risk reductions delivered by environmental policies. She has worked with data from large surveys (panel data and multi-year cross sections) in the US and UK, with panel datasets documenting energy usage at monthly frequency and adoption of technologies in Maryland homes, and with data from Italy and from Ukraine. Professor Alberini is a native Italian speaker and studies German in her spare time.
Jeff Cunningham is the IT director at AREC, which he joined in 1987. He has received two master's degrees from the University of Maryland--one in in agricultural and resource economics (1983), and one in botany (1979). He completed his BS in plant ecology from Ohio State University in 1975.
For course, itinerary or in-country information, please contact the Program Director. For general questions or assistance with applying, contact EA Short-term Programs.
As a part of this program, you will engage in the following activities:
Lectures on the topics of climate change, fossil fuels and policy tools that can be used to curb them (e.g., carbon taxes, regulations, incentives, etc.).
Examine the effects of climate change on human health and possible remedies, and the potential impacts of ecological systems and cultural resources.
A field trip to a commercial renewable energy facility.
Take a field trip by boat to see environmentally sensitive areas in the Venice Lagoon and parts of the city where cultural resources are threatened by rising water levels
Take a look at a video made by a student who participated in the program in winter 2017!
| Term | Year | Application Deadline | Admission Notification | Program Start | Program End |
| --- | --- | --- | --- | --- | --- |
| Winterterm | 2019 | 10/01/2018 | 10/11/2018 | 01/05/2019 | 01/18/2019 |