UMD-Winter: United Kingdom: The British Masters of Science: From Newton to Hawking (HLSC/HONR)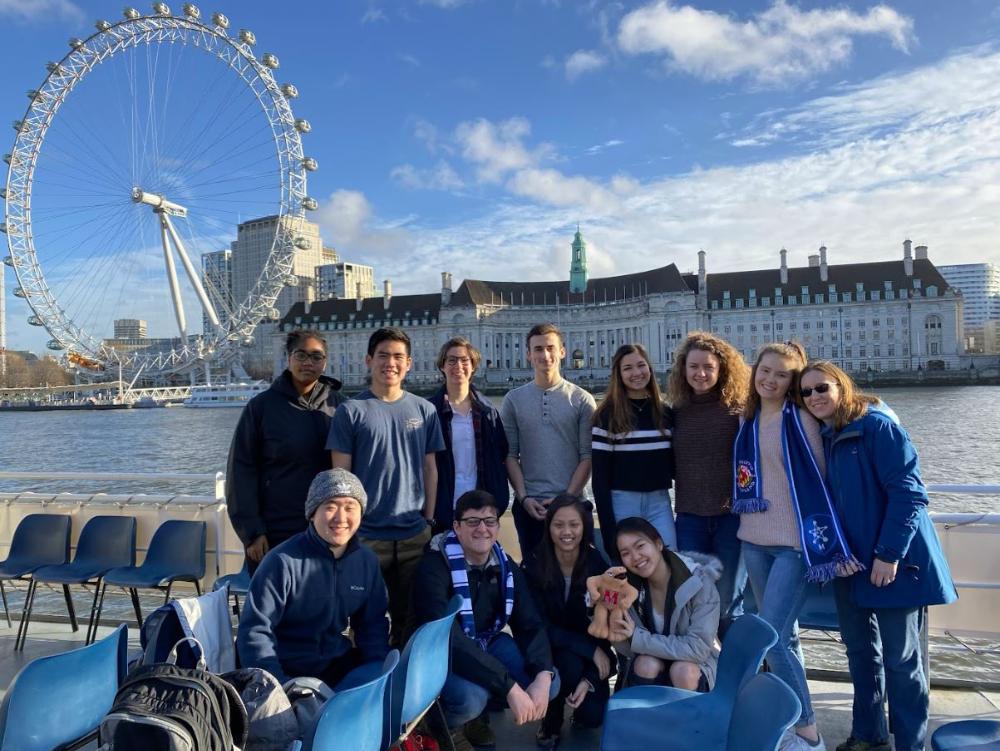 Spend 10 days in the UK this Winter studying the British masters of modern science.  British scientists and innovators have been at the forefront of some of history's most significant scientific advances and have shaped the disciplines of biology, chemistry, medicine, and physics as we know them today. This study abroad program will explore locations in London, Oxford, and Cambridge to examine the places where scientists including Rosalind Franklin, Stephen Hawking, and John Snow lived, studied, and made their tremendous scientific breakthroughs.  Students will experience the historic foundations of science and connect the discoveries of a diverse group of these natural philosophers to modern science.  The trip will include historic site visits such as Stonehenge, Edward Jenner's residence, museums, laboratories, and notable institutions of learning such as the Royal Observatory and Cambridge University.
*There is a $1,000 financial need-based scholarship available for an ILS student through the ILS program. Please reach out to Dr. Sabrina Kramer, Associate Director of ILS, for more information.
You must be in good academic and judicial standing and you must not have any registration blocks to participate in this program. The minimum GPA for this program is listed above.
UMD first-years, sophomores, juniors, and seniors in the Integrated Life Sciences Honors program are eligible to apply.
If you are interested in this program but do not meet the eligibility requirements, reach out to the program director (listed in the Contacts tab) to discuss your interest in the program.
After you commit to the program, Education Abroad will enroll you in one of the following three (3) credit UMD courses:
HLSC217: British Masters of Science: From Newton to Hawking
HONR299Z: British Masters of Science: From Newton to Hawking
The credit you earn during this program will count as resident credit.
London will be our home base for this study tour, and you will stay in shared accommodations in a hostel or hotel.
Costs listed are for winterterm 2024.
*This program qualifies for eligible Pell Grant recipients to apply for the Gilman International Scholarship. Online applications will open in mid-August and are due Thursday, October 6, 2022, at 11:59pm PT.
*There is a $1,000 financial need-based scholarship available for an ILS student through the ILS program. Please reach out to Dr. Sabrina Kramer, Associate Director of ILS, for more information.
Application Fee
$25
Billable Costs
Billable costs are charged to your student account. They are due based on the Office of Student Financial Services and Cashiering payment schedule. Be sure to check your statements when they are available.
Tuition
$1,355
This fee is charged to your UMD account upon course registration. This fee includes: Tuition, in-country transportation, course related activities, group meals, and teaching services.
Activities
$138
Housing Fee
$1,157
This fee represents the housing provided during the program.
TOTAL PROGRAM FEE
$2,650
Education Abroad Fee
$700
This fee is charged to your account when the application status changes from "Accepted" to "Committed." This fee includes Education Abroad services including registration, billing, advising, risk management, and pre-departure orientation.
International Health Insurance
$55
Out-of-pocket Costs
Meals (estimate)
$375
Visa
$0
Passport
$165
Expedited Passport Processing (recommended)
$60
Roundtrip Airfare (estimate)
$1,000
Course Materials
$20
Optional Activities/incidental expenses
$180
Optional trip cancelation/interruption Insurance (estimate)
$200
TOTAL ESTIMATED COST OF ATTENDANCE:
$5,405
Please refer to the following resources for more information on funding study abroad
PLEASE NOTE: All University of Maryland study abroad programs are financially self-supporting and, therefore, subject to cancelation due to low enrollment.
Sabrina Kramer earned by BS in Biology from the College of William and Mary in Virginia in 2001 and her Ph.D. in molecular virology from The University of Maryland in 2008 (Go Terps!).  After graduating she completed postdoctoral research in bioengineering using viruses as templates for nanowires. In the fall of 2011, she joined the Center for Teaching Excellence at Maryland where she worked with faculty and graduate students to improve their courses.  In 2017, she joined ILS as the Associate Director. She has over 12 years of experience teaching on campus in science, science education, and higher education. Although she has visited London before, this is her first Study Abroad trip and she is excited to share her love of science and science history.
Jalah Townsend is the Assistant Director for Student Services and is passionate about student engagement and inclusive student practices. In her role, Jalah will provide assistance and support to ILS students through holistic advising, programming, and instruction. Her research interests center the experiences of high achieving Black students and their experiences within Honors College environments.
Jalah received her Bachelor's degree from George Mason University, graduated with her Master's in Student Affairs, and is currently pursuing her doctorate in Higher Education at the University of Maryland. Previously, Jalah served as the Coordinator for Student Engagement for the Gemstone Honors Program. She looks forward to engaging with ILS students, families, and alumni.
 
For course, itinerary or in-country information, please contact the Program Director. For general questions or assistance with applying, contact EA Short-term Programs.
As a part of this program, you will engage in the following activities:
Collaboration with current science students at Cambridge University
Comprehensive exploration of notable contributions to the history of physics, biology, and chemistry from an international lens
Experience multiple on-site locations in London that illustrate the intersectionality of history and science
Bus tour of London to orient students with the city's layout, historical landmarks, and cultural touchstones
Exploration of the mysterious and ancient Stonehenge
Visit to Fleming's Laboratory, the John Hunter Museum, the site of John Snow's public pump, Cambridge and Oxford Universities, and other scientifically significant landmarks
 
| Term | Year | Application Deadline | Admission Notification | Program Start | Program End |
| --- | --- | --- | --- | --- | --- |
| Winterterm | 2024 | 10/01/2023 | 10/11/2023 | 01/03/2024 | 01/13/2024 |