Maryland-in-Buenos Aires (Argentina)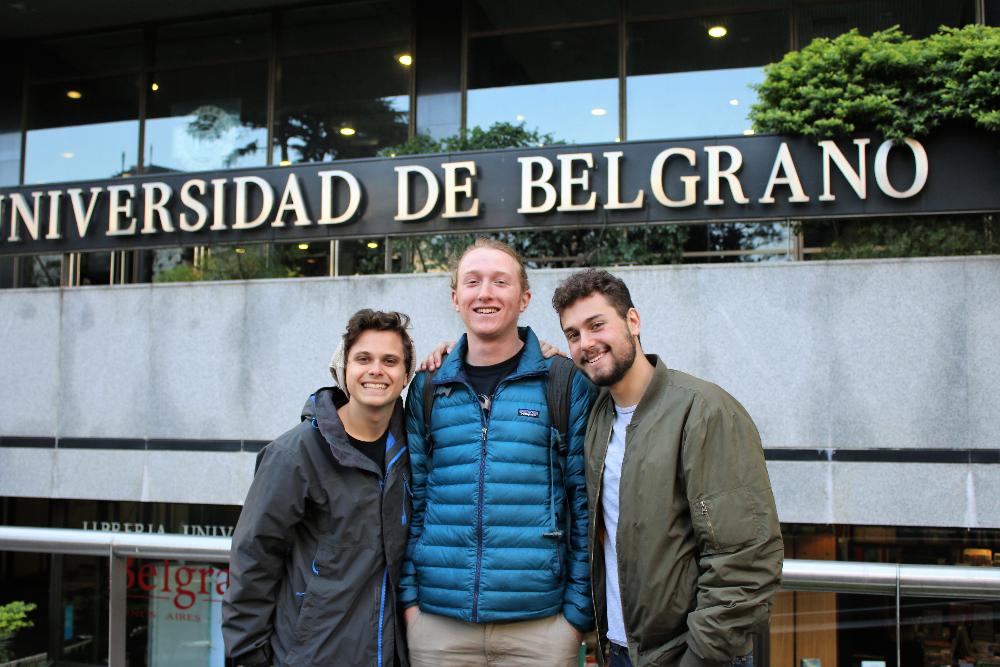 Latin America comes to life for UMD students living and learning in Buenos Aires. Spend a semester in one of Latin America's most vibrant and energetic cities – Buenos Aires.  As the most-visited city in Latin America and known for its European flavor, Buenos Aires flourishes with endless opportunities to experience the diverse reality of this key South American metropolis. Engage with the arts scene in Palermo, dance tango in San Telmo, stroll the colorful La Boca neighborhood and follow in the footsteps of those who participated in countless public demonstrations in historic Plaza de Mayo.  Maryland-in-Buenos Aires offers something for everyone and provides the support to maximize your opportunity to live and learn the Latin American lifestyle.
With its flexible program structure, Maryland-in-Buenos Aires (MiBA) caters to students from a wide range of majors and interests. Designed for students at all levels of Spanish language from beginners to advanced speakers, the program provides a robust set of cultural and professional development activities to enhance the immersive experience. This includes homestays with Argentinean families, local excursions as well as workshops in intercultural communication, career development and traditional Argentinian music, dance, and cuisine.
Maryland-in-Buenos Aires is open to any undergraduate with interest in Spanish language and Latin American culture from a variety of disciplines and perspectives.  No prior Spanish language experience is required. Applicants must meet the following eligibility requirements:
Students must complete at least one year of university course work and at least one semester at UMD College Park.
GPA requirement as listed above
Applicants should be open-minded and flexible.
Students are not required to have any language experience prior to their application to Maryland in Buenos Aires. Students with less than 3 semesters of college-level Spanish are strongly encouraged to participate on the one month pre-semester Spanish language intensive session.
If you are interested in this program but do not meet the eligibility requirements, make an appointment with your EA advisor to discuss.
All applications must be submitted online and complete by the published application deadline in order to receive full consideration. Admission for the program are competitive. Meeting the minimum GPA requirement alone does not guarantee admission. 
Visit the
Academics & Study Abroad page
which outlines key considerations for your academic planning as you navigate different phases of study abroad:
Browse UMD course evaluations in the Study Abroad Course Database:
 

Maryland-in-Buenos Aires offers coursework in both English and Spanish, allowing you to create a schedule that fits best with your academic needs and interest, earning up to 18 credits in one semester!
The core of the MiBA academic program is the signature course, SPAN269V: Identities and Stereotypes in Latin America Spanish language course, which together will provide a foundation for your experience in Argentina. You will select the remainder of your coursework from a range of options at UMD´s partner institutions, the Universidad de Belgrano (UB) and the Pontificia Universidad Católica Argentina (UCA).  At UB and UCA you will learn alongside other international students focusing on Latin American studies bridging an array of academic disciplines including political science, communication, economics, sociology, history, and gender studies. Advanced Spanish speakers also have the option to take classes with Argentine students.
In addition, MiBA students have the option of enrolling in a one month pre-semester Spanish language intensive session in February. This option is highly recommended for students with no prior Spanish language experience and students with less than two years of university-level Spanish language instruction.
Maryland-in-Buenos Aires- Academic Program
Course
Credits
Language of Instruction
Pre-semester Intensive Spanish Language Course (optional)
3
Spanish
SPAN269V: Identities and Stereotypes in Latin America (counts as DVUP Gen Ed)
3
English
Spanish Language Course (Intro through Advanced levels available)
3
Spanish
2-3 Electives at UB/UCA
6-9
English or Spanish
Total Credits with Intensive Pre-Semester
15 - 18
 
Total Credits without Intensive Pre-Semester
12 - 15
 
For additional information, review the Academic Overview.
To allow for full immersion into Argentinian culture and Spanish language, all students will live in homes with Argentinian families matched to their individual needs. Homestay hosts will allow students to understand various Argentinian lifestyles, enhance their language skills, and see Buenos Aires from a unique perspective. Maryland students will be placed individually or in pairs according to their distinctive needs and lifestyles. Program staff can work with homestay placements to accommodate dietary and other special accommodations.
For more information, review the Housing Overview.
 
Spring Budget
The costs listed are for spring 2020.
Application Fee
$50
Billable Costs
Billable costs are charged to your student account. They are due based on the Office of Student Financial Services and Cashiering's payment schedule. Be sure to check your statements when they are available.
Education Abroad Fee
$1,200
This fee is charged to your account when the application status is changed from "Accepted" to "Committed." This fee includes Education Abroad services including registration, billing, advising, risk management, and pre-departure orientation.
International Health Insurance
$209
Tuition
$8,896
Housing Fee
$3,685
This fee represents the housing provided during the program. Housing includes weekly meals with your host family (breakfast & dinner).
Pre-semester Intensive Spanish Language Course & Housing (optional)
$2,975
This fee is charged to your UMD account upon course registration. This fee includes: Tuition, academic and advising support, course related activities, on-campus and in-country orientations, excursions, airport pickup, and teaching services. The student visa (resident permit) is also included.
TOTAL PROGRAM FEE
$13,990
TOTAL PROGRAM FEE INCLUDING PRE-SEMESTER PROGRAM
$16,965
Out-of-pocket Costs
Meals (estimate)
$400
Passport
$145
Roundtrip Airfare (estimate)
$1,500
Course materials
$100
Optional Activities/Incidental Expenses
$250
Optional international trip cancellation/interruption insurance
$180
TOTAL ESTIMATED COST OF ATTENDANCE:
$16,615
TOTAL ESTIMATED COST OF ATTENDANCE INCLUDING PRE-SEMESTER PROGRAM:
$19,590
You can use the cost of attendance comparison worksheet to view how study abroad programs compare to each other and the amount you pay on campus at UMD. As always, your EA advisor is available help you complete this worksheet and find affordable programs that fit your study abroad goals.
Please refer to the following resources for more information on funding study abroad:
PLEASE NOTE: All University of Maryland study abroad programs are financially self-supporting and, therefore, subject to cancelation due to low enrollment.
Dr. Verónica Muñoz is the Resident Director in Buenos Aires and coordinates all on-site aspects of the program including on-site orientation, engagement activities, and communication with the host university and housing partners.
Brittany Lashley is an Advisor in EA and advises prospective and admitted students in the Maryland-in-Buenos Aires program. In addition, she coordinates program admissions, course registration, pre-departure orientation, and other logistical aspects of the program.
Cultural activities & excursions
Maryland-in-Buenos Aires provides plentiful opportunities to engage with the rich culture and lifestyle of the city. In addition to local cultural activities like a soccer game, visits to local art museums and the colorful Sunday San Telmo street fair, and attending the Fuerza Bruta postmodern theatre show, MiBA offers out of town excursions so students can enjoy a broader Argentine experience.
Impact in the local community
One of the most exciting features of the MiBA program is the connections students make with the local community through service-learning activities.  The Resident Director will connect students with local service projects and provide opportunities for students to better understand the complexities of the local environment.
Career development workshop
MiBA program staff will offer a career Development Workshop during the semester in order to help you process your study abroad experience and draw connections to your career goals. The interactive and dynamic workshop provides students with practical exercises that help you articulate skills gained through studying abroad on their resumes, cover letters, and during job interviews.
A tailored, immersive experience
Program staff are available to assist you in finding additional engagement activities that match your personal and professional interests.
Term
Year
Application Deadline
Admission Notification
Program Start
Program End
Spring
2020
10/15/2019
10/11/2019
01/30/2020
06/20/2020
This is the start date for the optional Pre-Semester program. Students who are not participating in the Pre-Semester program should arrive in Buenos Aires on March 3, 2020.