UMD-Summer: Austria: Methods in Archaeology: Forensic Aviation Archaeology (ANTH)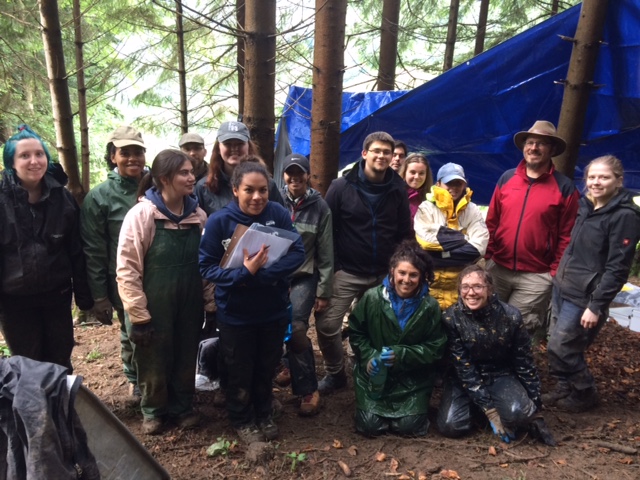 The University of Maryland Forensic Aviation Archaeology field school was developed in partnership with the Defense POW/MIA Accounting Agency (DPAA) to further the DPAA mission to locate, recover, identify, and return those Americans who are still missing in action from past wars and conflicts. 
As a part of this partnership, UMD Department of Anthropology will offer fieldwork to recover the remains of military personnel who are Missing in Action from World War II. The purpose of the program is to return these personnel to their families, decades after they were lost. This will be our fourth year in Europe, working at military aircraft crash sites. Students will learn archaeological and forensic techniques, and will develop a greater understanding of the United States' role in World War II.
The field school will focus on a crash site of a U.S. military aircraft and associated flight crew from the Second World War, in the country of Austria. Currently there are several identified crash sites in Austria, and we will be assigned to a site in eastern Austria.
The course consists of three modules.  The first module includes lectures and orientations on the field work and protocols, history of the sites and period, and related contexts. The second module consists of the field work at the crash site. Field trips and related excursions offer secondary and relevant context to the history of the period and overall field school and represent the third module. The field excursions will include local archaeological sites, historic landmarks, museums, and a concentration camp from World War II. The course requires a careful documentation of the field work and other experiences, turned in at the end of the field school.
The field school offers the honor of recovering one or more of the 70,000+ men and women who went missing while serving their country during the Second World War. This work is a tremendous responsibility and a chance to offer answers to families, and to bring back their loved ones. Students will be able to see a real-world application of their work and directly experience its impact. In this manner, the field school epitomizes the applied anthropology focus of the Department of Anthropology at the University of Maryland, College Park.
You will gain valuable, one-of-a-kind experience surveying and identifying an archaeological site, specifically an aircraft crash site. You will learn techniques of field excavation and forensic science, and the recovery of human remains. These skills and experience are cornerstones of the practice of forensic anthropology, archaeology, and applied anthropology. 
You will work and gain experience alongside experts in the academic field and the military. You will also have a chance to work with professionals from the host nation of Austria and experience the practice of archaeology and forensic science in another county. This collaboration and the integrative nature of the program are a reflection of the growing global cooperation and transdisciplinary environment in which programs are increasingly taking part. Being involved in such a project will provide you with crucial knowledge and experience as they advance in their fields and seek out your own partnerships.
You must be in good academic and judicial standing and you must not have any registration blocks to participate in this program. The minimum GPA for this program is listed above.
UMD and non-UMD juniors, seniors, and graduate students are eligible to apply.  All majors are eligible, but students who have taken courses in basic archaeology and human osteology will be given preference. We are also seeking students who are interested in military history and World War II in particular.
An interview is required as a part of the application process.
If you are interested in this program but do not meet the eligibility requirements, reach out to the Program Leader (listed in the Contacts tab) to discuss your interest in the program.
After you commit to the program, Education Abroad will enroll you in one of the following six (6) credit UMD courses:
ANTH496: Field Methods in Archaeology
ANTH696: Field Methods in Archaeology (Graduate)
The credit you earn during this program will count as resident credit. This program also satisfies the Scholarship-in-Practice (DSSP) and Diversity Understanding Plural Societies (DVUP) Gen Ed requirements.
Students will stay in shared accommodations in lodgings close to the field site.
Students are responsible for their accommodations while at College Park. Field school staff can assist non-local students. 
Please refer to the following resources for funding study abroad:
Financial Aid
Scholarships
Financial Policies
Summer 2022 costs reflected.

APPLICATION FEE
$50
This is a non-refundable fee to submit an application.
Education Abroad Fee
$500
This is a non-refundable fee charged to your account when the application status changes from "Accepted to "Committed." This includes services provided by Education Abroad such as registration, billing, advising, risk management, and pre-departure orientation.
International Health Insurance
$48
This coverage is required and complements students' regular U.S. primary health insurance coverage.
Housing (included in program fee)
$1,170
This fee represents the housing provided during the program.
Tuition
$1,131
These are the instructional costs which include tuition, in-country transportation, course related activities, group meals, and teaching services.
PROGRAM FEE / BILLABLE COSTS
$2,849
This fee is charged to your student account and is based on our program deadlines. Please direct any additional questions to the Office of Student Financial Services and Cashiering.
Meals (estimate)
$100
Passport
$165
Expedited Passport Processing
EA strongly advises expedited processing
for new or renewal passport applications due
to current delays.
$60
Visa
$0
Roundtrip airfare (estimate)
$1,500
In-Country Transportation
$0
Course materials
$50
Personal/incidental expenses
$450
COVID Rapid Antigen Test in host country
The cost of a COVID test not prescribed by a
physician is not covered by CISI insurance.
$50
ESTIMATED OUT OF POCKET EXPENSES
$2,375
*Non-UMD graduate students will need to pay a $75 application fee to the UMD Graduate School to participate in this program.

TOTAL ESTIMATED COST OF ATTENDANCE
$5,274
PLEASE NOTE: All University of Maryland study abroad programs are financially self-supporting and, therefore, subject to cancellation due to low enrollment.
Marilyn R. London, Faculty Program Leader, is a a forensic anthropologist who has been teaching at UMD for over 20 years.  She earned her Master's degree in Biological Anthropology at the University of New Mexico and has served as a forensic anthropology consultant for medical examiners in New Mexico, Iowa, and Rhode Island.  She has extensive experience in disaster response, including airplane crashes, terrorist attacks, and a prison riot.
Program Co-Leader Adam Fracchia is an anthropologist and archaeologist who has taught courses and directed field schools at the University of Maryland since 2008.   He earned his Ph. D. in anthropology from the University of Maryland, College Park in 2014.  He has worked in archaeology for over sixteen years in the Mid-Atlantic and Midwest as well as internationally.  He has excavated sites ranging from the Archaic period to the twentieth century, but his specialty includes historical archaeology.  He currently works as a Faculty Research Associate with the University of Maryland and teaches at the University of Delaware.  Dr. Fracchia also has a bachelor's degree in aeronautics from Saint Louis University and a commercial pilot's license.
For course, itinerary or in-country information, please contact the Program Leader(s). For general questions or assistance with applying, contact EA Short-term Programs.
As a part of this program, you will engage in the following activities:
One-of-a-kind experience surveying and excavating an archaeological site, specifically an aircraft crash site;
Play a role in recovering remains of MIA personnel so that the Department of Defense can return them to their families;
Learn international approaches to archaeology by working with colleagues in Europe.
| Term | Year | Application Deadline | Admission Notification | Program Start | Program End |
| --- | --- | --- | --- | --- | --- |
| Summerterm | 2022 | 03/15/2022 | 03/25/2022 | 05/22/2022 | 07/01/2022 |