UMD-Summer: Cuba: Law, Public Health and the Cuban Family (FMSC)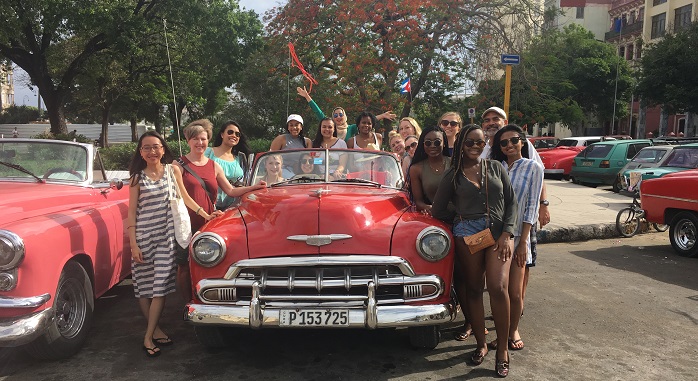 Join us for this unique opportunity to compare Cuba's legal, public health and political systems as we consider the Cuban family.  While in Havana we'll meet doctors, history and politics faculty at the University of Havana and Medical School, lawyers and judges.  We'll visit a health clinic/hospital and a pharmaceutical factory, along with classic cars, the beach and more!
Our travel to Havana allows students a unique opportunity to travel to isolated Cuba and study the socialized systems that govern the Cuban family. Through personal engagement with Cuban leaders and professionals and locals, students will gain first-hand knowledge of the impact on Cuban families of socialized family law, and healthcare and the impacts of economic isolation during the US trade embargo and examine Cuba's promises of equality on family systems.  Students will participate in panel discussions and guest lectures with leading Cuban government officials and ministers, medical and legal professionals.   In our journey to Cuba students will learn valuable comparative and analytical skills as we immerse ourselves in many of these personal exchanges (the itinerary will be finalized before departure):
Our comparative family law study may include: a meeting with members of the Cuban Family Law Association at the Union of Cuban Jurists; a meeting with Cuban family judges and civil rights experts; a meeting with members of the Legal Services Bureau to discuss the advocacy, practice and delivery of criminal and civil law services in Cuba;  a meeting with the Board of Directors of the Cuban Society of Civil Rights and Family law to discuss Cuba's civil code, children's rights and Cuba's family law; and a visit to a community-based Guidance Center for Women and the Family.
 
Our comparative socialized public health care study may include:  a meeting with the a group of University of Havana Medical School professors for a hospital tour and discussion; a meeting with a community doctor and tour of public health clinic; meetings with practicing doctors and public health members. 
 
Our dialogue on equality, includes experiential learning such as a visit to a community-based Guidance Center for Women and the Family to examine the role of woman in Cuban society; talks with specialists at the National Center for Sex Education and Research to talk about women's issues and empowerment; and a tour Casa de Africa, a museum to learn about Afro-Cuban culture and examine some of the last vestiges of Cuba's heavily practiced slave trade in the Santeria religion. 
 
Our study of the underlying Cuban Revolution, which serves as the foundation of Cuba's legal and health system and socioeconomic conditions. We will relive history at the Museo de la Revolución and examine the impacts of post-revolutionary shortages and rationing at a local bodega.
 
 Our cultural immersion to explore Cuba's spirit includes day trips to Cuba's pristine tropical waters and a tour of Finca Vigía, American author Ernest Hemingway's home; a view of El Morro Castle built in the 1500s to guard the entrance to Havana; and a visit to  La Fábrica de Arte Cubano for a guided tour and evening performance.  All the while, students will interact with the Cuban people in daily interactions and sightseeing, including the opportunity to absorb Cuban spirited jazz clubs or a ride in one of Cuba's classic 1950's car.  
This 4 credit FMSC class starts with pre-travel on-line/blackboard learning through videos, voice-over PowerPoint lectures, readings and videos and the pre-departure orientation developing a strong foundation for the comparative component of the Cuba travel. During the post-travel, on-line learning continues with Cuba's diaspora and the US counter revolution.  Students will watch our exclusive video--our Assistant Program Director's exclusive oral history interview with one of the last children removed from Cuba to the U.S. after the revolution under Operation Pedro Pan.  Students will wrap up the course with a final project reflection papers based on their travel journals.
We'll look at Cuban history post-revolution, politics, slave past and modern equality, and the financial impacts of the embargo and poverty on the Cuban family. You'll spend time touring Havana to talk about Cuban sex ed programs, see a hospital, and visit a pharmaceutical firm. Best of all you'll stay in the home of a Cuban family and get to know the heart of the Cuban people!
Join us a part of history as Cuba reopens to the U.S. after years of isolation.  This is a rare professional opportunity and adventure for students that facilitate cross-disciplinary interaction and collaboration in comparative law, health care, equality and poverty between Cuba and the U.S. This unique adventure will benefit students of all levels both within their discipline and in a cross-disciplinary level.  Undergraduates, freshman to seniors,  interested in health care, medicine, public health, law, family, poverty, impacts of war, history, politics and political science, international studies, Latin American studies and Spanish will benefit from this class as we examine the myriad of cross disciplinary issues. Similarly, graduate students in the legal, medical and public health fields, international studies, history, and politics will have an opportunity to apply their advanced knowledge and skills in a Communist/Socialist country which few in our generation have been allowed to enter. Students will build on their foundations of American systems to compare Cuba's communist/socialist systems in these fields and examine the impacts of 50 years of the U.S. 
You must be in good academic and judicial standing and you must not have any registration blocks to participate in this program. The minimum GPA for this program is listed above.
All UMD and non-UMD undergraduate and graduate students are eligible to apply. No Spanish language required!
If you are interested in this program but do not meet the eligibility requirements, reach out to the Program Leader (listed in the Contacts tab) to discuss your interest in the program.
After you commit to the program, Education Abroad will enroll you in one of the following four (4) credit UMD courses:
FMSC486C: Law, Public Health and the Cuban Family (FMSC)
FMSC686C:  Law, Public Health and the Cuban Family (FMSC)
MIEH698B: Law, Public Health and the Cuban Family (FMSC)
The credit you earn during this program will count as resident credit.
FMSC486C has been approved as an upper-level option course for FMSC and approved to fulfill an upper-level course requirement in PHS.
Students will stay in Airbnbs with Cuban families.
Please refer to the following resources for funding study abroad:
Financial Aid
Scholarships
Financial Policies
*Costs are current for Summer 2020.

APPLICATION FEE
$50
This is a non-refundable fee to submit an application.
Education Abroad Fee
$500
This is a non-refundable fee charged to your account when the application status changes from "Accepted to "Committed." This includes services provided by Education Abroad such as registration, billing, advising, risk management, and pre-departure orientation.
International Health Insurance
$45
This coverage is required and complements students' regular U.S. primary health insurance coverage.
Housing Fee
$375
This fee represents the housing provided during the program.
Tuition
$1,680
These are the instructional costs which include tuition, in-country transportation, course related activities, group meals, and teaching services.
PROGRAM FEE / BILLABLE COSTS
$2,600
This fee is charged to your student account and is based on our program deadlines. Please direct any additional questions to the Office of Student Financial Services and Cashiering.
Meals (estimate)
$100
Passport
$145
Visa
$0
Roundtrip airfare (estimate)
$500
Course materials
$0
Optional activities/incidental expenses
$100
Optional trip cancelation/interruption insurance
$180
ESTIMATED OUT OF POCKET EXPENSES
$1,025
*Non-UMD graduate students will need to pay a $75 application fee to the UMD Graduate School to participate in this program.

TOTAL ESTIMATED COST OF ATTENDANCE
$3,675
PLEASE NOTE: All University of Maryland study abroad programs are financially self-supporting and, therefore, subject to cancellation due to low enrollment.
Kerry Weil Tripp, J.D., Program Leader, is excited to return with a group of students to explore Cuba and learn firsthand about the Cuban people and society. Tripp, a lawyer and faculty in FMSC, has taught legal course to undergraduates and graduates for over a decade. She is the author of "Family Law for Non-Lawyers.
For over a decade she has taught, among other things, the major's required Family Law classes to graduates and undergraduates. She is also the author of the textbook "Family Law for Non-Lawyers" which was published in 2014 and revised in 2016. It is used in several major universities throughout the U.S. including Boston University and the University of Indiana. The 600 page book surveys family law, familiarizing the reader with similarities and difference in the law throughout the U.S. and serves as the basis for looking at another countries' family law system like Cuba. "Family Law for Non Lawyers" also covers contentious issues like marriage equality, birth control, and assisted reproduction which challenge the family law systems of both Cuba and the U.S. Kerry also teaches family mediation to undergraduate and graduate students. Each semester, she supervises an average of four undergraduate research assistants and teaching assistants. For the Fall 2016, Kerry was recently selected as a UMD Undergraduate Research Fellow to study the issue of student integrity. She has served two terms as a member, and the only lawyer member, of the University Senate's Student Conduct Committee which was tasked with reviewing the UMD policies on academic integrity and student honor code, including procedures for responding to sexual assault allegations. In addition, her career has entwined academics and the law for over 30 years, having served on a committee for the National Committee of Bar Examiners in California during the 1990s, guest lectured at law schools, serving as an Interim Department Chair and Associate Professor as well as practicing law in major law firms in California and Maryland. Kerry received her Jurist Doctorate in 1985 from the University of Notre Dame Law School where she was the co-director of its Legal Aid Clinic and taught a class on citizenship and the law to local at-risk elementary school students. Before graduating magna cum laude and receiving her Bachelor of Science degree from the University of Pittsburgh she was the recipient of the prestigious Vira Heinz Scholarship for Study Abroad in 1981 where she studied socialized medicine at the University of London and worked as a counselor at a National Health Service rural treatment facility for youth with eating disorders. She looks forward to renewing that research on nationalized health systems while in Cuba.
For course, itinerary or in-country information, please contact the Program Leader. For general questions or assistance with applying, contact EA Short-term Programs.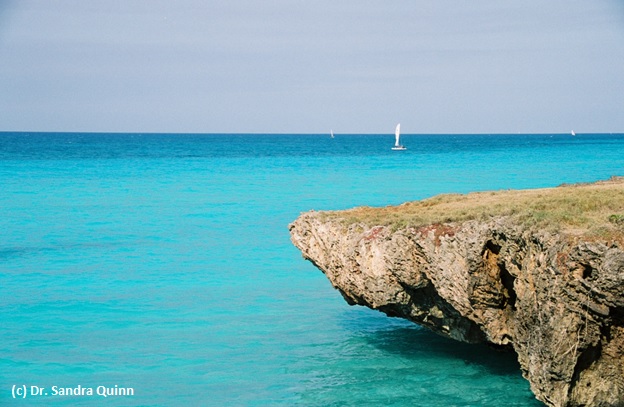 As a part of this program, you will engage in the following activities:
Tour a Cuban hospital, meet a cardiatric doctor, and see a Cuban pharmaceutical factory
Meet Cuban lawyers, professors and judges
Lounge on Cuba's tropical beaches and ride in a classic car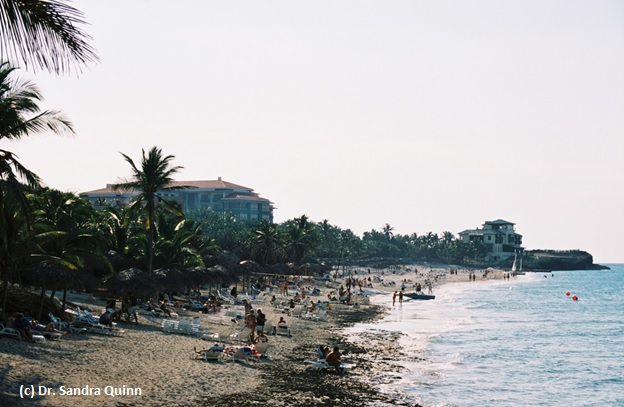 | Term | Year | Application Deadline | Admission Notification | Program Start | Program End |
| --- | --- | --- | --- | --- | --- |
| Summerterm | 2020 | 03/01/2020 | 03/11/2020 | 06/02/2020 | 06/10/2020 |