UMD-Summer: Italy: Food Writing (ENGL)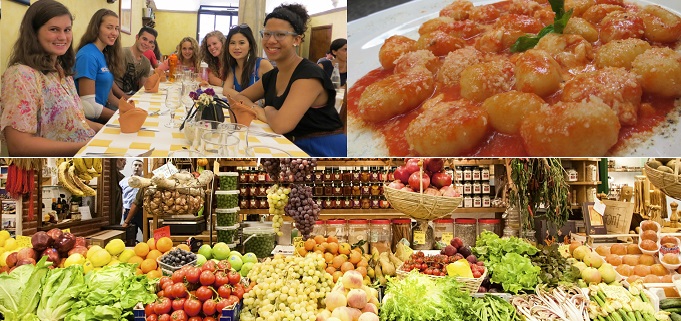 Have you ever wondered what makes an "authentic" Italian pizza? On this program, you will have a chance to find out while exploring the food culture of Rome and its surroundings. From our home base in the Italian capital, You will get a taste of the ancient traditions and modern trends governing food in Italy; examine the cultural, ethical, dietary and environmental issues attendant to food consumption and production; and craft argumentative and expository food writing for real audiences across a number of genres. The course satisfies not only the University's Fundamental Studies requirement in Professional Writing but also your heart's desire to visit first-hand one of the world's most famous food destinations.
 
You must be in good academic and judicial standing and you must not have any registration blocks to participate in this program. The minimum GPA for this program is listed above.
UMD and non-UMD sophomores, juniors, seniors and graduate students are eligible to apply. In addition, English 101 is a required prerequisite for this course. If you have taken courses with comparable content, you may contact the department for consideration. 
If you are interested in this program but do not meet the eligibility requirements, reach out to the Program Leader (listed in the Contacts tab) to discuss your interest in the program.
After you commit to the program, Education Abroad will enroll you in the following three (3) credit UMD course:
ENGL391: Advanced Composition
The credit you earn during this program will count as resident credit.
The course is approved to fulfill the University's Fundamental Studies requirement in Professional Writing (English, ARHU) and Social and Human Dimensions in Sustainability Studies minor.
Students will stay in shared lodgings in the city.
Please refer to the following resources for funding study abroad:
Financial Aid
Scholarships
Financial Policies
Costs are current for Summer 2020.
*Please note this program qualifies for eligible Pell Grant recipients to apply for the Gilman International Scholarship. The application deadline is March 3, 2020, 11:59 pm PT.

APPLICATION FEE
$50
This is a non-refundable fee to submit an application.
Education Abroad Fee
$500
This is a non-refundable fee charged to your account when the application status changes from "Accepted to "Committed." This includes services provided by Education Abroad such as registration, billing, advising, risk management, and pre-departure orientation.
International Health Insurance
$45
This coverage is required and complements students' regular U.S. primary health insurance coverage.
Housing Fee
$850
This fee represents the housing provided during the program.
Tuition
$2,640
These are the instructional costs which include tuition, in-country transportation, course related activities, group meals, and teaching services.
PROGRAM FEE / BILLABLE COSTS
$4,035
This fee is charged to your student account and is based on our program deadlines. Please direct any additional questions to the Office of Student Financial Services and Cashiering.
Meals (estimate)
$500
Passport
$145
Visa
$0
Roundtrip airfare (estimate)
$1,500
Course materials
$0
Optional activities/incidental expenses
$400
Optional trip cancelation/interruption insurance
$180
ESTIMATED OUT OF POCKET EXPENSES
$2,725
*Non-UMD graduate students will need to pay a $75 application fee to the UMD Graduate School to participate in this program.

TOTAL ESTIMATED COST OF ATTENDANCE
$6,810
PLEASE NOTE: All University of Maryland study abroad programs are financially self-supporting and, therefore, subject to cancellation due to low enrollment.
Peter Grybauskas, Program Leader, teaches in the English department. Before joining the faculty at Maryland, he lived and taught for several years in Rome, where he also collaborated with the Roman Association of Tolkien Studies. Peter credits UMD Education Abroad with his first taste of Italy, which came during a semester abroad in Rome as an undergraduate. He is delighted to share his passion for Italian culture and gastronomy with a new generation of students.
Co-Instructor: Kannan Mahadevan earned a B.A. from the University of Chicago and an M.F.A. in fiction-writing from the University of Iowa Writers' Workshop. His short stories have appeared in the Los Angeles Review of Books, and he has taught Creative Writing and Composition at the college level. Food culture is one of his chief interests as a writer and one of his recipes has been featured in the Los Angeles Times food section.
For course, itinerary or in-country information, please contact the Program Leaders. For general questions or assistance with applying, contact EA Short-term Programs.
As a part of this program, you will engage in the following activities:
Discover, dine at, and review restaurants in Italy. 
Learn to make iconic dishes in hands-on cooking classes.
Trace and document the history of legendary ingredients and dishes.
Launch a collaborative food blogging venture. 
| Term | Year | Application Deadline | Admission Notification | Program Start | Program End |
| --- | --- | --- | --- | --- | --- |
| Summerterm | 2020 | 03/01/2020 | 03/11/2020 | 06/12/2020 | 07/03/2020 |