Maryland-in-Florence (Italy) (PHYS)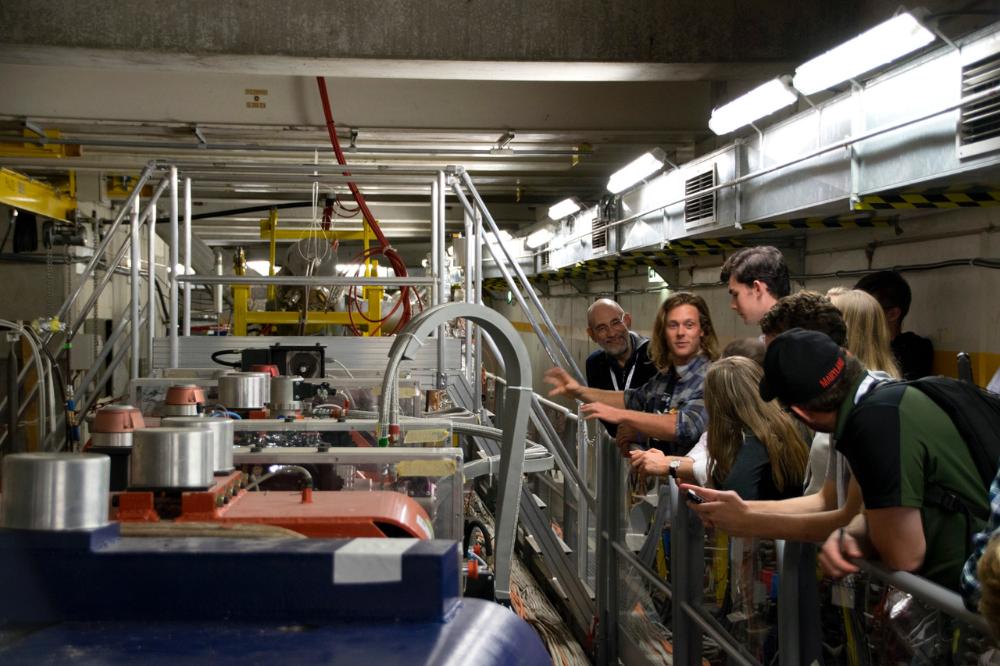 Study physics in Florence! With its several thousand years of civilization woven into its legendary urban texture, Florence embodies all that the Renaissance sought to bring back to life. Bordered by its famous countryside of pine- and cypress-dotted hills, lush vineyards, and olive groves, the Florence of today is an innovative European cultural center as well as a university city.
Maryland-in-Florence (PHYS) is hosted at the International Studies Institute (ISI Florence), where you will have access to a customized STEM curriculum aligned with UMD degree requirements. In addition to the ability to learn Italian language using Florence as your classroom, you can complement your studies with a selection from wide variety of courses in art history, architecture, fine and studio arts, Italian cultural studies, history, literature, philosophy, political science, and more. You will also be provided with unique community-engagement opportunities that will allow you to make the most of your semester abroad.
This program is best suited for CMNS majors, specifically students studying physics or astronomy in their sophomore year.
In order to apply to this program, you must meet the following criteria:
Be in good academic and judicial standing.
Have successfully completed the course pre requisites:

MATH241
PHYS272
PHYS275
Cannot have taken PHYS270 and PHYS271
Clear all registration blocks prior to participating in this program. 
All UMD sophomores, juniors, and seniors are eligible to apply to this program. There is no language pre-requisite but all participants will take an Italian language course while in Florence. 
Students who have already completed one or more of the Maryland-in-Florence (PHYS) required program courses (PHYS273, PHYS276 or PHYS274) should speak with an Education Abroad advisor to determine eligibility to apply. 
If you are interested in this program but do not meet the eligibility requirements, you may consider the Maryland-in-Florence general curriculum program or make an appointment with your EA advisor to discuss program options.
 
Visit the
Academics & Study Abroad page
which outlines key considerations for your academic planning as you navigate different phases of study abroad:
Browse UMD course evaluations in the Study Abroad Course Database:
 

The Maryland-in-Florence (PHYS) program curriculum is designed with UMD STEM students in mind. Your courses in Florence are fully integrated with UMD PHYS degree requirements so that you stay on track for graduation while taking advantage of immersive on-site learning in the Italian context. 
For the Fall of 2019 we are offering two tracks for students:
Track 1- students who have not completed PHYS 273
Credits
Italian Language
4
PHYS 371 - Modern Physics
3
PHYS 276 - Electricity and Magnetism Lab
2
MATH 240  - Linear Algebra* 


*using the MIT course: Linear Algebra - will satisfy PHYS 274 requirement 

4
Select from one of the following:

PHYS 273
ISI elective course

3
Track 2 - students who have already completed PHYS 273 and PHYS 274
Credits
Italian Language
4
PHYS 371 - Modern Physics 
3
PHYS 276 - Electricity and Magnetism Lab
2
PHYS 373 - Mathematical Methods for Physics II
3
ISI Elective Course
3
For your elective course, the Institute offers courses in a wide range of subjects, including: studio arts and art history, history and political science, Italian language and literature, international business, and interdisciplinary studies in the humanities. Courses are designed to integrate the local resources, making Florence your classroom. A variety of co-curricular activities such as field trips, museum visits, academic tours, and artistic performances complement the rich cultural offerings of Florence. 
All courses offered on the Maryland-in-Florence program are resident credit.
Students share apartments with other ISI Florence program participants, which includes non-UMD students. All apartments are within walking distance of ISI facilities and come with a fully equipped kitchen, bathroom, bedrooms, and communal living space. All apartments have wireless internet connection.
See the Maryland-in-Florence Housing Overview for more details.
Fall Budget
Costs listed are for fall 2020.
Application Fee
$50
Billable Costs
Billable costs are charged to your student account. They are due based on the Office of Student Financial Services and Cashiering's payment schedule. Be sure to check your statements when they are available.
Education Abroad Fee
$1,200
This fee is charged to your account when the application status is changed from "Accepted" to "Committed." This fee includes Education Abroad services including registration, billing, advising, risk management, and pre-departure orientation.
International Health Insurance
$220
Tuition
$10,480
This fee is charged to your UMD account upon course registration. This fee includes: Tuition, academic and advising support, course related activities, on-campus and in-country orientations, airport pickup, excursions, Permit of Stay fees (Permesso di Soggiorno), Florence Museum Car, and teaching services.
Housing Fee
$4,300
This fee represents the housing provided during the program. Students live in shared apartments (utilities, internet, and cleaning included).
TOTAL PROGRAM FEE
$16,200
Out-of-pocket Costs
Meals (estimate)
$2,000
Passport
$145
Visa
$60
Roundtrip Airfare (estimate)
$1,500
Course materials
$500
In-country transportation
$200
Optional international trip cancellation/interruption insurance
$350
Optional activities/Incidental expenses (estimate)
$2,500
TOTAL ESTIMATED COST OF ATTENDANCE:
$23,455
You can use the cost of attendance comparison worksheet to view how study abroad programs compare to each other and the amount you pay on campus at UMD. As always, your EA advisor is available help you complete this worksheet and find affordable programs that fit your study abroad goals.
Please refer to the following resources for more information on funding study abroad:
PLEASE NOTE: All University of Maryland study abroad programs are financially self-supporting and, therefore, subject to cancellation due to low enrollment.
Lindsey Sitler coordinates all logistical aspects of the Maryland-in-Florence (PHYS) program and is available to meet with both prospective and accepted students. To learn more about the program and complete the required advising meeting, schedule an appointment with Lindsey.
Community Engagement
As part of ISI's initiative to help students gain valuable cross-cultural experience in an international environment, they promote many opportunities for community engagement, including volunteer work and service learning activities in Florence. Past opportunities have included coaching children's baseball teams, assistant teaching in elementary schools, and volunteering at local churches and synagogues. Participating in such projects will give you invaluable hands-on experience and an extraordinary out-of-classroom exposure to the culture, language, and people of Italy. See the ISI website for more details.
Cultural Activities
The Maryland-in-Florence program also provides a variety of cultural activities around Florence and Italy such as cooking lessons, language aperitivi with Italian students, citywide soccer tournament, operas, 5k and 10k charity runs, local festivals and fairs, food tastings, and more. Course field trips are also an integral part of academic life. Professors organize course-specific trips in order to supplement in-class activities and engage students in the practical application of their studies.
Social Identity and Culture
Florence is a popular study abroad destination for students across the world- because of this we want all of our students to come prepared to think critically of their social identities, the culture of Florence, and the impact on this city. When in Florence, students are encouraged to live like the locals and find ways to learn from and engage with the local culture. This can include the volunteer opportunities above, getting to know their neighbors, or finding other activities or ways to engage. Students are encouraged to speak to their education abroad advisor if they have any questions about their role in Florence's culture- and to think critically of this role prior to arrival!
| Term | Year | Application Deadline | Admission Notification | Program Start | Program End |
| --- | --- | --- | --- | --- | --- |
| Fall | 2021 | 03/15/2021 | 01/01/2021 | | |