UMD-Winter: United Kingdom: Tolkien in Oxford (ENGL)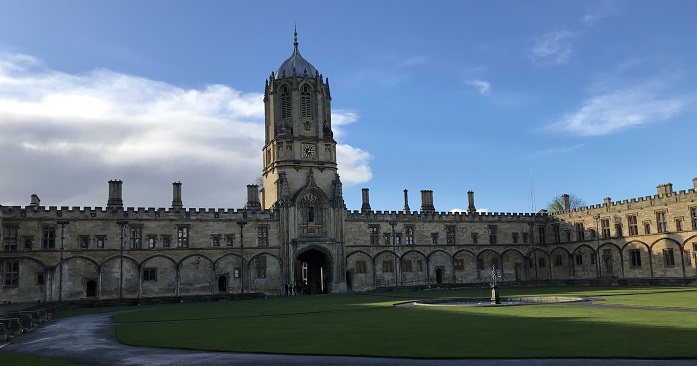 Would you like to know more about J.R.R. Tolkien and the mythology behind The Lord of the Rings? This program in advanced composition takes you behind the scenes of Middle-earth to Oxford, England, where Tolkien lived, studied, taught, and wrote. You will get a chance to visit the halls of Merton and Exeter College in Oxford University, conduct research at the Bodleian Library where many of Tolkien's manuscripts are housed, and hold writing workshops over meals in the same cozy inns frequented by Tolkien and his colleagues. This course satisfies both the University's Fundamental Studies requirement in Professional Writing and the heart's desire to follow in the footsteps of the 20th century's most influential world-builder and myth-maker.
By participating in this program, you will be able to:
Recognize and analyze the ways in which Tolkien's scholarship and storytelling intersect.
Draw on Tolkien's work as a model for audience accommodation and multimodality in crafting your own rhetorically effective and inventive texts.
Accurately contextualize Tolkien's reception and reputation in the UK and the US over the past 50+ years.
Identify and explore key themes and controversies linked to Tolkien's work via a variety of professional writing genres.
You must be in good academic and judicial standing and you must not have any registration blocks to participate in this program. The minimum GPA for this program is listed above.
UMD and Non-UMD sophomores, juniors, seniors and graduate students are eligible to apply. *ENGL101 is a required prerequisite to participate in this program. Students must have completed 60 credits before taking a professional writing course.
If you are interested in this program but do not meet the eligibility requirements, reach out to the program leader (listed in the Contacts tab) to discuss your interest in the program.
After you commit to the program, Education Abroad will enroll you in the following three (3) credit UMD course:
ENGL391: Advanced Composition
The credit you earn during this program will count as resident credit. ENGL391 also satisfies the Fundamental Studies in Professional Writing.
Students will share apartments in Oxford.  
ALL COST INFORMATION REPRESENTS 2023 COSTS. 2024 COSTS WILL BE UPDATED SOON.
Please refer to the following resources for funding study abroad:
Financial Aid
Scholarships
Financial Policies
*This program qualifies for eligible Pell Grant recipients to apply for the Gilman International Scholarship. Online applications will open in mid-August and are due Thursday, October 5, 2023, at 11:59pm PT.
 

APPLICATION FEE
$50
This is a non-refundable fee to submit an application.
Education Abroad Fee
$500
This is a non-refundable fee charged to your account when the application status changes from "Accepted to "Committed." This includes services provided by Education Abroad such as registration, billing, advising, risk management, and pre-departure orientation.
International Health Insurance
$50
This coverage is required and complements students' regular U.S. primary health insurance coverage.
Program Fee
Housing Fee
$1,160
This fee represents the housing provided during the program.
Tuition
$2,589
These are the instructional costs which include tuition, in-country transportation, course related activities, group meals, and teaching services.
Program Fee Total
$3,749
 BILLABLE COSTS TOTAL
$4,299
This fee is charged to your student account and is based on our program deadlines. Please direct any additional questions to the Office of Student Financial Services and Cashiering.
Meals (estimate)
$100
Passport
$165
Visa
$0
Roundtrip airfare (estimate)
$1,250
Course materials
$0
Incidental expenses
$150
Trip cancelation insurance (optional)
$180
ESTIMATED OUT OF POCKET EXPENSES
$1,845
*Non-UMD graduate students will need to pay a $75 application fee to the UMD Graduate School to participate in this program.

TOTAL ESTIMATED COST OF ATTENDANCE
$6,194
PLEASE NOTE: All University of Maryland study abroad programs are financially self-supporting and, therefore, subject to cancellation due to low enrollment.
Peter Grybauskas (Program Leader) teaches courses on fantasy and food on campus and abroad for the English department.  He is the author of A Sense of Tales Untold: Exploring the Edges of Tolkien's Literary Canvas and editor of Tolkien's The Battle of Maldon.
Dr. Christopher "Chip" Crane (Co-Instructor) specializes in Medieval English literature and the works of Tolkien. He regularly teaches Medieval and Renaissance British Literature, J.R.R. Tolkien: Middle-earth and Beyond, and Technical Writing.
For course, itinerary or in-country information, please contact the Program Leader. For general questions or assistance with applying, contact EA Short-term Programs.
As a part of this program, you will engage in the following activities:
Follow in the footsteps of J.R.R. Tolkien at Oxford University
See rare and unpublished Tolkien manuscripts in the Bodleian Library
Share your work (and a bite) in the inns frequented by Tolkien and his friends
Launch a writing portfolio
| Term | Year | Application Deadline | Admission Notification | Program Start | Program End |
| --- | --- | --- | --- | --- | --- |
| Winterterm | 2024 | 10/01/2023 | 10/11/2023 | 12/28/2023 | 01/11/2024 |