UMD-Summer: Italy: Language and Culture in Sorrento (ITAL)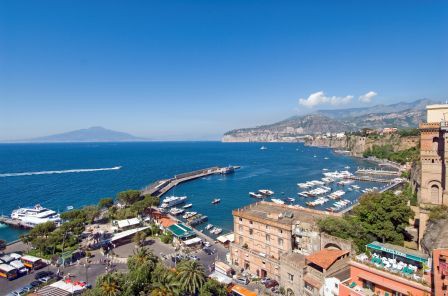 This program in Sorrento, besides offering you the opportunity to improve your language skills and gain broader knowledge of Italian culture (with its diversity within Italy itself), also contributes to a greater understanding of the world in general, and a deeper sense of self. Besides the linguistic and cultural component, the program offers the opportunity for you to experience directly the Italian (and the Neapolitan) way of life. You will attend classes Monday through Thursday from 9:00 AM to 12:30 PM (with a free day on Friday and week-ends). In the afternoon (from 2:00 PM to 3:30 PM), you will participate in Service Learning days selected by Sant'Anna Institute in collaboration with Piano Sociale di Napoli 33, a cooperative that manages an integrated system of social services for the communities of the Sorrentine Peninsula. Opportunities for interacting with the local community during Service Learning Days include retirement homes for the elders, diverse-disability centers, student/youth centers, etc. From a cultural perspective, your experience abroad will be enriched by guided tours and excursions (included in the program) organized by Sant'Anna Institute: half-day trip to the ancient city of Pompei and a 2 hr. tour of its ruins; a full day trip to the island of Capri, with a guided tour of the famous gardens of Augustus; a full day excursion on the Amalfi coast with visits to Positano, Ravello, Amalfi, admiring their natural beauty and breathtaking panoramic views; a full day trip to Naples and its main attractions (including a visit to the Royal Palace and a guided tour of the Archeological Museum.
This course, taught at the Intermediate level, is a total immersion in the language and culture of Italy, with special emphasis on the customs, local traditions, and cuisine of the Campania region.
Students will spend three weeks in Sorrento, a vibrant town on the Southern coast of the Italian peninsula, located just 20 miles from the city of Naples.
The program will be enriched by site visits to the ancient city of Pompei, Positano, Ravello, Capri, Naples, where students can enjoy the breathtaking view of Mount Vesuvius and the Amalfi coast, known to be one of the most spectacular sceneries in Western Europe.
 
You must be in good academic and judicial standing and you must not have any registration blocks to participate in this program. The minimum GPA for this program is listed above.
UMD Undergraduate and Non-UMD Undergraduate at the Freshman, Sophomore, and Junior levels are eligible to apply.
Prerequisites: completion of Elementary Italian (ITAL 103 or equivalent).
If you are interested in this program but do not meet the eligibility requirements, reach out to the program director (listed in the Contacts tab) to discuss your interest in the program.
This program is open to all majors. ARHU students who need to satisfy language requirement and want to become more fluent in the language or intend to continue their language study to earn a degree in Italian or minor in Italian language and culture are encouraged to apply.
After you commit to the program, Education Abroad will enroll you in one of the following three (3) credit UMD courses:
ITAL 269B - Italian Language and Culture
ITAL 499B (Special Topics in Italian Studies - open to ITAL, ROML majors and Italian minors) 
The credit you earn during this program will count as resident credit.
Students will be housed in the Sant'Anna Institute Residence Halls or in shared apartments (walking distance from the Institute)
Housing, local transportation (including from and to airport of Naples), guided tours, excursions, Welcome and Farewell group receptions, are all included in the program fee.
Costs listed are for summer 2019.
Application Fee
$50
Billable Costs
Billable costs are charged to your student account. They are due based on the Office of Student Financial Services and Cashiering's payment schedule. Be sure to check your statements when they are available.
Education Abroad Fee
$500
This fee is charged to your account when the application status changes from "Accepted" to "Committed." This fee includes Education Abroad services including registration, billing, advising, risk management, and pre-departure orientation.
International Health Insurance
$43
Tuition
$3,407
This fee is charged to your UMD account upon course registration. This fee includes: Tuition, in-country transportation, course related activities, group meals, and teaching services.
Housing Fee
$0
This fee represents the housing provided during the program.
TOTAL PROGRAM FEE
$3,950
Out-of-pocket Costs
Meals (estimate)
$450
Visa
$0
Passport
$145
Roundtrip Airfare (estimate)
$1,200
Course Materials
$0
Optional Activities/incidental expenses
$300
Optional trip cancelation/interruption Insurance (estimate)
$180
TOTAL ESTIMATED COST OF ATTENDANCE:
$6,275
NOTE: If you are a non-UMD graduate student, you will need to pay a $75 application fee to the UMD graduate school to participate in this program.
Please refer to the following resources for more information on funding study abroad
PLEASE NOTE: All University of Maryland study abroad programs are financially self-supporting and, therefore, subject to cancelation due to low enrollment.
Joseph Falvo, Faculty Program Director, and a native of Southern Italy, is Associate Professor of Italian and the Director of the Italian and Romance Languages Programs.
He received his Ph.D. in Italian from the Johns Hopkins University (1986) with a specialization in the Italian Renaissance. He has published numerous articles on Dante, Boccaccio, Machiavelli, Della Casa, and a book on Baldesar Castiglione's Libro del Cortegiano (Peter Lang, 1992).
He is currently working on a second book entitled "Education and Politics in Early Modern Italy". He has been participant at many conferences and colloquia, delivering papers on various aspects of Italian literature, and culture. At UMD, Prof. Falvo teaches a wide range of courses in Italian language, literature, and culture, including two 400 level courses on Dante and the Italian Renaissance.
For course, itinerary or in-country information, please contact the Program Director. For general questions or assistance with applying, contact EA Short-term Programs.
As a part of this program, you will engage in the following activities:
Combine the study of language for professional development in today's global environment.
Engage with the local culture of the region of Campania.
Service Learning days including interaction with the elders in retirement homes, diverse-ability centers, and student/youth centers.
Guided tours and excursions organized by Sant'Anna Institute (Pompei, Amalfi, Positano, Ravello, Capri, and Naples).
| Term | Year | Application Deadline | Admission Notification | Program Start | Program End |
| --- | --- | --- | --- | --- | --- |
| Summerterm | 2019 | 03/01/2019 | 03/11/2019 | 05/26/2019 | 06/15/2019 |