UMD-Winter: Cuba: Topical Investigations; Government and Politics of Latin America (GVPT)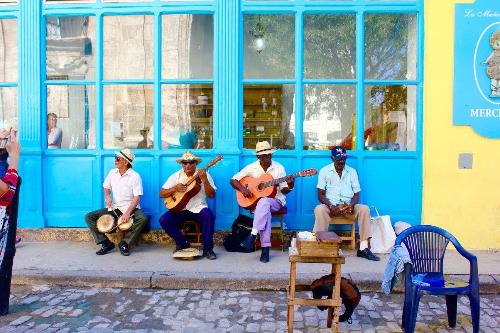 This is a hybrid program with a two-credit fall domestic course and a one-credit winter abroad course in Havana, Cuba. In Havana, don't miss this opportunity to visit historic sites like the Palacio de los Capitanes Generales, La Plaza de la Revolución, the Malecón, and hear about events that shaped the history of Cuba, Latin America, and the United States!
Please refer to this link for additional information from the Department of Government & Politics website.
You must be in good academic and judicial standing and you must not have any registration blocks to participate in this program. The minimum GPA for this program is listed above.
UMD freshmen, sophomores, juniors, seniors, and graduate students are eligible to apply.
If you are interested in this program but do not meet the eligibility requirements, reach out to the program director (listed in the Contacts tab) to discuss your interest in the program.
In order to take part in this one-credit GVPT388F course, you must register for the two-credit GVPT388D course in Testudo and enroll for that course by the Fall 2023 registration deadline Monday, September 11, 2023. After you are registered, Education Abroad will enroll you in this one (1) credit UMD course:
GVPT388C: Topical Investigations: Government and Politics of Latin America (GVPT)
The steps are as follows: 
Complete your study abroad application for the one-credit GVPT388F study abroad course
If accepted, email kcortes@umd.edu to receive the registration code
Register for the GVPT388D two-credit domestic course in Testudo, and enroll for that course by the Fall 2023 registration deadline Monday, September 11, 2023. The course takes place on Wednesdays from 2:00p.m. - 5:00p.m.
The credit you earn during this program will count as resident credit. This course also counts towards GVPT major credit.
You will stay in casas particulares (private homestays).
*Costs listed are for winterterm 2024.
Application Fee
$25
Billable Costs
Billable costs are charged to your student account. They are due based on the Office of Student Financial Services and Cashiering payment schedule. Be sure to check your statements when they are available.
Tuition
$1,712
This fee is charged to your UMD account upon course registration. This fee includes: Tuition, in-country transportation, course related activities, group meals, and teaching services.
Housing Fee
$775
This fee represents the housing provided during the program.
TOTAL PROGRAM FEE
$2,487
Education Abroad Fee
$700
This fee is charged to your account when the application status changes from "Accepted" to "Committed." This fee includes Education Abroad services including registration, billing, advising, risk management, and pre-departure orientation.
International Health Insurance
$55
Out-of-pocket Costs
Meals (estimate)
$100
Visa
$0
Passport
$165
Roundtrip Airfare (estimate)
$600
Course Materials
$50
Optional Activities/incidental expenses
$150
Optional trip cancelation/interruption Insurance (estimate)
$200
TOTAL ESTIMATED COST OF ATTENDANCE:
$4,597
Please refer to the following resources for more information on funding study abroad
PLEASE NOTE: All University of Maryland study abroad programs are financially self-supporting and, therefore, subject to cancelation due to low enrollment.
Dr. Carolina Sampó is the 2022-2023 LACS postdoctoral fellow. Her research focuses on gender, violence, organized crime, and criminal organizations in South and Central America. She is a Researcher at the Argentinean National Scientific and Technical Research Council (Conicet). She also coordinates the Center for Studies on Transnational Organized Crime (CeCOT), International Relations Institute (IRI) University of La Plata (UNLP). Dr. Sampó is an International Consultant working for international institutions such as the OAS, UNODC, and the Global Initiative against Transnational Organized Crime. She received her PhD from the Faculty of Social Sciences at the University of Buenos Aires and her masters degree from the department of government at the Torcuato Di Tella University. She holds a Licenciatura in Political Sciences from the University of Buenos Aires. 
Dr. Isabella Alcañiz is a Professor of the Department of Government and Politics and Director of the Latin American and Caribbean Studies Center, University of Maryland (UMD). Professor Alcañiz studies the politics of climate change, social inequality, disaster policy, and gender with a focus on Latin America and Latinx residents of the United States. Her research has been published in Global Environmental Politics, Journal of Cleaner Production, Water Policy, Environmental Science & Policy, World Politics, and the Latin American Research Review. Her books, The Distributive Politics of Environmental Protection in Latin America and the Caribbean (2022) and the Environmental and Nuclear Networks in the Global South: How Skills Shape International Cooperation (2016), were published by Cambridge University Press. She serves on the Editorial Advisory Board of Environmental Politics and Global Environmental Politics. She received a PhD from the Department of Political Science at Northwestern University and a Licenciatura in International Relations from the Universidad de Belgrano (Argentina). Dr. Alcañiz co-chairs the GVPT Committee on Diversity, Equity, and Inclusion. Dr. Alcañiz is a commissioner of the City of College Park Restorative Justice Commission.
For course, itinerary or in-country information, please contact the Program Director. For general questions or assistance with applying, contact Education Abroad.
As a part of this program, you will engage in the following activities:
Visit sites such as the Palacio de los Capitanes Generales, Revolution Square, US Embassy, Hemingway Museum and San José craft market.
Participate in guided tours of the Revolution Museum, Capitolio building, and Tobacco Factory.
Engage in walking tours through Old Havana and Malecón.
Learn from experts in the field who will address US-Cuba relations, Cuban constitutional changes and reforms, and Cuba's economy. 
Visit locations important to US Cuba relations as listed in the full itinerary.
| Term | Year | Application Deadline | Admission Notification | Program Start | Program End |
| --- | --- | --- | --- | --- | --- |
| Winterterm | 2024 | 08/03/2023 | 08/10/2023 | 01/07/2024 | 01/15/2024 |