UMD-Winter: Cuba: Foreign Policy Decision Making (GVPT)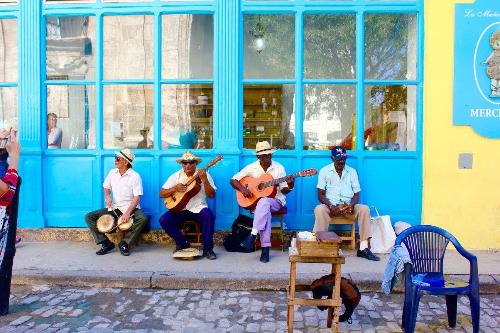 This is a new course that combines lectures on campus in College Park with a study abroad component in Havana, Cuba from January 10 - January 20, 2020. The lectures on campus will focus on different strategies for studying foreign policy decision making. The class will travel to Cuba to learn about several foreign policy events that shaped much of the foreign policy of the United States in this region.
Please refer to this link for additional information from the Department of Government & Politics website.
You must be in good academic and judicial standing and you must not have any registration blocks to participate in this program. The minimum GPA for this program is listed above.
UMD freshmen, sophomores, juniors, seniors, and graduate students are eligible to apply.
If you are interested in this program but do not meet the eligibility requirements, reach out to the program director (listed in the Contacts tab) to discuss your interest in the program.
You must register for the GVPT388F course in Testudo and enroll for that course by the Fall 2019 registration deadline (Sept 9, 2019). After you are regisered, Education Abroad will enroll you in this one (1) credit UMD course:
GVPT388C: Topical Investigations: Foreign Policy Decision Making
The credit you earn during this program will count as resident credit. This course also counts towards GVPT major credit.
You will stay in casas particulares (private homestays).
*Costs are current for winter 2020.
Application Fee
$50
Billable Costs
Billable costs are charged to your student account. They are due based on the Office of Student Financial Services and Cashiering payment schedule. Be sure to check your statements when they are available.
Education Abroad Fee
$500
This fee is charged to your account when the application status changes from "Accepted" to "Committed." This fee includes Education Abroad services including registration, billing, advising, risk management, and pre-departure orientation.
International Health Insurance
$45
Tuition
$1,440
This fee is charged to your UMD account upon course registration. This fee includes: Tuition, in-country transportation, course related activities, group meals, and teaching services.
Housing Fee
$375
This fee represents the housing provided during the program.
TOTAL PROGRAM FEE
$2,360
Out-of-pocket Costs
Meals (estimate)
$250
Visa
$0
Passport
$145
Roundtrip Airfare (estimate)
$700
Course Materials
$0
Optional Activities/incidental expenses
$300
Optional trip cancelation/interruption Insurance (estimate)
$180
TOTAL ESTIMATED COST OF ATTENDANCE:
$3,985
Please refer to the following resources for more information on funding study abroad
PLEASE NOTE: All University of Maryland study abroad programs are financially self-supporting and, therefore, subject to cancelation due to low enrollment.
Dr. William Reed is a Professor in the Government and Politics Department at the University of Maryland, College Park. He teaches courses on international relations, foreign policy, the United Nations, applied game theory, applied regression analysis, and applied maximum likelihood estimation. He also serves as a Research Fellow in the Center for International Development and Conflict Management. Dr. Reed's research is focused on international politics, civil war, and foreign policy decision-making. 
For course, itinerary or in-country information, please contact the Program Director. For general questions or assistance with applying, contact EA Short-term Programs.
As a part of this program, you will engage in the following activities:
Visit sites such as the Palacio de los Capitanes Generales, Revolution Square, US Embassy, Hemingway Museum and San José craft market.
Participate in guided tours of the Revolution Museum, Capitolio building, and Tobacco Factory.
Engage in walking tours through Old Havana and Malecón.
Learn from experts in the field who will address US-Cuba relations, Cuban constitutional changes and reforms, and Cuba's economy. 
Visit locations important to US Cuba relations as listed in the full itinerary.
Please see this link for the full tentative itinerary.
| Term | Year | Application Deadline | Admission Notification | Program Start | Program End |
| --- | --- | --- | --- | --- | --- |
| Winterterm | 2019 | 10/15/2018 | 06/01/2018 |   |   |