SPHL-in-Kenya: Global Community Health Internship (HLTH)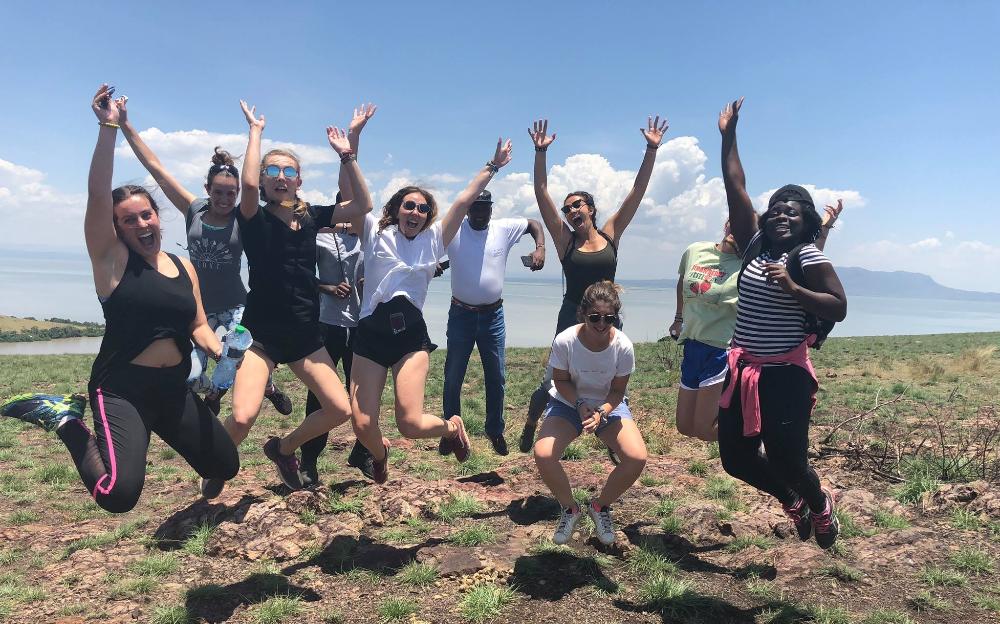 Get your hands-on experience in the field of global health with an internship in East Africa. Located directly on Lake Victoria, Kisumu, is a small port city in Kenya. Here you will have the unique opportunity to work with global health professionals for a semester in the planning, delivery, and management of public health in the tropics.
Work alongside local organizations creating positive impact by conducting policy research and participating in health-related projects. Engage with staff members to provide support within the health community and empower those around them to engage in safe health practices. Take on this exciting opportunity to make a profound community impact while gaining new skill sets in behavioral and community health.
This program runs through a partnership between Education Abroad, the Department of Behavioral and Community Health and SIT STudy Abroad.
SPHL-in-Kenya: Global Community Health Internship (HLTH) is only open to UMD Juniors and Seniors majoring in Behavioral and Community Health. Students must have completed HLTH 490 (with a grade of C- or better) or be currently enrolled in this course. Students can also complete their 12 credit capstone degree requirement by participating in this full-time internship.
Applicants must meet the following requirements:
Meet 2.5 GPA requirement
Demonstrate an open-minded and flexible attitude
Be in good academic and judicial standing 
Have no registration blocks 
All applications must be submitted and completed online by the published application deadline to receive full consideration. Admission for this program is competitive and meeting the minimum GPA requirement alone does not guarantee admission.
In Kenya, students engage with a high impact experiential learning model that combines a full time internship with a 12-credit internship seminar, HLTH491, taught by a UMD faculty member.
Internship placement in Kenya:
On site in Kenya, students will benefit from the mentorship of on-site staff through biweekly check ins and journal submissions and work closely with an internship site supervisor.
SIT Study Abroad manages the internship placement, and will match students with organizations based on their qualifications and interests. SIT Study Abroad cannot guarantee placement at a specific organization but will work with each student to find a suitable internship arrangement based on student's interest, skills and expertise.
Examples of internship placements include:
Assisting health-related projects with the Red Cross and USAID
Conducting policy research at African population and Health Research Center 
Working on hygiene, sanitation, and environmental projects with Network for Water and Sanitation
Supporting Amref Health Africa's projects in Kenya
Providing  healthcare and emotional support at Kenya's Association of People Living with HIV/AIDS
Past internships have been arranged at the following organizations:
The American Red Cross
USAID
African Population and Health Research Center
The Network for Water and Sanitation
Amref Health Africa in Kenya
Kenya's Association of People Living with HIV/AIDS
HLTH491 - 12 credits
In HLTH491, students will connect virtually with UMD classmates at other internship sites abroad and in the U.S., through a weekly classroom discussion, exchanging reflections on professional development experiences in the field. Upon completion of the internship, students will present to SIT and SPHL faculty.
Students live with local host families to support cultural engagement and local networking. Students will be placed in same-gender rooms (either single or double occupancy) with each student having their own bed. Daily meals (breakfast and dinner) are provided by homestay families.
During your homestay, you'll become a member of a local family, sharing meals with them, joining them for special occasions, talking with them in their language, and experiencing the host country through their eyes. Homestay placements are arranged by a local coordinator who carefully screens and approves each family. Students frequently cite the homestay as the highlight of their program. Read more about SIT homestays.
Tracy Kennedy is the course instructor for HLTH491 and oversees the internships.
Brittany Lashley is an Advisor in EA and advises prospective and admitted students in this program. In addition, she coordinates course registration, pre-departure orientation, and other logistical aspects of the program.
Steve Wadinga, PhD. is the SIT Study Abroad Academic Director in Kenya. Steve mentors UMD interns and along with other SIT Kenya staff members provides on site support. Steve is a senior research officer at Kenya Medical Research Center (KEMRI) in Kisumu where he has led the tuberculosis research team and coordinated a weekly science seminar series for visiting scientists. He serves on the steering committee of the East African Consortium for Clinical Research and is co-chair of the TB Stakeholder Community Engagement Working Group and a member of the TB Clinical Trials Infrastructure Working Group. Steve has also coordinated the East Africa Healthy Pregnancy, Birth, Growth, and Development Knowledge Initiative that is funded by the Bill and Melinda Gates Foundation. Steve holds a PhD in medical research, Ludwig Maximilian University, Munich, Germany and a Master of Arts in project planning and management from the University of Nairobi. A Kenyan citizen, Steve lives in Kisumu, Kenya, with his spouse, June Kasyoki, and their two girls.
COST of ATTENDANCE COMPARISON: Study abroad vs. on-campus
| | | |
| --- | --- | --- |
|   | In-state | Out-of-state |
| On-campus cost of attendance (spring 2020) | $13,712 | $26,768 |
| Study Abroad: SPHL-in-Kenya: Global Community Health Internship (HLTH) cost of attendance | $12,189 | $12,189 |
| Your savings by studying abroad next semester | $1,523 | $14,579 |
Costs listed are for fall 2020.
 

APPLICATION FEE
$50
 
BILLABLE COSTS
Billable costs are charged to your student account. They are due based on the Office of Student Financial Services and Cashiering's payment schedule. Be sure to check your statements when they are available.

Education Abroad Fee

$1,200

This fee is charged to your account when the application status is changed from "Accepted" to "Committed." This fee includes Education Abroad services including registration, billing, advising, risk management, and pre-departure orientation.

$220

Tuition

$5,612

This fee is charged to your UMD account upon course registration. This fee includes: Tuition, academic and advising support, course related activities, on-campus and in-country orientations, and teaching services.

Housing

$1,983
 
 
TOTAL PROGRAM FEE (billable costs)
$9,015
 
OUT-OF-POCKET COSTS

Meals in homestay (breakfast and dinner)

included in program fee

Additional Meals (estimate)

$726

Roundtrip Airfare (estimate)

 

$1,000 

Passport

$145

Visa

$51

Course materials

$20

Optional activities/Incidental expenses (estimate)

$360

Optional international trip cancellation/interruption insurance (estimate)

$350
          In-country Transportation 
$522
 

TOTAL OUT-OF -POCKET COSTS

$3,174
TOTAL ESTIMATED COST OF ATTENDANCE:
$12,189
You can use the cost of attendance comparison worksheet to view how study abroad programs compare to each other and the amount you pay on campus at UMD. As always, your EA advisor is available help you complete this worksheet and find affordable programs that fit your study abroad goals.
Please refer to the following resources for more information on funding study abroad:
PLEASE NOTE: All University of Maryland study abroad programs are financially self-supporting and, therefore, subject to cancellation due to low enrollment.
| Term | Year | Application Deadline | Admission Notification | Program Start | Program End |
| --- | --- | --- | --- | --- | --- |
| Fall | 2020 | 03/15/2020 | 05/15/2020 | 08/07/2020 | 11/14/2020 |