UMD-Summer: Greece: Ancient Greece and the Athletic Spirit (CLAS)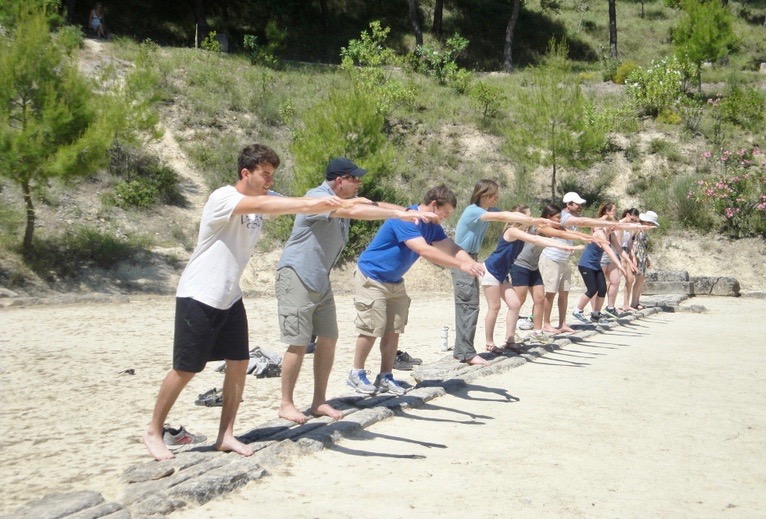 From the time of the poems of Homer to the end of the Roman Empire, exercise of the body and physical competition played an essential role in ancient Greece.  Athletics was regarded as both a sphere of excellence and a form of exciting entertainment.
This course offers students the unique opportunity to travel around Greece and study firsthand the sites, monuments, and objects that defined the ancient experience of athletics, with the aim of understanding its principal forms, the spirit and values that guided it, and its interrelationship with other aspects of society and culture.
As a participant in the course you will see and experience several important ancient Greek sites and learn about the history of ancient athletics in the very places where it occurred. You will explore many of the museums of Greece and come face-to-face with the sculpture and artifacts that embody the athletic spirit. You will follow in the footsteps of ancient athletes by touring Olympia and other places of ancient competition.  At the same time, you will read and discuss what the ancients themselves had to say about athletics. Moreover, by being in Greece, you will gain a deeper understanding of the natural interconnections among the sites and places that shaped ancient Greece, something that cannot be gained by looking at disconnected images in the classroom.  You will also witness how modern Greece interacts with its ancient past.
You must be in good academic and judicial standing and you must not have any registration blocks to participate in this program. The minimum GPA for this program is listed above.
UMD and non-UMD freshmen, sophomores, juniors and seniors are eligible to apply.
This course is designed for any student who has an interest in the history of athletics and/or the study of ancient Greece through its history, art, and archaeology. The program should be equally appealing to athletes and students of physical activity, Humanities majors in Classics and other disciplines, and STEM students seeking to diversify their educational experiences. The ideal participant is a diligent and attentive undergraduate student who is in good health and tolerant of the heat of the Greek summer. The student should be positive, patient, and should get along well with others.
 
After you commit to the program, Education Abroad will enroll you in one of the following three (3) credit UMD courses:
CLAS369A: Special Topics in Study Abroad III: Ancient Greece and the Athletic Spirit
ARTH369A: Special Topics in Study Abroad III: Ancient Greece and the Athletic Spirit
HIST369A: Special Topics in Study Abroad III: Ancient Greece and the Athletic Spirit
KNES389A: Topical Investigations: Ancient Greece and the Athletic Spirit
The credit you earn during this program will count as resident credit. 
Students will stay in furnished apartments during the first week of the program in Athens, followed by a series of hotels as the students travel from place to place.  All facilities will have electricity, air conditioning, potable water, bathrooms, and shared bedrooms (doubles or triples). Apartments will also have kitchens.
Please refer to the following resources for funding study abroad:
Financial Aid
Scholarships
Financial Policies
*Costs are current for Summer 2020.

APPLICATION FEE
$50
This is a non-refundable fee to submit an application.
Education Abroad Fee
$500
This is a non-refundable fee charged to your account when the application status changes from "Accepted to "Committed." This includes services provided by Education Abroad such as registration, billing, advising, risk management, and pre-departure orientation.
International Health Insurance
$45
This coverage is required and complements students' regular U.S. primary health insurance coverage.
Tuition
$3,655
These are the instructional costs which include tuition, housing, in-country transportation, course related activities, group meals, and teaching services.
PROGRAM FEE / BILLABLE COSTS
$4,200
This fee is charged to your student account and is based on our program deadlines. Please direct any additional questions to the Office of Student Financial Services and Cashiering.
Meals (estimate)
$400
Passport
$145
Visa
$0
Roundtrip airfare (estimate)
$1,200
Course materials
$60
Optional activities/incidental expenses
$150
Optional trip cancelation/interruption insurance
$180
ESTIMATED OUT OF POCKET EXPENSES
$2,135
*Non-UMD graduate students will need to pay a $75 application fee to the UMD Graduate School to participate in this program.

TOTAL ESTIMATED COST OF ATTENDANCE
$6,385
PLEASE NOTE: All University of Maryland study abroad programs are financially self-supporting and, therefore, subject to cancellation due to low enrollment.
Professor Jorge J. Bravo III is the Program Leader and received his A.B. in Classics from Princeton University and his Ph.D. in Ancient History and Mediterranean Archaeology from the University of California, Berkeley.  His research has focused on the archaeology of Greek religion, ancient athletics, and gender and sexuality.  An experienced field archaeologist, Professor Bravo has worked on several excavation sites in Greece and Italy, including the Agora of Athens; Kommos, Crete; San Vincenzo al Volturno in Italy; the Sanctuary of Zeus at Nemea; and Kenchreai, the eastern port of ancient Corinth.
 
Professor Bravo is the author of Excavations at Nemea IV: The Shrine of Opheltes (Berkeley 2018), a study of the archaeological remains and other evidence for the cult and myth of the hero Opheltes at Nemea.  He has also authored several articles on ancient Greek hero cult and ancient sexuality.  He is currently engaged in a study of archaeological material from a cave at Marathon devoted to the worship of Pan and the Nymphs, and he is also engaged in a new book project on funeral games in ancient Greece.
 
Professor Bravo has served as President and Treasurer of the Washington D.C. Society of the Archaeological Institute of America, and he is Treasurer of the Lambda Classical Caucus of the Society for Classical Studies.
For course, itinerary or in-country information, please contact the Program Leader. For general questions or assistance with applying, contact EA Short-term Programs
As a part of this program, you will engage in activities such as:
Follow in the footsteps of ancient athletes as you visit Olympia and other sites of ancient competition
Read what the ancients had to say as you experience the very places they were writing about
Come face-to-face with the sculpture and artifacts that embody athletics
Experience how modern Greece interacts with its ancient past
Enjoy swimming and hiking excursions and appreciate the power and beauty of the landscape of Greece
| Term | Year | Application Deadline | Admission Notification | Program Start | Program End |
| --- | --- | --- | --- | --- | --- |
| Summerterm | 2020 | 03/01/2020 | 03/11/2020 | 06/14/2020 | 07/02/2020 |