UMD-Summer: Argentina: Women's Movements for Justice (WMST/LASC/HIST)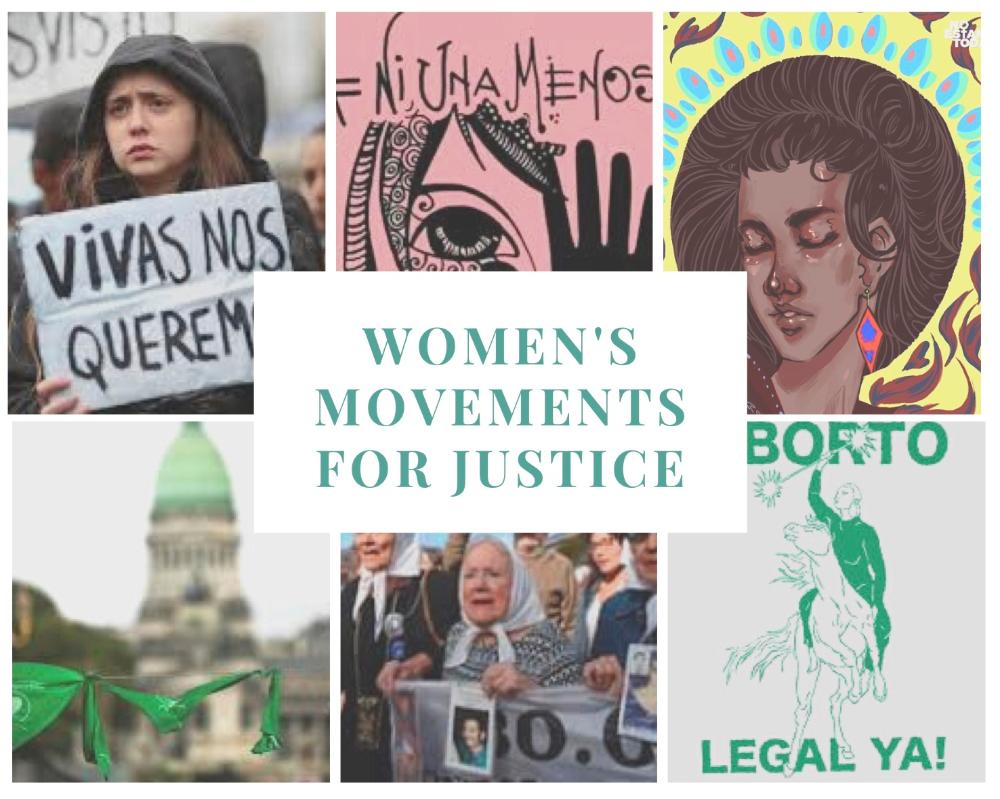 Women's Movements for Justice is an unparalleled chance to take part in a critical historical juncture in Latin American social movements. In this watershed moment in Argentina, feminists are standing up en mass to demand change and justice, to denounce pervasive misogyny and gender violence, and to envision and realize another world. They are mobilizing in digital and physical spaces under the hashtags #NiUnaMenos and #AbortoLegalYa, to condemn femicide, to advocate access to free and legal abortions, and to introduce comprehensive sex education in public schools. Women are fighting together for the right to live without fear, the right to make decisions about their own bodies, and the right to exist in a more feminist and just world. Our study abroad gives students the opportunity to learn from one of the worlds's most electric feminist movements in one of Latin America's most vibrant cities: Buenos Aires.
During our three week course, students will engage with feminist praxis--or theoretically informed activism--through both coursework and experiential opportunities that bring histories and ideas to life. In the classroom, we will pair readings with visits from intellectual and social leaders of the Argentine women's movement. Experiential learning will come in the form of service work with feminist and LGBTQ+ social organizations, a subversive Tango class, an excursion to a soccer game, a student-led tour of a memorial to dissapeared students, a guided visit to the gravesite and museum of Eva Perón, and participation in #NiUnaMenos movement's anniversary led by local activists. Accommodations include a stay in student housing at the Universidad de La Plata and in the historic worker-run Bauen Hotel. By learning about how Latin American feminists take up issues of oppression and resistance, the course will encourage students to reflect on the changing status of women's rights in both Latin America and the U.S. and will imagine new ways of mobilizing around gender issues.
You must be in good academic and judicial standing and you must not have any registration blocks to participate in this program. The minimum GPA for this program is listed above.
All UMD and non-UMD freshmen, sophomores, juniors, seniors, and graduate students are eligible to apply. Knowledge of the Spanish language is not required but familiarity with it is a plus.
If you are interested in this program but do not meet the eligibility requirements, reach out to the Program Leader (listed in the Contacts tab) to discuss your interest in the program.
After you commit to the program, Education Abroad will enroll you in the following three (3) credit UMD course:
WMST369: Special Topics in Study Abroad III: Women's Movements for Justice
LASC369A: Special Topics in Study Abroad III: Women's Movements for Justice
HIST369C: Special Topics in Study Abroad III: Women's Movements for Justice
The credit you earn during this program will count as resident credit. This program will count towards requirements for students graduating with majors, minors, or certificates in Women's Studies and with certificates of minors in Latin American Studies.
During our stay, we will be housed in two locations: 
When we are in the city of Buenos Aires, we will stay in Bauen Hotel. Students will share either double or triple rooms and will have private bathrooms as well as access to the internet. 
In the city of La Plata we will stay in housing near the University. Students will share either double or triple rooms and will have private bathrooms as well as access to the internet. La Plata is in the province of Buenos Aires, two hours south of the capital city by car. 
Please refer to the following resources for funding study abroad:
Financial Aid
Scholarships
Financial Policies
Costs are current for Summer 2020.
**Please note this program qualifies for eligible Pell Grant recipients to apply for the Gilman International Scholarship. The application deadline is March 3, 2020, 11:59 pm PT.

APPLICATION FEE
$50
This is a non-refundable fee to submit an application.
Education Abroad Fee
$500
This is a non-refundable fee charged to your account when the application status changes from "Accepted to "Committed." This includes services provided by Education Abroad such as registration, billing, advising, risk management, and pre-departure orientation.
International Health Insurance
$45
This coverage is required and complements students' regular U.S. primary health insurance coverage.
Housing Fee
$875
This fee represents the housing provided during the program.
Tuition
$2,470
These are the instructional costs which include tuition, in-country transportation, course related activities, group meals, and teaching services.
PROGRAM FEE / BILLABLE COSTS
$3,890
This fee is charged to your student account and is based on our program deadlines. Please direct any additional questions to the Office of Student Financial Services and Cashiering.
Meals (estimate)
$250
Passport
$145
Visa
$0
Roundtrip airfare (estimate)
$1,000
Course materials
$0
Optional activities/incidental expenses
$150
Optional trip cancelation/interruption insurance
$180
ESTIMATED OUT OF POCKET EXPENSES
$1,725
*Non-UMD graduate students will need to pay a $75 application fee to the UMD Graduate School to participate in this program.

TOTAL ESTIMATED COST OF ATTENDANCE
$5,665
PLEASE NOTE: All University of Maryland study abroad programs are financially self-supporting and, therefore, subject to cancellation due to low enrollment.
Women's Movements for Justice will be co-led by Cara K. Snyder and Sabrina González.
Cara K. Snyder is a Postdoctoral Associate in the Latin American Studies Center at the University of Maryland. She received her Ph.D. in Women's Studies at UMD in July 2019. Her dissertation, titled "Which Team Do You Play For: Visibility and Queering in Brazilian Soccer" looks to Brazil—known for both its violent disciplining of gender non-conformity and its status as a country that is soccer mad—to understand how queer athletes navigate futebol's rigid gender binaries, and, more broadly, what this can tell us about how gender is ordered in Brazil. Her work has been published in Women's Studies Quarterly, The Journal of International Women's Studies, Ada: A Journal of Gender, New Media and Technology, and Space and Society. She also has a chapter in an edited volume on transnational feminism by Duke University Press (forthcoming). Prior to earning her doctorate, Snyder was a fulbright scholar in Brazil, an admissions counselor at Agnes Scott College, and a program assistant in the Americas Program at the Carter Center. Snyder has lived, worked, and studied in Argentina, Guatemala, the United States, and Brazil. She has led numerous study abroad and service learning trips and is especially excited to c0-lead a trip about Women's Movements for Justice in Buenos Aires, Argentina!
Sabrina Gonzalez is a PhD candidate in the Department of History. She graduated from Universidad Nacional de La Matanza, in Buenos Aires, Argentina, with a BA in social communication. Her dissertation entitled: "Schools as Laboratories: Science, Children's Bodies, and School Reformers in the Making of Modern Argentina (1880-1930)" studies the historical processes by which schoolteachers in South America used education as a tool for emancipation and built a transnational school reform movement that challenged and contributed to children's disciplining. In Argentina, she has taught multiple classes at public universities, high schools, and alternative schools for adults. Since 2006, she has been working with social movements as a communicator, educator, and student and labor organizer. At UMD, she tried to bring her previous activism to engage with the Latinx community on campus and the DC area. As an advocate for community building and collective action she co-founded the Latin American Studies Center Writing Group and the LASC Graduate Student Collective, and she served as the co-president of the History Graduate Student Association (2018-2019). Sabrina aims to bring her expertise as an educator and activist to co-lead Women's Movement for Justice in Argentina in order to keep connecting feminist theory and practice, universities with social movements, and pedagogical and political experiences throughout the Americas. 
For course, itinerary or in-country information, please contact the Program Leader(s). For general questions or assistance with applying, contact EA Short-term Programs.
Students will: 
Explore the historical museum and tomb of Eva Perón, and dine at Perón Perón
Engage in activities with social movements and the Interdisciplinary Network on Gender at UNTREF (Universidad Tres de Febrero, or The University of February Third), and complete service hours with the Mala Junta collective
Tour the ESMA (The Navy School of Mechanics) historical museum, the Universidad de La Plata, and the disappeared students memorial
Attend a women's soccer game
Take a queer(ing) tango class
| Term | Year | Application Deadline | Admission Notification | Program Start | Program End |
| --- | --- | --- | --- | --- | --- |
| Summerterm | 2020 | 03/01/2020 | 03/11/2020 | 05/26/2020 | 06/18/2020 |