UMD-Summer: Malaysia: Counterterrorism and Countering Violent Extremism in Southeast Asia (BSST)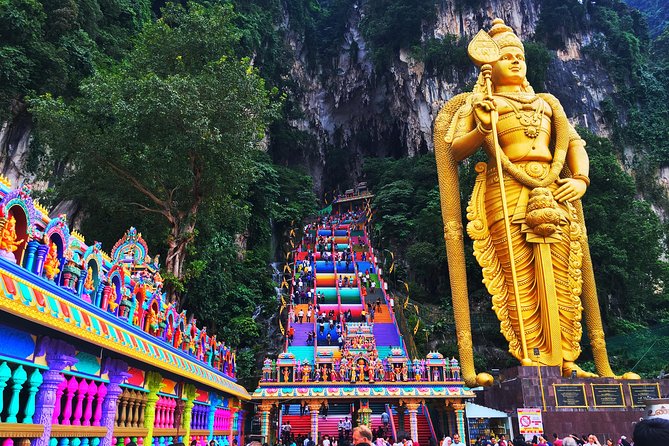 In collaboration with the National Consortium for the Study of Terrorism and Responses to Terrorism (START), this 3-credit course is an education abroad opportunity that involves travel to Kuala Lumpur, Malaysia focusing on counterterrorism (CT) and countering violent extremism (CVE). While there is much focus on CT and CVE in the United States, terrorism is a global phenomenon, and the best way to learn about responses to terrorism in different cultural contexts is through direct immersion of the places, people, and institutions most affected. By offering students an opportunity to study responses to terrorism in Southeast Asia, this course fulfills one of the core missions of UMD's Terrorism Studies Department, which is to instill in students a critical understanding of the impact of terrorism on individuals and communities, as well as strategies for preventing, deterring, and mitigating terrorist threats.
You must be in good academic and judicial standing and you must not have any registration blocks to participate in this program. The minimum GPA for this program is listed above.
UMD and non-UMD freshmen, sophomores, juniors, seniors and graduate students are eligible to apply. 
If you are interested in this program but do not meet the eligibility requirements, reach out to the Program Leader (listed in the Contacts tab) to discuss your interest in the program.
After you commit to the program, Education Abroad will enroll you in one of the following three (3) credit UMD courses:
BSST338M: Counterterrorism and Countering Violent Extremism in Southeast Asia
BSST638M: Counterterrorism and Countering Violent Extremism in Southeast Asia
This 3-credit program will count toward the Global Terrorism Minor requirement of one BSST elective course. By participating in this program, you will have completed a requirement toward your graduation with the Global Terrorism Minor.
The credit you earn during this program will count as resident credit. 
Kuala Lumpur is the capital of Malaysia, located on the Peninsular Malaysia bordering Thailand to the south and Singapore to the north. With a population of over 1.7 million people, Kuala Lumpur is the country's biggest city and a symbol of modern Malaysia, consisting of skyscrapers, culinary diversity, and bustling markets. Despite it's cosmopolitanism, the city also preserves its rich cultural heritage, displayed in the mosques, temples, and landmarks situated throughout the colonial district. During the final week of the program, we will be taking a trip to the city of George Town, Penang, and will be spending one night at a hotel in the city. All other accommodations will be in Kuala Lumpur. 
Please refer to the following resources for funding study abroad:
Financial Aid
Scholarships
Financial Policies
Costs are current for Summer 2020.

APPLICATION FEE
$50
This is a non-refundable fee to submit an application.
Education Abroad Fee
$500
This is a non-refundable fee charged to your account when the application status changes from "Accepted to "Committed." This includes services provided by Education Abroad such as registration, billing, advising, risk management, and pre-departure orientation.
International Health Insurance
$45
This coverage is required and complements students' regular U.S. primary health insurance coverage.
Housing Fee
$66
This fee represents the housing provided during the program.
Tuition
$2,604
These are the instructional costs which include tuition, in-country transportation, course related activities, group meals, and teaching services.
PROGRAM FEE / BILLABLE COSTS
$3,215
This fee is charged to your student account and is based on our program deadlines. Please direct any additional questions to the Office of Student Financial Services and Cashiering.
Meals (estimate)
$150
Passport
$145
Visa
$0
Roundtrip airfare (estimate)
$1,700
Course materials
$0
Optional activities/incidental expenses
$50
Optional trip cancelation/interruption insurance
$180
ESTIMATED OUT OF POCKET EXPENSES
$2,225
*Non-UMD graduate students will need to pay a $75 application fee to the UMD Graduate School to participate in this program.

TOTAL ESTIMATED COST OF ATTENDANCE
$5,490
PLEASE NOTE: All University of Maryland study abroad programs are financially self-supporting and, therefore, subject to cancellation due to low enrollment.
Thomas Guarrieri is the Program Leader and the Director of Undergraduate Studies for the University of Maryland's Global Terrorism Minor. He is also an Assistant Research Scientist for the National Consortium for the Study of Terrorism and Responses to Terrorism (START). Prior to joining UMD, Dr. Guarrieri taught undergraduate courses in terrorism, American foreign policy, and international relations, at the University of Missouri. At UMD, two of the courses he teaches are BSST 335: Innovations in Countering Violent Extremism and BSST 331: Responses to Terrorism. His current research focuses on the intersection of terrorism and unconventional weapons. In support of the Project on Advanced Systems and Concepts for Countering Weapons of Mass Destruction (PASCC), Dr. Guarrieri co-authored a 2018 report on terrorist and criminal threats to nuclear security in Southeast Asia. Dr. Guarrieri holds a Ph.D. in Political Science from the University of Missouri, and a B.A. in Political Science and Philosophy from Rutgers University.
Liz Wasden is the Undergraduate Education Coordinator at START. In this role, she coordinates and oversees the Global Terrorism Minor; recruiting admitting, and advising students, and developing program and course curricula. She also instructs BSST 386: Experiential Learning in Terrorism Studies, and TAs BSST 335: Innovations in Countering Violent Extremism. Liz received her B.A. in Communication from the University of Maryland, College Park, and is pursuing her M.A. in Higher Education also from the University of Maryland. 
For course, itinerary or in-country information, please contact the Program Leader. For general questions or assistance with applying, contact EA Short-term Programs
As a part of this program, you will engage in activities such as:
Visits to historic sites in Kuala Lumpur's colonial district, such as the Sultan Abdul Samad Building, Royal Selanger Club, Kuala Lumpur City Gallery, and St. Mary's Cathedral
Tour of the Royal Malaysian Police Museum and the Old Istana Negara (Old National Palace) 
Day trip to the historic town of George Town, a UNESCO World Heritage Site, to see the Kek Lok Si Temple, the largest Buddhist temple in Malaysia
Explore the Batu Caves, a vast cavern complex consisting of beautiful wall paintings of Hindu deities
Visit Masjid Jamek, the city's oldest mosque built in 1909, and Sri Maha Mariamman Temple, the main Hindu temple in the city
| Term | Year | Application Deadline | Admission Notification | Program Start | Program End |
| --- | --- | --- | --- | --- | --- |
| Summerterm | 2020 | 03/01/2020 | 03/11/2020 | 07/16/2020 | 08/01/2020 |