UMD-Summer: Liberia: Implementing Extension Education in Africa (AREC)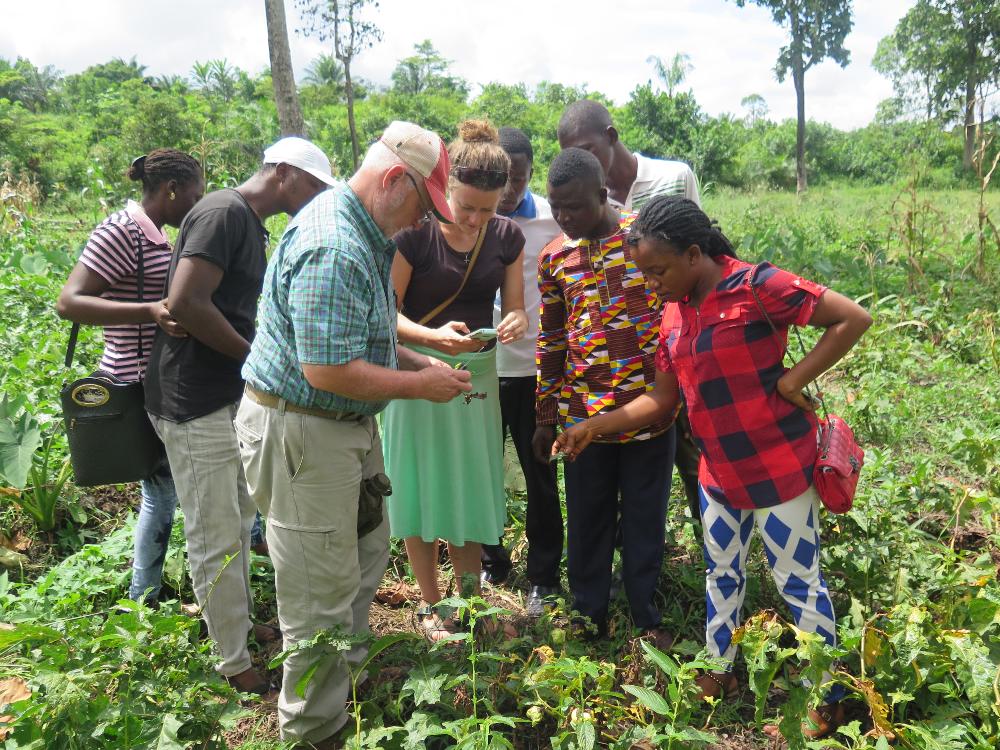 Students have the unique opportunity to engage with today's most critical challenges in Global Agriculture within a real-world, professional setting. AREC361 is the "sister course" to the AGNR Global Classroom – AREC360: Global Agriculture. During this summer experience, students travel to Liberia to implement agricultural extension projects developed throughout the spring through AREC360, with support from the ROOTS Africa Student Club, in collaboration with student counterparts at the Liberia International Christian College (LICC). This course is designed to replicate a global workplace, and give students real-life, hands-on experience as international community service providers, by applying scholarship to practice through iterative processes. Students will work collaboratively to address challenges for farmers and stakeholders in the LICC community. Observations will be collected in reflection pieces and discussed as a group during dialogue and reflection exercises. At the end of the course, students will produce a final, cumulative trip report.
You must be in good academic and judicial standing and you must not have any registration blocks to participate in this program. The minimum GPA for this program is listed above.
All UMD sophomores, juniors, and seniors are eligible to apply. This course is intended to be the second half of AREC360, a Global Classroom taught in the spring. Students enrolled in that class are highly encouraged to participate in the trip. However, the trip is open to any GC AREC360 alum, as well as any active members of the ROOTS Africa Student Club at UMD. Freshmen can be enrolled in a case-by-case basis after speaking with the Program Leader.
*Students who have taken AREC360 will be prioritized, in addition to students who are actively involved in related student organizations.
If you are interested in this program but do not meet the eligibility requirements, reach out to the Program Leader (listed in the Contacts tab) to discuss your interest in the program.
After you commit to the program, Education Abroad will enroll you in the following three (3) credit UMD course:
AREC361: Implementing Extension Education in Africa
The credit you earn during this program will count as resident credit. AREC361 will count as an elective towards the global poverty minor, as is also the case with AREC360.
Students will spend the majority of the trip staying in dormitory-style rooms on campus at the Liberia International Christian College (LICC). The LICC campus is located in Ganta, Liberia, about four to five hours north of the capital, Monrovia. The LICC campus has 24/hour security, and students will stay in the same area as the program leaders, located in the School of Agriculture main building. There is running water, electricity, WiFi, and other basic amenities. 
Bookending the trip will be a stay at the Hope 2 Liberia Guesthouse in Monrovia, a private guesthouse that partners with LICC. Here there is electricity at night through a solar panel set-up, with a backup generator on-site. There is no running water, but the staff provides buckets of filtered water for bathing and washing. Students will be provided with safe drinking water and food at all locations, and reasonable dietary accommodations can be made provided advance notice is given.
All facilities are clean, safe and provide basic amenities. Students enrolling in this program attend multiple orientation sessions to have a basic contextual understanding of and preparation for the conditions in Liberia. We ask that when traveling, students maintain a respectful, positive and adaptive attitude towards our hosts and are open to adventure.
 
Please refer to the following resources for funding study abroad:
Financial Aid
Scholarships
Financial Policies
*Costs are current for Summer 2020.

APPLICATION FEE
$50
This is a non-refundable fee to submit an application.
Education Abroad Fee
$500
This is a non-refundable fee charged to your account when the application status changes from "Accepted to "Committed." This includes services provided by Education Abroad such as registration, billing, advising, risk management, and pre-departure orientation.
International Health Insurance
$45
This coverage is required and complements students' regular U.S. primary health insurance coverage.
Housing Fee
$150
This fee represents the housing provided during the program.
Tuition
$2,250
These are the instructional costs which include tuition, in-country transportation, course related activities, group meals, and teaching services.
PROGRAM FEE / BILLABLE COSTS
$2,945
This fee is charged to your student account and is based on our program deadlines. Please direct any additional questions to the Office of Student Financial Services and Cashiering.
Meals (estimate)
$100
Passport
$145
Visa
$160
Roundtrip airfare (estimate)
$2,000
Course materials
$0
Inoculation
$220
Optional activities/incidental expenses
$150
Optional trip cancelation/interruption insurance
$180
ESTIMATED OUT OF POCKET EXPENSES
$2,955
*Non-UMD graduate students will need to pay a $75 application fee to the UMD Graduate School to participate in this program.

TOTAL ESTIMATED COST OF ATTENDANCE
$5,950
PLEASE NOTE: All University of Maryland study abroad programs are financially self-supporting and, therefore, subject to cancellation due to low enrollment.
Taryn Devereux is the Program Leader and is a Faculty Specialist with UMD Extension, specializing in international programming, research and teaching. She joined UMD in 2015 to manage the USAID-funded Afghanistan Agricultural Extension Project (AAEP-II) after having worked in South America and East Africa on research and extension projects related to gender, agriculture, and climate change. She's since managed the UMD Women in Agriculture Program in Ethiopia, conducted Provost-funded research on market value chains in Tanzania, and developed the first AGNR Global Classroom as part of the campus-wide Global Classroom Initiative. AREC 360 is a project-based, experiential learning course that connects UMD undergraduates to students at the Liberia International Christian College (LICC) to co-learn and co-work on extension activities for Liberian Farmers. She also teaches HONR288N for AREC. Taryn received her Masters in Sustainable Development Practice (MDP) at the University of Florida, where she focused on tropical agriculture and gender. 
For course, itinerary or in-country information, please contact the Program Leader. For general questions or assistance with applying, contact EA Short-term Programs.
Students work directly with counterparts at the Liberia International Christian College (LICC), including Liberian students enrolled in the LICC spring 2020 Global Agriculture course and from the LICC ROOTS Chapter. Student projects are supported by both UMD and LICC faculty and administrators, and are oriented around 1) building institutional capacity at LICC, and 2) improving agricultural education and extension services and outreach to Ganta farmers. 
These activities are developed through the spring 2019 semester within AREC 360, and then during orientation sessions prior to travel, all students enrolled in AREC 361 put together a work plan with their Liberian counterparts for the week in-country. 
These activities can include:
Stakeholder and/or beneficiary analysis of the impact of a current or ongoing initiative at LICC and/or within the Ganta farming community;
Developing new program segments for the LICC Ag Radio program;
Implementing a workshop or training in collaboration with the LICC students that addresses a community farming need;
Developing outreach networks and initiatives to local high school students to get them excited about agriculture;
Developing a business plan or proposition for value-added agriculture with local stakeholders. 
| Term | Year | Application Deadline | Admission Notification | Program Start | Program End |
| --- | --- | --- | --- | --- | --- |
| Summerterm | 2020 | 03/01/2020 | 03/11/2020 | 05/26/2020 | 06/05/2020 |