Maryland-in-Stockholm (Sweden)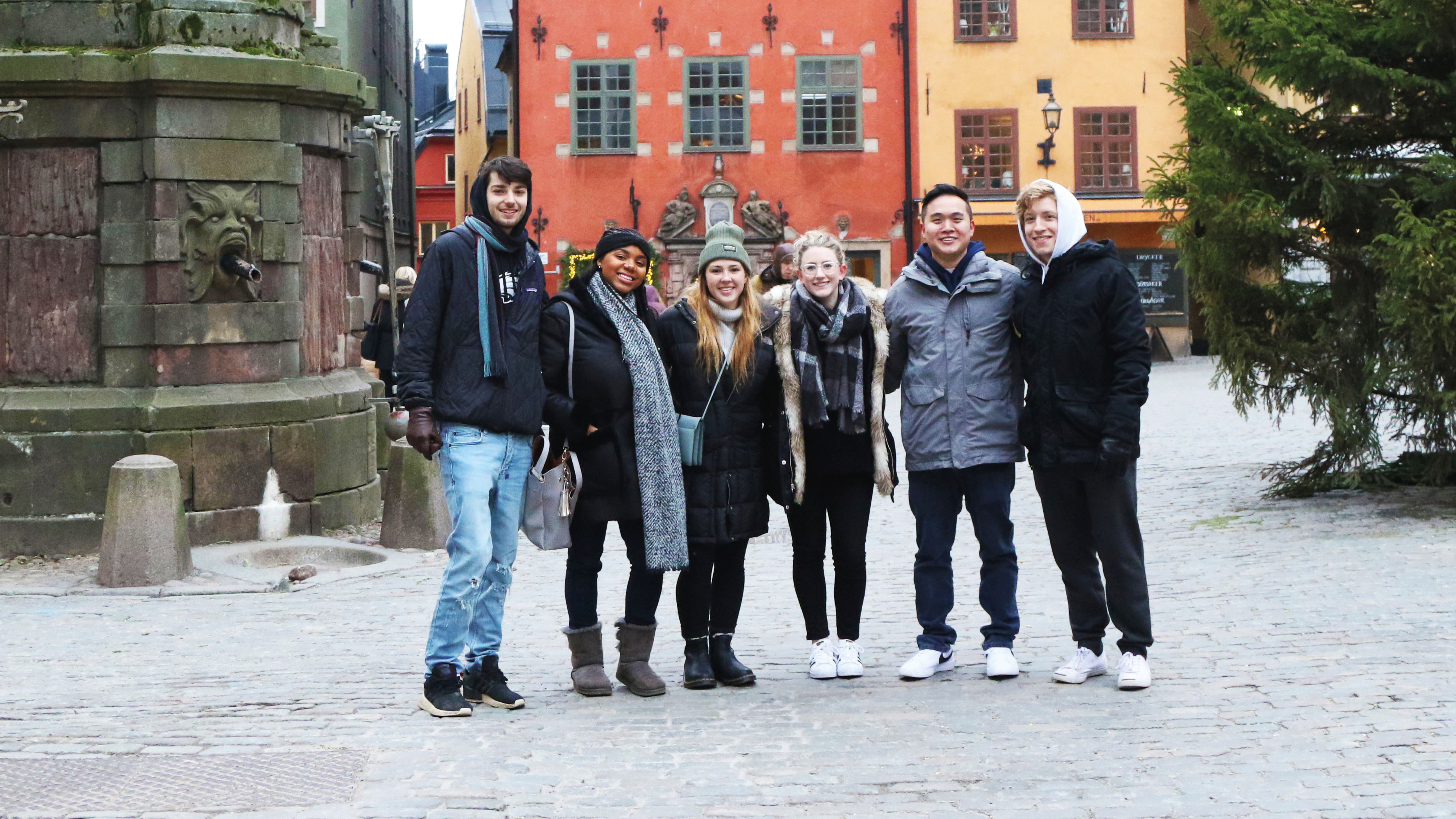 Study with Maryland-in-Stockholm, where you'll have world-class educational and cultural resources at your fingertips. Sweden prides itself on openness, diversity, and equality. As home to the Nobel Prize, Stockholm is a capital led by forward-looking decision makers, artists, innovators, and scholars. Comprised of 14 islands and a transit system that travels across waterways, Stockholm is easy to explore. Wander to the old city where the buildings, cobblestones, and narrow streets take you back to Stockholm's 13th-century beginning or head out for an afternoon of cross-country skiing in nearby parks.
UMD partners with DIS: Study Abroad in Scandinavia to bring you Maryland-in-Stockholm. Through your experience with DIS, you will gain the intercultural competence, as well as academic and personal growth, to succeed in the global job market of tomorrow. Studying abroad through DIS, you will be part of a group of UMD students that is part of a larger cohort of study abroad students on the DIS program.
See what it is really like to spend a semester in Stockholm - read DIS student blogs. You can also learn more about the experiences of other UMD study abroad students by reading #TerpsAbroad profiles. Interested in sharing your own study abroad experiences with the campus community? Submit your #TerpsAbroad profile to participate.
Your health and well-being are our first priority. To help you imagine what it's like to safely study abroad in Sweden, read blogs by non-UMD students on the DIS Stockholm program, and check out the DIS COVID-19 Planning webpage for more information on the program's resources and safety precautions.
You must be in good academic and judicial standing and you must not have any registration blocks to participate in this program. 
If you are interested in this program but do not meet the eligibility requirements, make an appointment with your Education Abroad advisor to discuss program options.
Visit the
Academics & Study Abroad page
which outlines key considerations for your academic planning as you navigate different phases of study abroad:
Browse UMD course evaluations in the Study Abroad Course Database:
 

Courses are taught in English by Swedish faculty who bring a Scandinavian perspective as well as personal experience from research, government, management and the professions to the classroom. Their teaching is strongly enhanced by an extensive program of experiential learning through  course-related field studies and study tours across Europe. Take advantage of dozens of unique and challenging areas of study and over 200 elective courses, including:
Communication & Graphic Design
Criminology/ Criminal Justice
Education
Gender Studies 
International Relations 
Justice & Human Rights
Medical Practice & Policy
Neuroscience 
Political Science
Pre-Medicine & Public Health
Psychology
Sociology
DIS: Study Abroad In Scandinavia (DIS) is a government-recognized, high-quality study abroad program established in 1959 with over 1500 students coming each year. All DIS courses and academic programs are intellectually stimulating and challenging and are all taught in English. Among alumni and partners, DIS has a reputation of being engaging, rewarding, and providing a challenging experiential and educational environment that integrates study tours around Europe to achieve a full cultural immersion program.
Please refer to the Maryland-in-Stockholm Academic Overview for more details on the academic structure and policies related to the Maryland-in-Stockholm program.
You have several housing options to choose from at DIS Stockholm. All options ensure that you live with English speakers. You are encouraged to maximize your exposure to Swedish culture and language during the semester, no matter what your housing preference. DIS housing options aim to give you the opportunity to:
Build communities, both within your housing and with locals in the surrounding area
Experience personal growth and development
Culturally engage in a meaningful way, by either living with locals or reaching out to local communities beyond your housing
Five Diverse Housing Options
Your immersion is strengthened by the cross-cultural experience of living with a Swedish homestay, 'Folkhögskola' (housing on a small liberal arts college), 'Studentboende' (residence hall with Swedish students), in a DIS residence community with other DIS students, or a Living & Learning community. Read the DIS housing page for more information on each of the housing options. Students will apply for housing upon admission to the program. .
Fall Budget
Costs listed are for fall 2021.
Application Fee
$50
Billable Costs
Billable costs are charged to your student account. They are due based on the Office of Student Financial Services and Cashiering's payment schedule. Be sure to check your statements when they are available.
Education Abroad Fee
$1,200
This fee is charged to your account when the application status is changed from "Accepted" to "Committed." This fee includes Education Abroad services including registration, billing, advising, risk management, and pre-departure orientation.
International Health Insurance
$230
Tuition
$18,096
This fee is charged to your UMD account upon course registration. This fee includes: Tuition, academic advising support, airport pickup
Housing Fee
$6,500
This fee represents the housing provided during the program. Students live in shared apartments (utilities, internet, and cleaning included).
TOTAL PROGRAM FEE 
$26,026
Out-of-pocket Costs
Meals (estimate)
$2,100
Passport
$145
Visa
$280
Resident Permit Fee (paid directly to vendor)
$155
Roundtrip airfare from DC to country (estimate)
$1,400
Course materials (estimate)
$250
In-country transportation (estimate)
$150
Optional activities/incidental expenses (estimate)
$2,500
TOTAL ESTIMATED COST OF ATTENDANCE:
$33,056
The Sweden Residence Permit Fee is subject to change. The Residence Permit Fee applies to all U.S. passport holders and students from other countries that are considered "exempt from the visa requirement." These students will enter Sweden as tourists and will apply for their Swedish residence permit after arrival in Stockholm. Summer students who are US citizens will not require a Swedish Residence permit.
Students who hold citizenship from countries that are not exempt from obtaining a visa, will apply for their visa prior to entering Sweden. These students will not be charged for the Swedish Residence Permit Fee as listed above and will be responsible for paying the required Swedish consular visa application fees. A list of countries whose citizens need a visa to enter Sweden can be found on the website of the Visa Section of the Swedish Embassy website.
You can use the cost of attendance comparison worksheet to view how study abroad programs compare to each other and the amount you pay on campus at UMD. As always, your EA advisor is available help you complete this worksheet and find affordable programs that fit your study abroad goals.
Please refer to the following resources for more information on funding study abroad:
PLEASE NOTE: All University of Maryland study abroad programs are financially self-supporting and, therefore, subject to cancellation due to low enrollment.
Conrad Zeutenhorst is the regional advisor for Sweden and coordinates the administration of the Maryland-in-Stockholm program. Conrad advises prospective students and can answer questions about the program and living in Sweden as well as other Scandinavian countries. He coordinates program admissions, course registration, pre-departure orientation, and other logistical aspects of the program. Conrad is the primary point of contact for students before they go to Stockholm and upon return to College Park.
| Term | Year | Application Deadline | Admission Notification | Program Start | Program End |
| --- | --- | --- | --- | --- | --- |
| Year (Fall-Spring) | 2021 | 06/01/2021 | 04/28/2021 | | |
| Fall | 2021 | 06/01/2021 | 04/28/2021 | 08/20/2021 | 12/18/2021 |